Meet the Associate Provost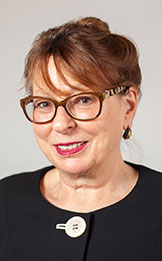 Margaret-Ellen (Mel) Pipe, PhD
Associate Provost for Graduate Studies, Research, and Institutional Effectiveness
Margaret-Ellen (Mel) Pipe has been a part of the City University of New York for the past 10 years. Initially with a joint appointment in the Children's Studies program and the Department of Psychology at Brooklyn College, Mel was also a member of the doctoral faculty of the Graduate Center. She served as Chair of the Psychology Department, and most recently was Acting Assistant Provost. Prior to joining CUNY, Mel was a Senior Research Fellow and Staff Scientist at the National Institute of Child Health and Human Development (National Institutes of Health), having begun her academic career at the University of Otago in New Zealand.
Mel gained national and international recognition for her research on memory development and investigative interviewing with victims of child abuse. She has an extensive publication record, has held major research grants, served on the editorial boards of several professional journals and as a reviewer for funding agencies. She was awarded an honorary doctorate from Stockholm University and the Outstanding Research Career Achievement Award from the American Professional Society on the Abuse of Children. As department chair, Mel oversaw a period of very rapid growth and development which included a significant increase in the number of majors, the hiring of many new faculty, increased grant funding, curricular and program review and development at the graduate level, and policy implementation. She led or served on many College committees and working groups including the working group for the development of the Strategic Plan, the review of campus technology, and the Liaison Committee of the Council on Academic Policy. During her year as Acting Assistant Provost, Mel focused on the assessment of student learning outcomes and institutional effectiveness. She led the implementation of the new assessment plan for the College and the preparation of a report for the Middle States Commission on Higher Education.
Mel holds her BA in English and PhD in Psychology from the University of Auckland and completed postdoctoral work in Psychology at Victoria University of Wellington (New Zealand).