CSI is transitioning to distance learning, and to telecommuting for staff. As a result, we will be operating remotely during our regularly scheduled hours, which are Monday – Friday, 9:00 am – 5:00 pm. We are constantly monitoring all communications received via email and voicemail. All calls & emails will receive a response within one business day. Thank you, and be well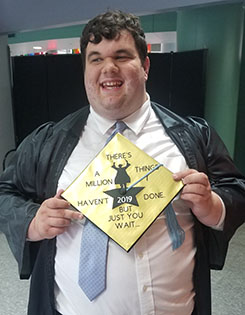 In 2008, AHRC NYC's Melissa Riggio Higher Education Program (MRHEP) launched one if its first, fully inclusive college experiences for non-matriculated students with Intellectual and Developmental Disabilities at CSI.  Mirroring the baccalaureate degree track, this program has persisted as a successful model, enabling participants to immerse themselves in college classes, co-curricular programs, civic engagement, and carefully designed learning experiences to support self-sufficiency.  Each student has the opportunity to build lifelong relationships, and to develop the hard and soft skills needed to obtain competitive employment and participate more fully in society.  MRHEP students are supported by highly trained mentors, who are current or recently graduated students from CSI, to ensure holistic support throughout their time in the program.   MRHEP is a celebrated and deeply embedded partnership at CSI for social justice, innovation, and the advancement of our legacy of place, as comprehensive junior and senior college on the former grounds of the Willowbrook State School.
Students who successfully complete the program will be eligible to earn a certificate of achievement from CUNY Unlimited and receive their personal portfolio upon graduation. For detailed information, please visit www.cuny.edu/unlimited and www.ahrcnyc.org/services/school/college/apply.

Eligibility Requirements:
Highly motivated to learn and become more independent
Seeking competitive employment
Willing to Travel Train
NYS OPWDD Waiver Services
Must have a Care Manager (formerly known as Medicaid Service Coordinator)
Must live in borough of college
Schedule
5 year program (4 years on campus, 1 year off campus)
M-F 8:45am-2:45pm

Program times are subject to change based on course availability, trips, internships, etc.

The program operates all year round with the exception of major holidays.
Tuition
Beginning fall 2020, tuition will be determined by each student's financial aid package.
How to apply