Associate Professor
Biography and Academic Interests
Lara Saguisag is Associate Professor of English (Children's and Young Adult Literature). Professor Saguisag's research and teaching interests include children's literature, young adult literature, comics and graphic novels, and histories and theories of childhood. Her book Incorrigibles and Innocents: Constructing Childhood and Citizenship in Progressive Era Comics (Rutgers University Press, 2018) received the Ray and Pat Browne Award for Best Single Work by One or More Authors from the Popular Culture Association and the Charles Hatfield Book Prize from the Comics Studies Society. Incorrigibles and Innocents was also nominated for a Will Eisner Comic Industry Award for Best Scholarly/Academic Work. In 2016 and 2018, she led courses on British Children's Literature in London, UK. She currently serves on the Board of Directors of the Children's Literature Association.
---
Scholarship & Publications
 
Book
 
Recent Articles:
"X-Rated: Childhood and the 'Adults Only' World of Underground Comix," special issue on The Counterpublics of Underground Comix, edited by Margaret Galvan and Leah Misemer. INKS: The Journal of the Comics Studies Society 3.1 (2019): 70-91.
"Picturebooks and Comics" in The Routledge Companion to Picturebooks, edited by Bettina Kuemmerling-Meibauer. London: Routledge, 2018. 315-324.
"Anxious Encounters: Picturing the Street Child in On the Sidewalks of New York" in Imagining Sameness and Difference in Children's Literature, edited by Emer O'Sullivan and Andrea Immel. London: Palgrave-Macmillan, 2017. 169-186.
"Consuming Childhood: Peanuts and Children's Consumer Culture in the Postwar Era" in The Comics of Charles Schulz: The Good Grief of Modern Life, edited by Jared Gardner and Ian Gordon. Jackson: University of Mississippi Press, 2017. 65-78. Edited collection nominated for Best Academic/Scholarly Work, 2018 Eisner Awards.
"RAW and Little Lit: Resisting and Redefining Children's Comics" in Picturing Childhood: Youth in Transnational Comics, edited by Mark Heimermann and Brittany Tullis. Austin: University of Texas Press, 2017. 128-147. Edited collection nominated for Best Academic/Scholarly Work, 2018 Eisner Awards.
"Comics, Children's Literature, and Childhood Studies" in The Routledge Companion to Comics, edited by Roy Cook, Frank Bramlett and Aaron Meskin. London: Routledge, 2016: 433-442.
Co-written with Matthew B. Prickett. "Introduction: Children's Rights and Children's Literature," The Lion and the Unicorn 40.2 (2016): v-xii.
"Family Amusements: Buster Brown and the Place of Humor in the Early Twentieth Century Home." Children's Literature Association Quarterly 40.2 (Summer 2015): 103-125.
 
Select Children's Books:
Kara at Play. Quezon City: Adarna, 2016.
Animal Games. Manila: Anvil, 2016.
Children of Two Seasons: Poems for Young People. Manila: Anvil, 2007.
---
Courses Taught 
ENL 305: Critical Approaches to Children's Literature
ENL 323: Coming-of-Age Narratives
ENL 387: Major World Author
ENL 390: Studies in Women in Literature and the Arts
ENL 394: Studies in Science Fiction
Degrees
PhD, Childhood Studies, Rutgers Univeristy
MFA, Creative Writing, The New School
MA, Children's Literature, Hollins University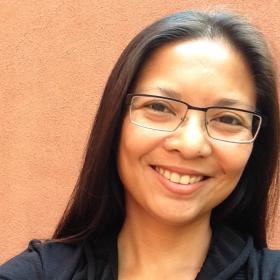 Contact Information
Office: Building 2S Room 128