Assistant Professor
Dr. Nerve V. Macaspac is an Assistant Professor of Geography in the Department of Political Science and Global Affairs at the College of Staten Island-The City University of New York (CUNY). He teaches Urban Geography, Geographic Information Systems (GIS), Introduction to Geography, and World Regional Geography. He received his PhD in Geography (2018) from UCLA, a Graduate Certificate in Urban Humanities from UCLA's School of Architecture and Urban Design, and a Masters in Asian Studies from UC Berkeley. Dr. Macaspac's current research focuses on spatialities of peace, specifically studying the phenomenon of community-led demilitarized geographic areas popularly known as peace zones as processes of carving alternative political spaces and building peace during active war, armed conflict and violence. Supported by the National Science Foundation (NSF), Social Science Research Council (SSRC), International Peace Research Association (IPRA), and the American Association of Geographers (AAG), his research contributes to our understanding of local peacebuilding, spaces for peace, and peace more broadly.
Degrees
Ph.D., University of California - Los Angeles (UCLA)
M.A., University of California - Berkeley
B.A., University of the Philippines - Diliman
Scholarship and Publications
Refereed Journal Article
Macaspac, Nerve V. (2018) "Insurgent Peace: Community-led peacebuilding among indigenous peoples in Sagada, Philippines." Geopolitics.
Macaspac, Nerve V. (2017) "Suspicion and Ethnographic Peace Research." International Peacekeeping.
Book Chapter
Macaspac, Nerve V. (Forthcoming) "Suspicion and Ethnographic Peace Research," Engaging Ethnographic Peace Research, ed. Gearoid P. Millar. Oxford: Routledge.
Research Report
Calatayud, A., R. Martinez, N. Macaspac, et.al. (2011) In Search of Justice: A Population-based Survey on the Participation of Cambodian-Americans in the Khmer Rouge Tribunal.Berkeley: UC Berkeley Media and Mail.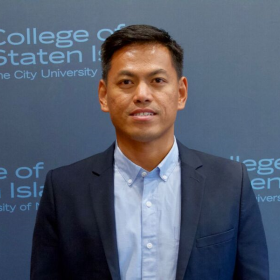 Contact Information
Office: Building 2N Room 117
Office Hours