Distinguished Professor
Sarah Schulman was born in New York City in 1958 and attended (High College) Hunter High School.  She is a novelist, playwright, screenwriter, nonfiction writer, AIDS historian,  journalist, and active participant citizen.
Co-Founder MIX: NY LGBT Experimental Film and Video Festival, Co-Director ACT UP Oral History Project (www.actuporalhistory.org), US Coodinator of the first LGBT Delegation to Palestine  
AWARDS:
2021- New York Times Notable Books, 2021 - Awarded the Ann Snitow Prize for an effective and creative feminist, 
2018 - Bill Whitehead Award for Lifetime Achievement in LGBT Publishing, 
2016 - Publisher's Weekly: Best Books of 2016 – The Cosmopolitans, Guggenheim (Playwrighting), Fulbright (Judaic Studies), 2 New York Foundation for the Arts Fellowships - Fiction, 1 NY Foundation for the Arts Fellowship - Playwrighting, Kessler Prize for Sustained Contribution to LGBT Studies, Stonewall Award for Improving the Lives of Gays and Lesbians in the United States, Revson Fellow for the Future of New York City at Columbia University, Fellow – NY Institute for the Humanities at New York University,  6 residencies at MacDowell, 3 residencies at Yaddo, 2 American Library Association Stonewall Book Awards – fiction/nonfiction, Brown Foundation/Houston Arts Museum Fellow at the Dora Maar House, Fellow - University of Toronto Bonham Center for Sexual Diversity Studies
Faculty Advisor:​ Students for Justice in Palestine
 
Degrees
BA, Empire State College (SUNY)
Scholarship and Publications
Sarah Schulman is the author of 20 books, most recently LET THE RECORD SHOW: A Political History of ACT UP, New York 1987-1993 (FSG) Finalist PEN Award in Nonfiction, Finalist Gotham Book Prize.
Novels:
Maggie Terry  New York: Feminist Press, 2018
The Cosmopolitans New York: Feminist Press. 2016 
The Mere Future (Arsenal, 2010),
The Child (Avalon, 2007), 
Shimmer (Avon, 1998),
Rat Bohemia (Dutton, 1995),
Empathy (Dutton, 1992- reissued in anniversary teaching edition from Arsenal, 2006),
People in Trouble (Dutton, 1990), 
After Delores (Dutton, 1988)
Girls, Visions and Everything (Seal, 1986)
The Sophie Horowitz Story (Naiad, 1984)
Nonfiction:
Let The Record Show: A Political History of the AIDS Coalition to Unleash Power, ACT UP 1987-1993 ( Farrar, Strauss, Giroux 2021)  
Conflict Is Not Abuse: Overstating Harm, Community Responsibility and the Duty of Repair (Arsenal, 2016)
Israel/Palestine and the Queer International (Duke University Press, 2012),
The Gentrification of the Mind: Witness to a Lost Imagination (University of California Press, 2012),
Ties that Bind: Familial Homophobia and Its Consequences (The New Press, 2010), 
Stagestruck: Theater, AIDS, and the Marketing of Gay America (Duke, 1998) MY American History: Lesbian and Gay Life During the Reagan/Bush Years (Routledge, 1994)
Sarah is Coordinator of the HOMONATIONALISM and PINKWASHING CONFERENCE at the City University of New York Graduate Center, Center for Lesbian and Gay Studies, April 2013.
Plays – published
Carson McCullers, (Playscripts, 2003)
Mercy, (Belladonna, 2009)
Plays – produced
Carson McCullers (Playwrights Horizons, 2005)
Manic Flight Reaction (Playwrights Horizons, 2005)
Enemies, a Love Story – adapted from IB Singer (Wilma Theater, 2007)
Films
The Owls, directed by Cheryl Dunye, co-written by Sarah Schulman and Cheryl Dunye – Berlin Film Festival selection 2010.
Mommy Is Coming, directed by Cheryl Dunye, co-written by Sarah Schulman and Cheryl Dunye – Berlin Film Festival selection 2012.
United In Anger: A History of ACT UP, directed by Jim Hubbard, produced by Jim Hubbard and Sarah Schulman –New York Premiere: Museum of Modern Art,  International Premiere:Ramallah, West Bank
Sophie (based on The Sophie Horowitz Story) written and directed by Claude Mangold 2014 (forthcoming)
After Delores, directed by Pratibha Parmar, 2015 (forthcoming)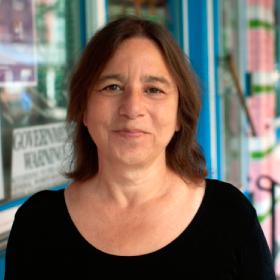 Contact Information
Office: Building 2S Room 232