Additional Navigation
Close
Access-A-Ride MTA New York City Transit operates Access-A-Ride, the City's paratransit system. Access-A-Ride (AAR) provides transportation for people with disabilities who are unable to use a public bus or subway service for their trips. 
How to schedule an Access-A-Ride (AAR) Trip to/from: The College of Staten Island 2800 Victory Blvd. Staten Island, NY 10314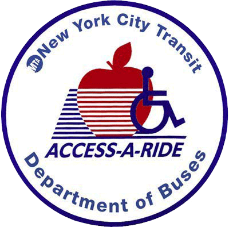 The College of Staten Island's Administration, in cooperation with NYCT Paratransit, has established 6 specific AAR stops within College's Campus:
1P - Center for the Arts (Close access to Buildings 1A and 2A)
1R - Gymnasium
5N - Parking lot 4 (closest to Building 5N) 
6S - Parking lot 2 (In front of Building 6S) 
2M - Parking Lot 7 (in front of Building 2M)
Front Gate - Main Entrance (North) Victory Blvd Entrance
Each of these locations has specific GPS coordinates along with signage to aide in the successful connection of the AAR vehicle/driver and customer.
When scheduling individual trips or subscription service for The College of Staten Island please determine which of these locations you are traveling to/from and ask the AAR Reservation Agent (Trip Planner) to:
Use the PLACES FILE to locate the address for 'The College of Staten Island's: 
1P - Center for the Arts (Close access to Buildings 1A and 2A)
1R - Gymnasium
5N - Parking lot 4 (closest to Building 5N) 
6S - Parking lot 2 (In front of Building 6S) 
2M - Parking Lot 7 (in front of Building 2M)
Front Gate - Main Entrance (North) Victory Blvd Entrance
If you experience any difficulty during the reservation process, please ask to speak with a supervisor.
Safe Travels!
Access-A-Ride 1-877-337-2017 / 718-393-4999
Welcome to Access-A-Ride Paratransit Service
Feedback:
Customer Feedback