On Campus Transportation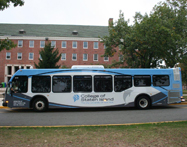 Operational Services provides on campus and ferry shuttle transportation for use by Students, Faculty and Staff. On campus, the College provides a Campus Loop bus and an Accessibility van to address the needs of our riders who need assistance. Links to the specific schedules are available below. All bus stops can be viewed on the CSI Campus Map.
Contact Information
Department of Operational Services
Building 1M, Room 201
Phone :
718.982.3220
Office Hours
Mon-Fri, 9:00am - 5:00pm
Dolphin Card Required for Access to Ferry Shuttle and Loop Bus Services Since with the 2017 Fall semester a valid Dolphin Card with the Transportation Access Code (TAC) has been required for all students, faculty and staff to access the College bus services. All enrolled students will automatically have TAC embedded in their Dolphin cards. Faculty & staff who wish to access the service will be required to pay the same fee as our students. The Transportation Fee is $40 for fall/winter semesters combined, $40 for spring and $10 for each of the two summer sessions.
Faculty and staff who wish to ride the Ferry Shuttle and/or the Loop Bus can remit the fee to the Office of Parking & Dolphin Card Services by visiting the Parking and Dolphin Card Services Office in 3A-106 during business hours, or by using the following link: https://csi-sp.transactcampus.com/eaccounts/

Enter your College FLAS log in, deposit the appropriate fee, and follow the directions to complete the transaction.
Dolphin Card holders with TAC may bring one guest per ride by swiping their Dolphin Card twice.

Guests Guests not accompanied by a member of the College community will be permitted access by contacting the Office of Operational Services in advance (email Andrew.Diaz@csi.cuny.edu) and requesting a Visitor Bus Pass. This pass must be printed and presented to the driver when boarding the bus. Please plan to give at least 24 hours advance notice.
Ferry Shuttle Service
Visit the Ferry Shuttle Service website for updates and to view the Ferry Shuttle schedule and calendar.
Loop Bus Service
Loop Bus Service runs seven days per week; please review calendars and schedules for times of operation. Loop Bus CalendarAll bus schedules can be found in the public areas on campus. (Public Safety, Library, Registrar, Cafeteria, etc.) Bus Schedules are posted monthly at all campus bus stops and on the website
Accessibility Bus Service
Accessibility Service operates seven days a week please review the calendar for times of operation. Accessibility Van Calendar
Service is provided for students, faculty and staff who require special accommodations. This service is provided on a per-call basis. Between the hours of 9:00 AM and 5:00 PM please call Operational Services at Ext. 3220; at all other times please call the Campus Public Safety office at Ext. 2112
Interface with MTA
Operational Services is always looking for ways to improve the transportation coordination with the MTA and has been successful in securing changes in MTA bus routes to benefit College students, faculty, and staff.
The S93 which runs from CSI to 86th Street & Fourth Avenue in Brooklyn, now continues on to the campus to the S93 bus shelter in the front gate. In Brooklyn, it serves direct connections bus routes B8, B16, B37, B63, B64 and B70 and Subway route R. The bus leaves the campus starting at 5:45 AM and runs continuously throughout the day with the last bus leaving at 9:15 PM. The first bus departing Brooklyn leaves Bay Ridge at 6:35AM with the last leaving Brooklyn at 10:00PM. The trip is estimated to be about 40 minutes.
To view the S93 schedule from the MTA web site.