CSI has developed a course template to ensure your course is structured in alignment with standards of quality for online and hybrid teaching. The master course template is designed according to standards of quality for online courses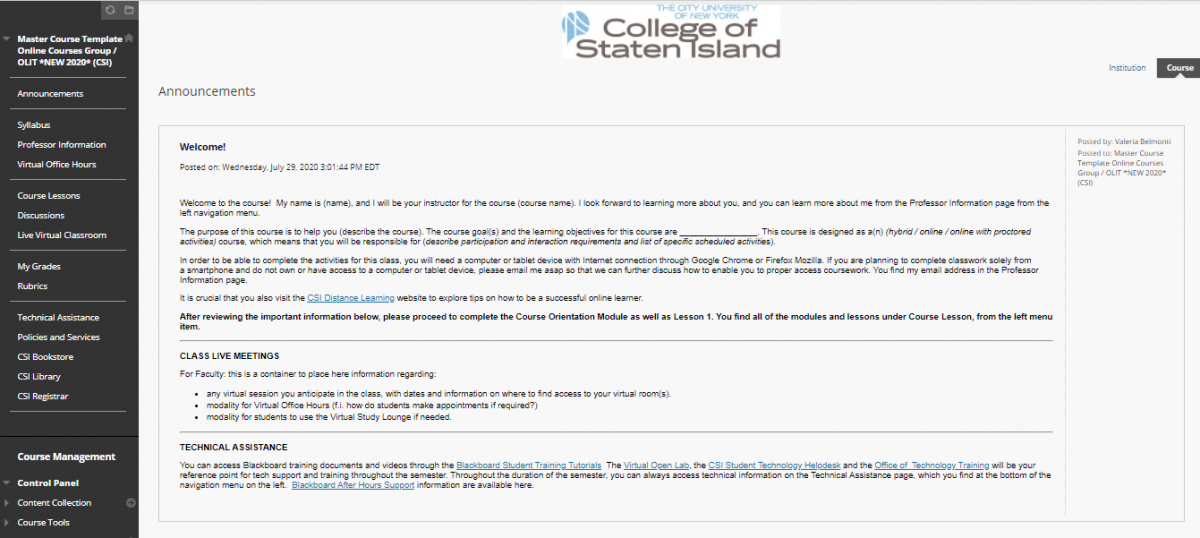 It includes the following sections that can be customized according to the needs of your course and/or your teaching preferences:
Welcome Announcement:
Online students benefit from some guidance on how to get started in your course. The course template includes a "Start Here" announcement with details on what students should do first and how to navigate the course, plus important information regarding technical assistance and the modality of class meetings.
Syllabus:
An area to include the syllabus as downloadable document as well as to deconstruct the syllabus in sub-area, in order to emphasize some of the information contained in the syllabus. CSI also provides training for the creation of a visual syllabus or visualization of some parts of the syllabus. The syllabus container also includes a space to provide information regarding the textbook. Consider using Open Educational Resources in your course. There are many high quality OER available in many disciplines. Using OER reduces the costs associated with textbooks, alleviating the financial burden on students. The library can provide you with guidance on resources available for your courses. https://library.csi.cuny.edu/oer .
Virtual Office Hours:
A space to clarify hours and modality for virtual office hours as well as to inform students on procedure to make appointments, if required.
Professor Information:
The template includes an area to place the instructors' contact information as well as a space to provide students with some instructor's biographical information, an action that can assist toward the building of social presence.
Course Lessons:
The template scaffolds the curriculum into chronological and thematic units, which is the preferred format for an online learning environment. When teaching online, it is important to "chunk" your course material into learning units or modules. Each learning unit will contain a combination of content, activities and assessments. The content in each learning unit may be presented in a variety of formats to engage students in learning. These may include video lectures, screencasts with PowerPoint presentations, audio recordings, documents and other formats.

The course lessons also include a customizable Orientation Module, which gives the opportunity for students to get familiar with one another through an ice-breaker activity, understand the navigation of the online course as well as to acquire online academic research skills through the CSI LIbrary .online tutorials. Additionally, the Orientation Module enables instructors to administer diagnostic or need assessment surveys if needed and it provides the opportunity to students to self-evaluate their preparedness for the online learning environment.

Discussions (and other tools to support interaction):
A navigation menu item to directly link students to the classroom discussion board.
Live Virtual Classroom:
A navigation menu item to directly link students to the classroom synchronous sessions.
My Grades:
A navigation menu item to directly link students to the Blackboard Gradebook.
Rubrics:
Rubrics provide clear expectations for students regarding how an assignment, that can otherwise be subjective, will be graded as well as be used by students as guidelines on expectations when completing an assignment. In addition to providing learner support, they can be especially helpful to instructors since they clearly state the goals for the assignment and facilitate a systematic way to assign grades. If utilized in a course, the template provides a space to exhibit all rubrics into one central place.
Technical Assistance:
A comprehensive review of CSI tech support resources in order to make sure students always where to get technical assistance throughout the semester.
Policies & Services:
A non-comprehensive review of some of the current academic policies and service centers. This is intended to provide a starting point and faculty are encouraged to add other resources. Links to the CSI Bookstore, Library and Registrar.
The content of the template is completely customizable by faculty to include/exclude containers and relevant links.
Please contact the Online Learning Team if you would like a copy of this template or have any other questions.
Quality Online Instruction
Effective Online Instruction
Sun and Chen reviewed 47 published studies and research on online teaching and learning since 2008, arguing that effective online instruction is dependent upon:
Well-designed course content, motivated interaction between the instructor and learners, well-prepared and fully-supported instructors
Creation of a sense of online learning community
Rapid advancement of technology
Sun, A., & Chen, X. (2016). Online education and its effective practice: A research review. Journal of Information Technology Education: Research, 15, 157-190. Retrieved from http://www.informingscience.org/Publications/3502
Standards of Quality in Course Design
There are just as many approaches to teaching online as there are teaching in person. There are several standards of quality when it comes to designing and delivering online courses. Quality Matters' is one of the best known, and widely respected since it's rubric covers 8 core components, founded on research in effective online teaching and learning.
Course Overview and Introduction
Learning Outcomes
Assessments
Instructional Materials
Learning Activities and Learner Interaction
Course Technology
Learner Support
Accessibility and Usability
Testimonials
Professor George Vachadze (School of Business) comments:
Even as online education is taking off, most of the faculty members continue to fear that the record-high number of students taking those classes are receiving an inferior experience to what can be delivered in the classroom. Overcoming the skepticism will, of course, require a clear basis of regulation and maintenance of standards for all online courses and programs. This new hybrid/online course initiative offered at CSI allowed me to work with technology and course design experts who not only enhanced my course design and delivery methods but also validated the idea that my course has merit and it provides the value to our students. I hope this program will continue in the coming semesters so that I can have an opportunity to innovate in that area.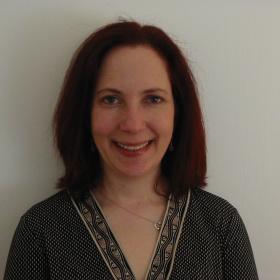 Professor Stephanie Schmier (School of Education) comments:
Using the course design template allowed me to move my education classes to online in a way that maintained the rigor of the content while maximizing collaboration. It further helped me to consider my goals for my teaching in new ways, including how I assess student understanding. The feedback I received in my student and peer evaluations on my course that I designed using the template were very strong.
Professor Jeanne-Rachel Leroux (French program) comments:
Given the constraints of the 2020-2021 academic year as relates to course delivery, this template has been incredibly useful to me, both as course designer and faculty. As the French program Coordinator, when I designed our online courses, it was a huge help to be able to streamline our Blackboard courses' structure across the program. As faculty, I have found that the template is a tool for student success: the course site can be easily navigated and its various components are well-indicated; its structure helps me design an effective teaching-learning experience at the weekly level. Additionally, I believe importing the template into every FREN course ultimately saved all faculty a lot of time and energy, at the very least in the set-up of the course at the beginning of the semester.
Professor Paola Ureni (Italian Studies) comments:
As the Coordinator of the Italian Program, I redesigned not only my own courses, but together with my colleague Gerry Milligan, we used the template to design all the classes in the Italian language sequence. The "course lessons" section allows to reproduce a solid and streamlined weekly structure for the entire semester, where students easily find the detailed information for each live meeting as well as the assigned asynchronous activities. The numerous containers available promote– to the best possible extent in an online environment – the sense of community that our students and instructors feared they would lose when moving our courses to distance learning. Given the various technical issues that can easily arise when learning online, the inclusion of all the necessary information for students about Technical Assistance is also extremely helpful. To be already provided with all these tools within the template enormously facilitated instructors' transition to online teaching and saved us time.