Director, Masters of Arts in Mental Health Counseling
Frances A. Meléndez is a licensed clinical psychologist in the State of New York.  She is a graduate of the College of Staten Island and received her PhD in Clinical Psychology from the Graduate School of the City University of New York.  

Dr. Meléndez has extensive and ground breaking clinical experience working with adults and children infected and affected with HIV/AIDS.  Her career has put her in the forefront of HIV/AIDS mental health issues and her work has been the focus of a New York Times article, a documentary and several media interviews.  

She has introduced long and short-term therapy to at-risk populations that have traditionally refused mental health services. After completing a two year neuropsychology fellowship in the TBI unit at the Bellevue Hospital Center she went on to become Associate Director of the Rehabilitation Medicine/Traumatic Brain Injury Program at BHC. While at BHC she developed and implemented staff training programs, carried out assessments of cognitive functioning, conducted individual and group therapy with children, adolescents, and adults in Spanish and English.  Dr. Meléndez is an active presenter at regional and national psychology conferences.  She is a member of the APA, AMHCA, NYCA, LPANJ, NALP, AHMH, New York Urban League and the New York State Psychological Association, where she also sits on their executive committee on addiction.  

Degrees
BA, Psychology, CSI, CUNY
MA, Psychology, City College, CUNY
PhD, Clinical Psychology, CUNY/Graduate Center
Scholarship and Publications
Dr. Meléndez research interest lie in addiction, women, trauma, HIV/AIDS and its impact on women and their families.  Dr. Meléndez and Dr. Rogers-Sirin are collaborating on a study whose goal is to gain an in-depth understanding of the experiences of women living with HIV/AIDS.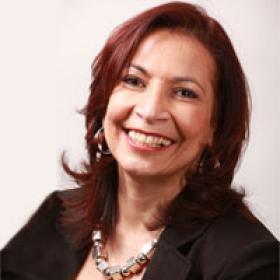 Contact Information
Office: Building 4S Room 106