Fall 2021 Announcement:
Starting August 16th, 2021, the Center for Career and Professional Development is open for in-person and virtual appointments Monday through Friday, 9AM - 5PM (exceptions include when the academic calendar notes the college is closed.)
To schedule an appointment please log into your Handshake student account at csicuny.joinhandshake.com/appointments/new
For in-person appointments we ask individuals to follow the protocols below:
When you arrive for your appointment please wait outside the office and call us to inform the office of your arrival. Our number is 718-982-2300. Please feel free to take a seat in the hallway while you wait.
After entering our office we encourage you to wear a mask, practice social distancing, and use hand sanitizer.
After your appointment we ask that you promptly leave the office so we can make space for the next appointment.
If you have any immediate questions or concerns before leaving please ask a staff member.
If you are in need of a follow up appointment you may schedule it on Handshake at csicuny.joinhandshake.com/appointments/new
For questions or concerns about the above policy, please email careers@csi.cuny.edu
Mission Statement
To create a comprehensive career planning and placement center that uses current technology and information to teach students the skills necessary to achieve their career goals;
To support and empower students and alumni in their career decision making, development of job search strategies, participation in experiential learning, and search for employment;
To promote faculty involvement through collaborative relationships, including classroom presentations, and assistance with students applications;
To establish and foster relationships with employers to facilitate the internship, professional employment, and application process.
Alumni are encouraged to use the comprehensive services provided by the Center for Career and Professional Development.
Hours of Operation
Monday - Friday, 9 AM - 5 PM

Services
The Center offers a full range of career planning and skill development programs to assist students in achieving their career goals.
Services include:
Individualized Career Planning – one- to-one consultation, with our Career Specialists to determine student's strengths and interests, fields of chosen study, and suitable job search plans utilizing a consultation model.
Résumé and Cover Letter development – professional assistance in writing and editing résumés and cover letters.
Internships - individualized advisement for students interested in securing paid, non-paid, or credit internships in their field of study.
Job Preparation and Professional Imaging Events such as Business Etiquette Lunch, Dressing for Career Success, Job Interview Strategies, Use of Social Networking.
On Campus Recruitment – interview with recruiters from corporations, non-profit, and government agencies for a variety of professional positions.
Job Fairs – real or virtual job recruitment events on campus.
On Campus Networking Events – informational programs offering students the opportunity to "meet and greet" recruiters from different industries such as "Coffee and Careers Series", "A Day in the Life" Employer Series, The Job Exchange, Speed Networking.
Mentoring, Job Shadowing, Informational Interviewing – cultivate relationships with CSI Alumni who can assist students in gaining valuable experience about the "world of work".
Interview Coaching – in-person "practice" interviewing with helpful hints on successful interviewing and candidate presentation skills development for jobs, internships, special opportunity programs with constructive feedback offered by staff.
Up- to-date Job Postings – access to listings of part time, full time jobs and internships through our online career planning program Career24/7
Career planning resources – full complement of job search online and in-office resources
Highlighted Resources:
Candid Career
Thousands of video clips of professionals sharing their personal career experiences and job preparation tips for your benefit!

Glassdoor
The largest career community on the web where students can research what it's really like to work at more than 300,000 companies - with millions of company reviews and ratings, salary reports, interview questions and more - shared by employees themselves.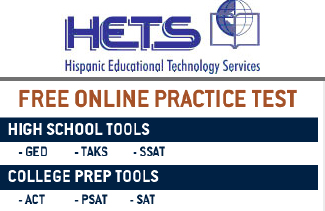 Hispanic Educational Technology Services (HETS)

Through our partnership with Hispanic Educational Technology Services (HETS), College of Staten Island students now have access to various online resources for researching graduate programs and opportunities, and preparing for a range of graduate entrance exams, such as the GRE, MCAT, and LSAT. There are also test-prep materials available for several licensing exams, such as NCLEX. To take advantage of these services, click on the image or click here and use password hets0313 to sign in.
Skills to Succeed Academy
Use Learner Registration Access Code: 04NYcs
For more information, please contact:
Careers@CSI.CUNY.EDU