The Art Gallery of the College of Staten Island Presents:
Eric Aerts: Photography Inside the Cages
Image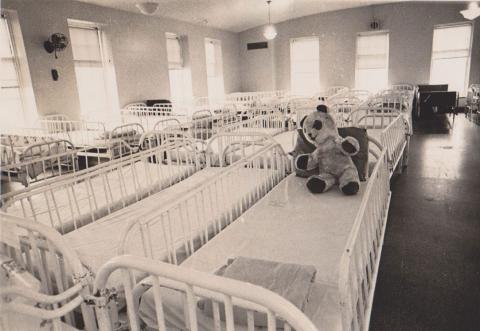 September 19 - October 20, 2022
Opening reception Thursday Sept 22, 5-7pm
(Exhibition preview, Saturday Sept 17, 2-4pm,
for guests attending the opening of the Willowbrook Mile)
Center for the Arts (1P-112)
In 1971, a year before the Willowbrook State School became the focus of national outrage, the photographer, Eric Aerts, brought the first images to the local Staten Island public. Seen in their entirety for the first time in this exhibition, the Willowbrook images are seen alongside other documentary photographs depicting life and protest in early 1970s New York.
---
Eventbrite zoom panel: Thurs October 13, club hours (3:00-4:30pm)
Photography, Advocacy, and Consent: Revisiting the Willowbrook Exposé
With Dr. Hosu Kim (Sociology and Anthropology), Dr. Catherine Lavender (History), and Chris Verene (PCA), chaired by Dr. Siona Wilson (PCA)
This event is open to the public
(Clue Credit)
Advisory Committee
Miguel Aragon (PCA)
Catherine Lavender (History and Women's Gender and Sexuality Studies)
Edward Miller (Media Culture)
Beatrix Reinhardt (PCA)
Nanette Salomon (PCA)
Valerie Tevere (Media Culture)
Chris Verene (PCA)
Marianne Weil (PCA)
Siona Wilson (PCA) committee chair
Mission Statement for the Gallery of the College of Staten Island
The Gallery of the College of Staten Island is dedicated to presenting a rich diversity of professional artistic practice by both contemporary and historical artists. Through high quality exhibitions and related events, the gallery strives to introduce and engage the college community and the wider New York public to a global breadth of creative output. Our programing serves as a springboard for introducing a broad range of issues including, but not limited to, personal, intercultural, social, historical, scientific, health-related, economic, political, and transnational subjects. We aim to use the visual and interdisciplinary arts to facilitate difficult discussions about new ideas while fostering curiosity, developing critical thinking and encouraging a respectful understanding of divergent points of view and experiences. Exhibitions and related events seek to enrich our students and the diverse communities they come as well as the college community as a whole, making connections across the educational divisions and schools through the unique communicative power of the visual and interdisciplinary arts. 
Exhibitions are curated by members of the faculty with an expertise in the visual arts. The curatorial position rotates annually. An advisory committee of faculty and staff oversees the programming.  
Contact Information
Siona Wilson
Curator for Fall 2022
Miguel Aragon
Curator for Spring 2023
CSI Art Gallery
2800 Victory Blvd
Building 1P, Room 112
Google Maps Location
Monday to Thursday,  12 - 4 p.m