Additional Navigation
Close
The College of Staten Island DolphinCard provides safe and secure identification for members of the College of Staten Island community and provides access to secured areas and gated parking lots.
* Please contact The Office of Parking & DolphinCard Services at 718-982-2294 or email us at DolphinCard@csi.cuny.edu for further assistance.
With the DolphinCard you will have access to the following features:
Secure Campus Photo Identification
All food purchases throughout campus 
Mobile ordering APP for Campus Dining 
Tax-Free Meal Plans for students, only
Purchases from Vending machines on campus
Parking permits and/or parking summons payments
Laundry machines in Dolphin Cove (Residents only)
Access to Sports & Recreation Center
Access to the Library 
Dolphin Print
To purchase convenience items, school supplies, and school spirt gear please visit our Dolphin Dash Mobile Store. 
Contact Information
Anna Lambert
Director
Building 3A, Room 106
Hours of Operations:
Monday- 9:00AM - 5:00PM
Tuesday- 9:00AM - 8:00PM
Wednesday- 9:00AM - 5:00PM
Thursday- 9:00AM - 5:00PM 
---------------------------
Friday 
9:00AM - 4:30PM
---
Your CSI DolphinCard gives you the convenience of one card for many functions at the College. It is also the quickest, most convenient method for making purchases on campus.
Additional Functions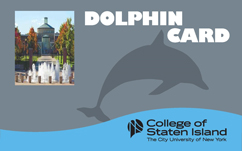 Off Campus Vendors
Performances in Center for the Arts
Health Center
Clue Participation
Disclaimer: The DolphinCard is the property of College of Staten Island. Neither the College nor the College of Staten Island Auxiliary Services Corporation shall be liable for any loss, cost, damage, or expense incurred by the cardholder relating to the use or attempted use of the cardholder's DolphinCard by the cardholder or any other third party.