Support CSI!
Gifts may be made through an outright contribution of cash, securities, real estate, or other real or personal property, as well as through estate gifts such as bequests and trusts, and life income gifts such as charitable gift annuities and charitable remainder trusts. We also welcome your pledge. Pledges of more than $5,000 may be fulfilled over a multi-year period (up to five years).
Please give now!
Buy your ticket today to the 2019 Celestial Ball: Sowing the Seeds for Student Success
The 2019 Celestial Ball: Sowing the Seeds for Student Success will honor individuals and organizations who have made significant contributions to the College of Staten Island. But it's also a great time to join the College's supporters from across the borough and the city. Buy your tickets today before it's too late!
A celebration of the College's 60th anniversary at the 2017 Celestial Ball
Take a look back at the 2017 Celestial Ball! At the beautiful Richmond County Country Club, an elegant evening of entertainment and dining, we welcomed College of Staten Island supporters to honor contributions from outstanding individuals. A night to remember...
Click here for highlights from last year's Celestial Ball!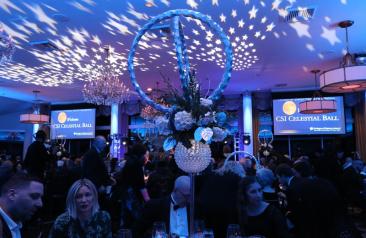 The CSI Foundation
As a private 501(c)(3) nonprofit corp., the CSI Foundation raises and manages philanthropic dollars for the the College of Staten Island.

Read more...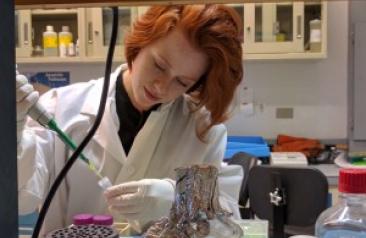 Scholarships and Fellowships Profile
The Rosemary O'Halloran Scholarship
Women chemistry majors at the College of Staten Island will now have an opportunity to receive critical financial assistance as they pursue their degrees, thanks to the Rosemary O'Halloran Scholarship.
A Pioneer in Her Field
Ms. O'Halloran, (1924-2016) was a trailblazer for women in the field of chemistry, having taken a job with the company that became Exxon during World War II, when there was a shortage of men in the U.S. workforce. Although many women were forced out of positions in chemistry when men returned from the war, Ms. O'Halloran not only remained at the company, but excelled in the petrochemical industry into the late 1980s, developing and testing engine lubricants. Although the exact number of patents for which she is credited or has contributed is unknown, the estimate is between 42 and 155. Dr. Fred Naider, Distinguished Professor of Chemistry, summed up the importance of Ms. O'Halloran's work by noting that "she goes back to the early years of developing better oils and greases, which, of course, have had a tremendous impact on an industrialized society. You can't run machines without having good oils." Ms. O'Halloran worked for many years to increase the number of women in the field of chemistry by providing financial assistance to promising women high school graduates who intended to pursue degrees in chemistry, research, and other scientific fields. This scholarship for CSI students builds upon this proud tradition. Excerpt from Eye on CSI, Spring 2014
The scholarship is awarded to full-time undergraduate (junior or senior) and/or graduate students in chemistry, biochemistry, or neuroscience with preference given to female students.
For questions, please contact Michele Callahan, Fellowship and Scholarship Advisor, at 718.982.2332 or michele.callahan@csi.cuny.edu.
Read more about how to make an impact through our Scholarships and Fellowships office.