Additional Navigation
Close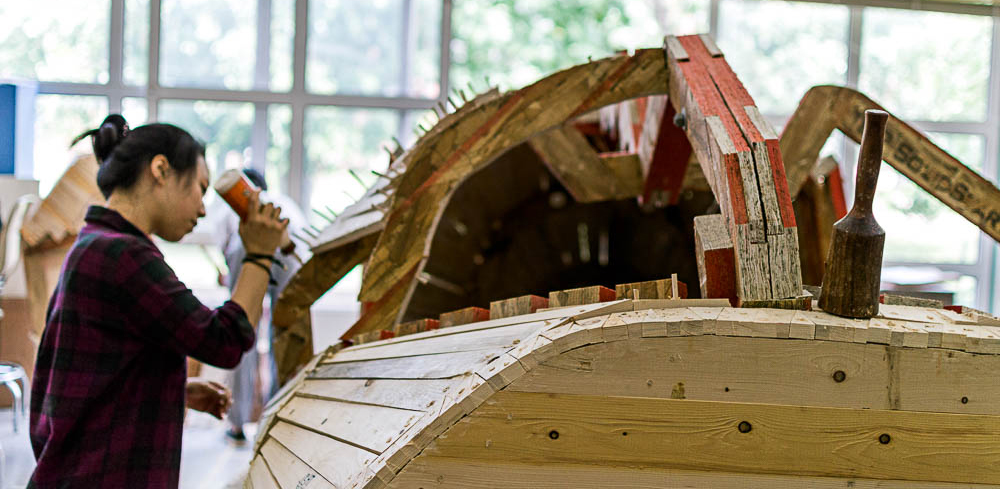 Curator of these exhibitions: Miguel Aragon
Kalle Mustonen: Gnome King of NY
Tuesday, Sept. 19 to Saturday, Oct. 21, 2017
This exhibition is a collection of work and documentation of the latest addition to permanent sculpture on campus built by artist Kalle Mustonen from Finland, with help from CSI students, created during the 2017 summer.
Opening Reception: Tuesday, Sept. 19 from 5:00pm to 7:00pm
Gallery event: Building a Gnome: Assisting an Artist as Inspiration:
Tuesday, October 3 during Club Hours (3:00pm to 4:15pm) in the Gallery
Kalle Mustonen (http://mustone.blogspot.de/) is a Finnish pacifist sculptor born in 1979. He graduated from Institute of Fine Arts of Lahti (BA) in 2004. After graduating he has gained a steady position on the edge of Finnish art scene. Large wood objects in space have become his trademark.
In his works Mustonen combines tradition to pop and kitsch. In 2013, Kalle started GnomeStudies, a series of sculptures, paintings and installations dealing with Garden gnomes as indicators of Human's failure to live in balance with the nature. "Death of the Gnome King", a huge wooden gnome opened doors to Finnish museums as he had his first Solo show in the Art museum of Hyvinkää and curated a wood sculpture exhibition in his hometown Lahti.
This summer the Gnome King is shown in South Bank Centre of London. At the moment Mustonen is finishing his MFA studies in Academy of Fine Arts in University of the Arts Helsinki.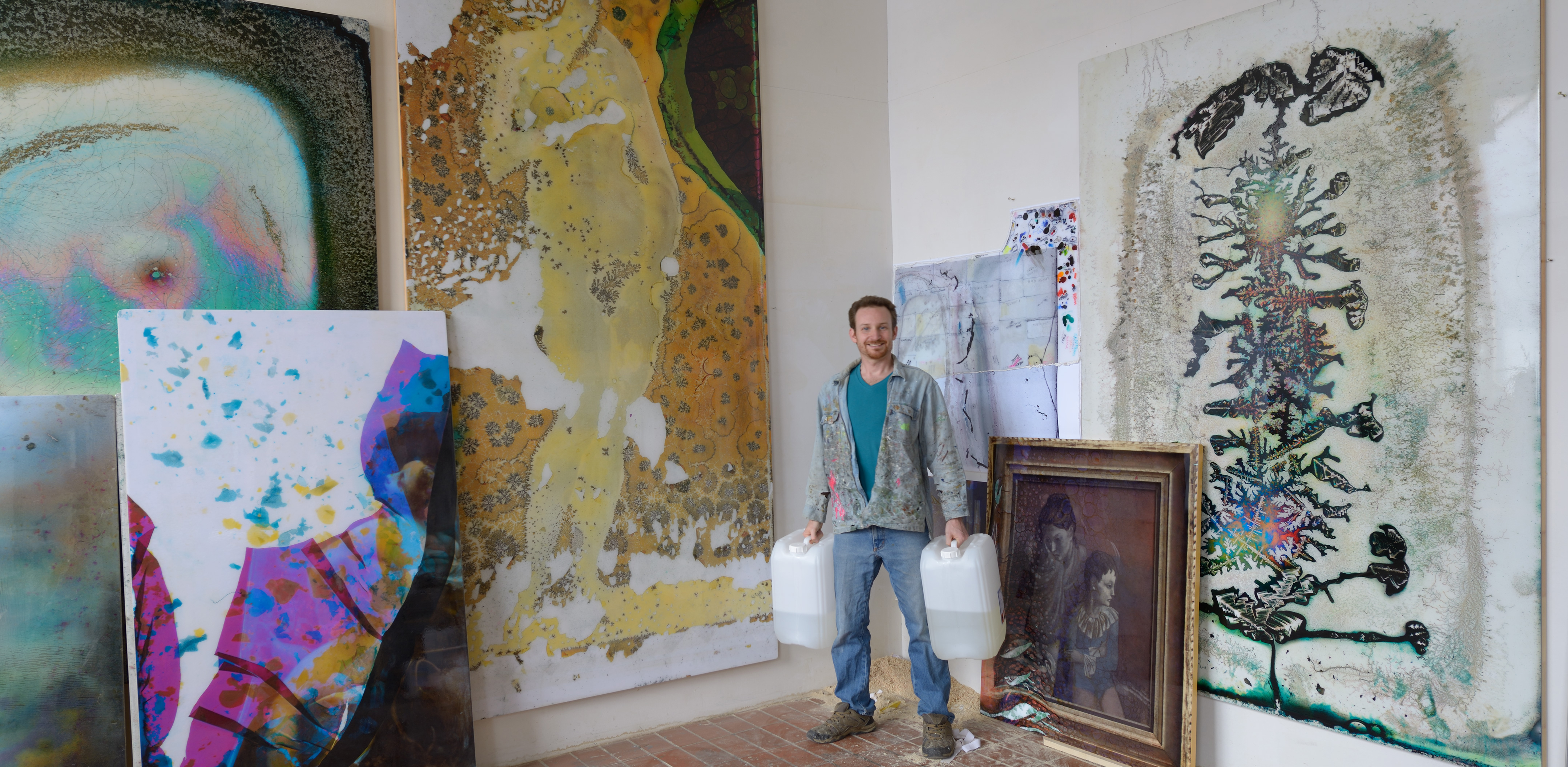 Wolfgang Ganter, De:Composing
Thursday, Nov. 9 to Saturday, Dec. 9, 2017
This solo exhibition is a collection of works from German artist Wolfgang Ganter who uses methods of science as an instrument as well as pictorial rendition to create Artwork. This unique interplay leads to compulsory, out of control coincidence and allows the unimaginable to emerge.
Opening reception: Thursday, Nov. 09 from 5:00pm to 7:00pm
Artist Talk: Tuesday, Nov. 14, during Club Hours (3:00pm to 4:15pm) in the Gallery
Wolfgang Ganter (http://www.wolfgangganter.com) born in Stuttgart in 1978 lives and works in Berlin, Germany. As a former master student of Prof. Andreas Slominski, Ganter studied at the Staatliche Akademie der Bildenden Künste Karlsruhe Germany from 1999 until 2005.
His work has been exhibited at numerous group and solo exhibitions and has received numerous Awards and performed Artist Residencies both nationally and internationally.
Ganter infects photographic slides with bacteria, which eat away at the original image thereby creating a new picture. The infected slides are then photographed under the microscope, hence enlarged, resulting in interplay of old and new perspectives.
In 2018 Ganter will be joining a work scholarship of the Australia China Art Foundation in Shanghai.
---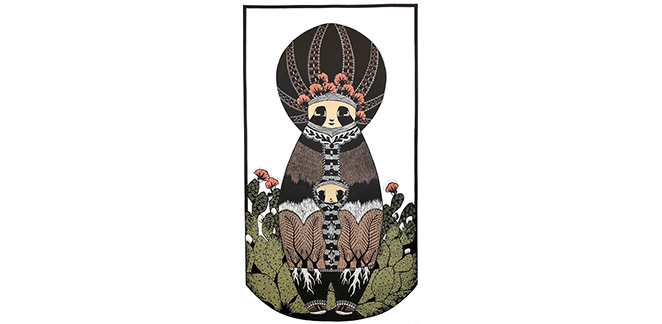 Migrating Heritage
This group exhibition is a collection of works based on immigration and cultural heritage. The showcased artists utilize personal narratives and iconography to represent their own experiences and ideas on settlement and heritage.
Exhibiting artists are: Annalise Gratovich, John Hitchcock, Michael Menchaca and Ernesto Ortiz Leyva.
On view: Thursday February 22, 2018 – Saturday March 24, 2018
Opening reception: Thursday February 22, 2018; 5:00pm - 7:00pm
Artist Talks: Thursday February 22; 6:00pm – 7:00pm at the Gallery 1P-112
Artist lecture and Demonstration by Annalise Gratovich:
Tuesday February 27; 2:30pm – 4:00pm in the Printmaking studio 1P-103
---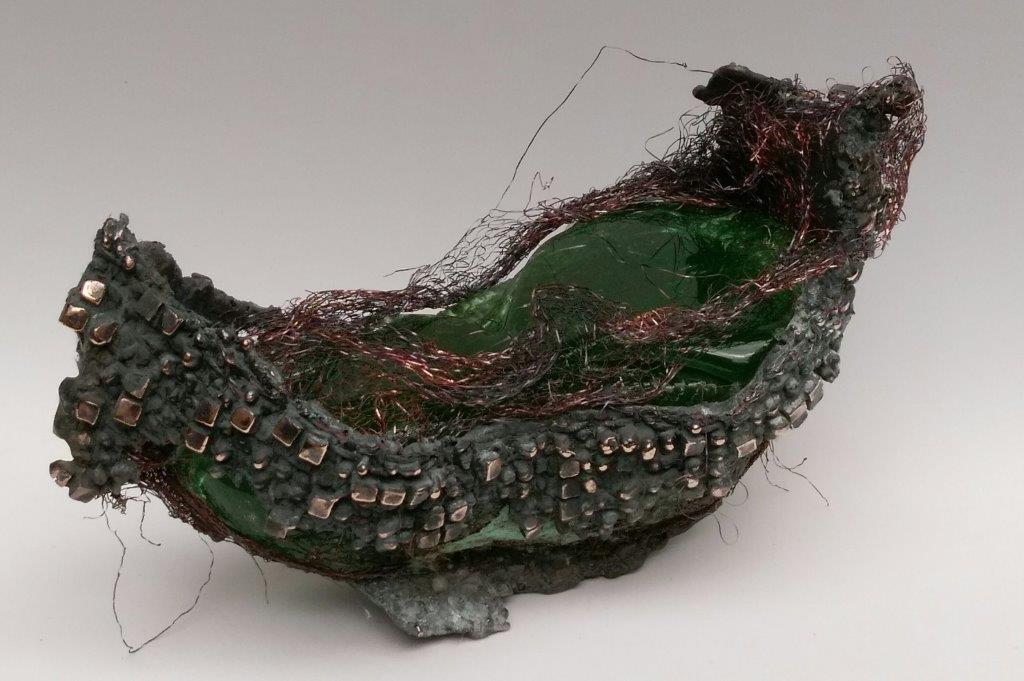 Lighting the Past
A solo exhibition of sculpture and monotypes by Associate Professor of Sculpture Marianne Weil.  After exploring new materials and techniques, past ideas and aesthetics resurface-- providing light into an exciting new body of work.
On view: Thursday April 19 - Wednesday May 16, 2018
Opening reception: Thursday April 19, 2018; 5:00pm -7:00pm
Artist Talk: Thursday April 19; 4:15pm – 5:00pm at the Gallery 1P-112