Additional Navigation
Close
Meet the Executive Chief Diversity Officer & Special Assistant to the President
Image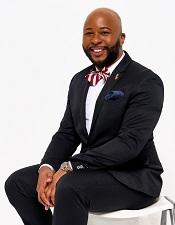 Dr. Jonathan Wesley is a critical, interdisciplinary, culturally responsive pracdivist (Practitioner-Academic-Activist-Artist) who serves as an ordained member of the clergy while identifying as queer in every possible way. Having a tri-vocational career, Dr. Wesley has served a diverse portfolio of higher education institutions, government agencies, faith communities, and non-profit organizations in various roles which have provided him with the necessary experience to be an effective agent of positive change. He lives by the mantra "If I can help somebody as I pass along, then my living will not be in vain." While living authentically and proudly as he is per his intersecting identities comes with a cost, Dr. Wesley believes that is a price worth paying unapologetically.  Dr. Wesley earned a BA in Sociology (Claflin University - HBCU), an M.Ed. in Higher Education Administration (Columbia College), graduate certificates in Leadership and Pastoral Counseling, a MA in Religion and Public Life (Emory University, Candler School of Theology), and a Ph.D. in Educational Policy Studies (Georgia State University) where he received the competitive Provost's Dissertation Award. He is also a proud member of Kappa Alpha Psi Fraternity Incorporated which is affiliated with the Divine 9. 
Dr. Wesley is glad to be a member of the CSI community and serving as the inaugural Executive Chief Diversity Officer and Special Assistant to the President. It is his desire and belief that diversity, equity, and inclusion will have the necessary systemic and structural impact which will continue to positively transform people and the institution. With your help, this hope can become a manifested reality. For fun, Dr. Wesley loves to do some of the following: Singing, writing, outdoors when it is not too hot, watching Ru Paul's Drag Race, spending time with loved ones, and laughing. 
For more information about Dr. Wesley, you can always reach out directly via email, telephone, or review his LinkedIn profile (Reverend Jonathan Wesley, Ph.D.) for media links and publications.  
Selected Publications 
Bagasra, A., Mc Letchie, A., & Wesley, J. (Eds.). (2022). Contributions of Historically Black Colleges and Universities in the 21st Century. IGI Global.
Wesley, J. (2022). All BlaQ Lives Matter at HBCUs in Bagasra, A., Mc Letchie, A., & Wesley, J. (Eds.). Contributions of Historically Black Colleges and Universities in the 21st Century. IGI Global.
Wesley, J. (2022). Black, Queer, Millennial Males in Academia: Tales of Three to Consider in Mackinem, B. M., Ritter, L. J., Bagasra, A. (Eds.). In The Changing Faces of Higher Education: From Boomers to Millennials. Vernon Press. 
Wesley, J. (2022). "Lift EVERY Voice and Sing: An Intersectional Qualitative Study Examining the Experiences of Lesbian, Gay, Bisexual, and Queer Faculty and Administrators at Historically Black Colleges and Universities." Dissertation, Georgia State University
Wesley, J. (2018). You Said One Thing; God Said Differently. Authors United Publishing
Selected Media Appearances