Professor
David A. Gerstner is Professor of Cinema Studies in the Department of Media Culture at the City University of New York's College of Staten Island. He also serves as a member of the doctoral faculty in the CUNY Graduate Center's Film Studies Certificate Program/Department of Theater. He has authored and edited 8 books, and over 30 articles on queer film studies.
Degrees
Ph.D., UCLA
MAH, SUNY Buffalo
Scholarship and Publications
His works include: Christophe Honoré: A Critical Introduction; Queer Pollen: White Seduction, Black Male Homosexuality, and the Cinematic, and The Routledge International Encyclopedia of Queer Culture (editor, 2006—New York Public Library "Best of Reference," 2007). He is editor of the book series, Queer Screens at Wayne State University Press, which include monographs on Luchino Visconti, Pier Paolo Pasolini, Barbara Hammer, Barbra Streisand, Queer Mexican Cinema, and Queer Brazilian Cinema. Queer Imaginings: On Writing and Cinematic Friendship will be published in Spring 2023. He recently completed a short film, Between Men, A Historical Fantasy.
In 1951, Jean Genet and Francois Truffaut met in Parisien hotel. They spoke about cinema and literature. But in that moment, something more was shared: their desire…
Between Men: Act 2. A historical Fantasy. A film by David A. Gerstner. Starring Erik Endsley and Daniel Loffreda with Paula Massood and Muneeb Hassan as Abdallah.
Last Updated: 04.07.2022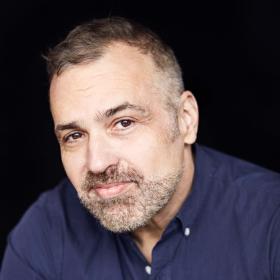 Contact Information
Office: Building 1P Room 226