Associate Professor
Professor Siona Wilson is the coordinator of the art history program at the College of Staten Island. She is also on the faculty at the Graduate Center, CUNY. A background in studio art has always informed Siona Wilson's approach to teaching the history of art. In the classroom she emphasizes the sociality of artistic practice and this stems from having worked collaboratively with other artists. Art is made in dialogue with the surrounding culture and frequently this involves controversy, conflict, and opposition. She regularly teaches the following courses: American Art Since 1945, Nineteenth-Century Art, Twentieth-Century Art, Contemporary Art, the History of Photography as well as survey classes in the History of Art until the Renaissance and the History of Art from the Renaissance. She also team-teaches a class on Issues in Contemporary Photography with the Associate Professor of Photography Beatrix Reinhardt.
Degrees
Ph.D. in Art History, Columbia University, NY (2005)
M.A. University of Leeds, UK (1997)
B.A. in Fine Art, Nottingham Trent University, UK (1992)
Scholarship and Publications
Siona Wilson's research interests are grounded in issues of sexual difference, race, and sexuality at the intersection of art and politics in the twentieth century. Author of the book Art Labor, Sex Politics: Feminist Effects in 1970s Art and Performance (Minnesota, 2015), she has published widely on photography, experimental film, video, sound and performance art, in edited collections and journals, including Artforum, Art History, October, Oxford Art Journal, The International Journal of Francophone Studies, and Third Text. She also works as an independent curator; she regularly curates the Art Gallery of the College of Staten Island and is the chair of the CSI Gallery Committee. Professor Wilson is currently working on a book about the use, circulation, and disappearance of images of female combatants in a diverse range of twentieth and twenty-first century conflicts.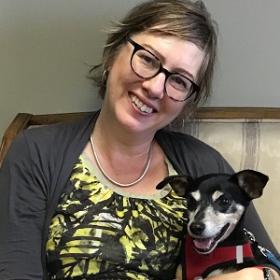 Contact Information
Office: Building 1P Room 224B