Assistant Professor
Sohomjit Ray is Assistant Professor of English. He teaches courses in South Asian and African literature, and gender and sexuality studies. His research interests include postcolonial and queer theory; translation; feminism; neoliberalism; and South Asian literature and public culture. He is currently finishing his book project The Spectacle and the Specter: Queer Representations in Neoliberal India, which analyzes the conditions of representing same-sex desire and queerness in neoliberal India after 1991. He has published in The Translator, South Asian Review, Wasafiri. 
Degrees
Ph.D., Kent State University
M.A., University of Calcutta
Scholarship and Publications
Articles:
Gendering the untranslatable in the world literary market: reading Rabindranath Tagore's 'Shasti' (1893) in translation." The Translator. August 20, 2019.
"Multilingual Reader, Translingual Reading: Unmaking the Anglonormativity of World Literature in Amitav Ghosh's Sea of Poppies." In Hybrid Englishes and the Challenges of and for Translation: Identity, Mobility and Language Change eds. Karen Bennett and Rita Queiroz de Barros, Routledge, 2019, pp. 73-91.
"Legibility, Erasure, and Neoliberal Assimilation of Same-Sex Desire in Dostana." South Asian Review, vol. 34, no. 3, 2013, pp. 159-174. Special Issue: Gender and Sexuality in South Asian Literature and Culture edited by Kanika Batra.
"The Value of Beauty." Journal of Humanities and Social Sciences, no. 6, 2009, pp. 105-117.
Translations:
Bharatiya Galpaguchchha (Indian folktales). English to Bengali. Translation of three children's folktales collected from different parts of India. Kolkata: Kreya Comics, 2008. 24 pages.
Other publications:
Review of Sleeping on Jupiter, by Anuradha Roy and Consumable Texts in Contemporary India: Uncultured Books and Bibliographical Sociology, by Suman Gupta. Wasafiri vol. 3, no. 1, 2016, pp. 88-89.
Review of Transforming Faith: The Story of Al-Huda and Islamic Revivalism among Pakistani Women, by Sadaf Ahmad. Pakistaniaat: A Journal of Pakistan Studies, vol. 3, no. 1, 2011, pp.80-87.
Review of In Other Rooms, Other Wonders, by Daniyal Mueenuddin. Pakistaniaat: A Journal of Pakistan Studies, vol. 2, No. 1, 2010, pp. 90-94
Courses Taught
ENG 151: College Writing
ENH 206: Classics of Modern World Literature
INT/ WGS 203: Gender in the Contemporary World
ENL 290: Introduction to Literary Studies
ENL 307: African Literature
ENL 310: World Literature in Contexts
ENL 321: South Asian Literature
ENL/ DRA 358: World Drama Since 1800
ENL/ WGS 368: Queer Studies
ENL/ WGS 369: Gender and the Negotiation of Difference
ENL/ LNG 388: Major World Author (Rabindranath Tagore)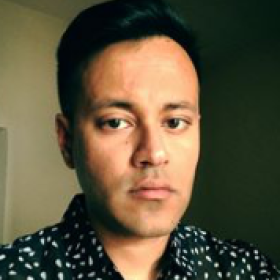 Contact Information
Office: Building 2S Room 233
Office Hours