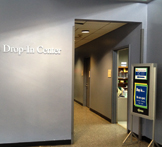 The Drop-In Center is a resource for all students!
Location: Building 1C, Room 111
Phone: 718.982.3113
Stop by! No appointment necessary.
Lots of health and wellness information
Referrals to on and off campus resources
FREE safer sex supplies
Questions about the campus? Concerns about wellness or health?
Don't know who to ask? TALK TO A PEER EDUCATOR!
CLUE by Appointment
CLUEs by appointment are available to students at their convenience. Stop by the Drop-In Center (Building 1C, Room 112) or call 718.982.3113 for more information about the current offerings or to schedule an appointment.
Below are just some of our signature events:
Blood Drives (4 a year!)
Get Fit! (Fall semester)
National Collegiate Alcohol Awareness Week (Fall semester)
CUNY Wellness Fair (Spring semester)