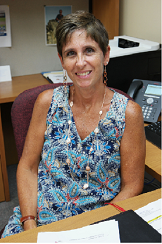 Patricia Kahn, Ph.D. is the Assistant Vice President and Chief Information Officer for Information Technology Services at the College of Staten Island. Dr. Kahn has over 15 years' experience in higher education technology services and 10 years' experience working in training and technology for the private sector.
Prior to coming to CSI, Dr. Kahn held the position of Executive Director of Information Technology Services at Brookdale Community College. While at Brookdale, she served as a member of the IT Executive Council for the College, oversaw the implementation of major technological advancements as well as directed activities relevant to budget planning and policy development.
Dr. Kahn also has extensive experience in academic technology and distance learning. During her nine-year tenure at Montclair State University, Dr. Kahn held various Information Technology administrative positions where she led the successful implementation of distance learning initiatives, managed the Blackboard Learning Management System, and directed a team of Instructional Designers.
Dr. Kahn received her BS and MBA from Manhattan College, and her Ph.D. in Education from Capella University, with a concentration in Instructional Design and Online Learning.