Additional Navigation
Close
Honorees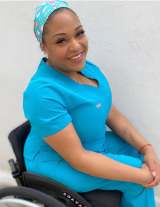 Andrea Dalzell '18, '19
Andrea Dalzell is the first registered nurse in a wheelchair to get through nursing school at CUNY, and in New York City. She completed an undergraduate degree at the College of Staten Island, majoring in Biology and Nursing. Andrea is known as a pioneering activist for people with disabilities, having emerged victorious against all the obstacles in her path, including being diagnosed with Transverse Myelitis at a young age. She did not allow her disability to become or define her. As an advocate and activist for the rights of people with disabilities, Andrea has garnered various awards. She was awarded CUNY's Emerging Leader of The Year Award and received the Cindy Loo Disability Rights Advocate Award in 2015 and, most recently, the inaugural Craig N. Nelson Visionary Prize. 
Besides juggling her career as a school nurse, she finds the time to travel and spread awareness of issues that affect people with disabilities, such as healthcare, transportation, accessibility, and gender disparities affecting the LGBTQ community, and much more. 
Andrea was crowned Ms. Wheelchair New York 2015 and utilized her title and platform "Life, Liberty and the Pursuit of Access" to promote her message and belief that people with disabilities can live a fulling life. She has been featured on Good Morning America, Access Hollywood, Forbes magazine, and O, The Oprah Magazine, an Apple ad, and other publications and media outlets. In her commercial with Apple, she inspires the innovative addition to the Apple Watch to track pushes instead of steps for everyone who uses a wheelchair- as a part of tech inclusion.
---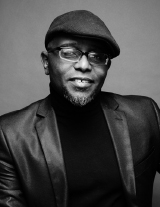 Professor Tyehimba Jess
 2017 Pulitzer Prize Winner
Tyehimba Jess is the author of two books of poetry, leadbelly and Olio. Olio won the 2017 Pulitzer Prize, the Anisfield-Wolf Book Award, and The Midland Society Author's Award in Poetry, and received an Outstanding Contribution to Publishing Citation from the Black Caucus of the American Library Association. It was also nominated for the National Book Critics Circle Award, the PEN Jean Stein Book Award, and the Kingsley Tufts Poetry Award. leadbelly was a winner of the 2004 National Poetry Series. The Library Journal and Black Issues Book Review both named it one of the "Best Poetry Books of 2005."
Jess, a Cave Canem and NYU alumnus, received a 2004 Literature Fellowship from the National Endowment for the Arts, and was a 2004–2005 Winter Fellow at the Provincetown Fine Arts Work Center. He is also a veteran of the 2000 and 2001 Green Mill Poetry Slam Team, and won a 2000–2001 Illinois Arts Council Fellowship in Poetry, the 2001 Chicago Sun-Times Poetry Award, and a 2006 Whiting Fellowship. Jess presented his poetry at the 2011 TedX Nashville Conference and won a 2016 Lannan Literary Award in Poetry. He received a Guggenheim fellowship in 2018. He is a Professor of English at the College of Staten Island.  
---
Dr. Michael Nakao '71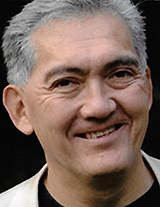 Michael Nakao was born and raised in upstate New York, on a small farm; he had grandparents from Japan and Ireland. His father worked separating newly hatched male from female chickens. 
Although he had older half-brothers, they were gone from the home when he was quite young, and he grew up away from other children except during school, becoming quite bookish. His mother, a very strong-willed woman, thought it best that he go to a religious college, where Michael did poorly. He was asked to leave that college, but with the help of others, not the least the fine people at Richmond College, he was able to re-enroll in college and graduate with honors, majoring in biology and biochemistry. 
He went to medical school at Buffalo and Stony Brook, graduating in 1975. He then did residency and fellowship training in internal medicine, pulmonary disease, and cardiology. After finishing his training, he was briefly part of the full-time faculty at Albany Medical College, where he remains on the clinical faculty. He continues to practice the specialties of pulmonary, critical care, and sleep medicine (for which he is board-certified) in Albany, NY. 
He is married to the talented and amazing Kate McDonnell, who is a professional singer-songwriter/guitarist, and works as a mental health counselor for children. He has two children, the oldest, Katrina, is a practicing midwife in the Washington, DC area.
---
 Kate McDonnell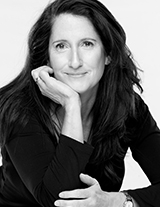 Kate McDonnell, singer-songwriter, plays her guitar "upside down and backward," and sings with her whole being. She has performed solo at the Newport Folk Festival, on the Mountain Stage radio program, on NPR's World Café, and at New York's Kennedy Center. Her award-winning songwriting has been singled out for praise by The Village Voice, Sing Out!, The Boston Globe, and Dirty Linen. Her four CDs are available on the Waterbug and Appleseed labels. After taking a break from professional music to earn her MSW, Kate is performing again with a fresh batch of soulful, fierce, and funny original songs on a new 2021 album called Ballad of a Bad Girl.
---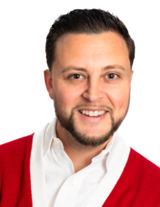 Vinnie Medugno '09
Host
To learn more about Vinnie, click here