Physical Distancing
All CSI community members are expected to maintain appropriate social distancing on campus. Classes and activities have been scheduled and located to help students and faculty move about while maintaining social distancing. In particular, 94% of sections are scheduled to provide remote instruction in the fall. Local area signage and campus communications will reinforce the messaging on the need to maintain social distancing.
Distancing and Masks
CSI will implement measures to ensure that a distance of at least six feet is maintained among individuals while on campus, inclusive of faculty and staff, and students, to the extent possible and when seated in a classroom or meeting, unless safety or the core activity (e.g., moving equipment, using an elevator, performing a transaction) requires a shorter distance or individuals are of the same residence (i.e., a roommate). Any time individuals come within six feet of another person who does not reside in the same residence, acceptable face coverings must be worn (44).
Social distancing is not a substitute for wearing a face covering in common areas (hallways, bathrooms, other indoor congregate settings where people are six feet apart). Individuals are required to wear face covering when indoors to avoid inadvertent close contact without a face covering. (41)

CSI will provide face coverings to all CSI employees.
Prior to being granted access to campus, employees are required to take training on appropriate use and cleaning of face coverings per CDC guidance.
Through appropriate campus signage, NYS and campus specific training and specified reporting mechanisms, and monitoring and enforcement by Public Safety officers, CSI will ensure that acceptable face coverings are worn.
Face coverings are required for all individuals who are over the age of two and able to medically tolerate such coverings.
Acceptable face coverings for COVID-19 prevention include but are not limited to cloth-based face coverings (e.g. homemade sewn, quick cut, bandana), surgical masks, and face shields that cover both the mouth and nose. (41)
CSI will provide acceptable face coverings to employees for workplace activities that typically require a higher degree of personal protective equipment (PPE) due to the nature of the work. For those activities, N95 respirators or other PPE used under existing industry standards must continue to be used, as is defined in accordance with OSHA guidelines. (41).
Adherence to mask use policy is expected and will be self-managed. Any significant violations of mask policy can and will result in the campus community member being banned from campus activity for an appropriate time.
See Section II.A, "Protective Equipment" for more information on masks and PPE.
Limit Occupancy and Congestion
Through directional signage and occupancy signage CSI will limit occupancy and congestion.
Small space will be limited to no more than one individual at a time (e.g. supply rooms, faculty offices, study lounges, unless all individuals in such space at the same time are wearing acceptable face coverings or are members of the same residence). Appropriate occupancy signage will be displayed.
CSI will not allow occupancy to exceed 50% of maximum capacity of a space. Each space will be reviewed based on square footage, items and furniture setup and air ventilation in order to determine capacity number.
CSI, to the greatest extent possible will increase ventilation with external air (e.g. opening windows and doors), while maintaining health and safety protocols. (41, 43)
Campus Planning will review building floorplans and blue prints to determine legal occupancies and square footage for all campus spaces and change each room's occupancy per the six feet rule, starting with priority spaces. (16)
CSI Campus Planning Office will use floorplans to establish a maximum office capacity for each floor or room to ensure that shared spaces such as restrooms, pantries, and meeting spaces are not overwhelmed. This capacity will be based on establishing a 6 foot or larger radius for every area that an individual occupies, as per the diagram below: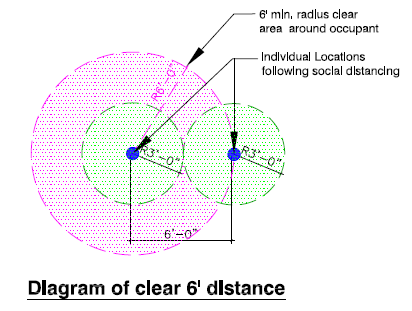 CSI will evaluate the number of workstations and shared seating areas that can be occupied simultaneously. For instance: number of workstations at six feet distance + number of private offices + number of shared seats at 6 feet repurposed as work seats = maximum capacity. Using the maximum capacity per floor, CSI will set target capacities at a percentage of that maximum and will adjust the space and protocols after the initial return. (33)
The diagram below demonstrates how a room normally configured for twenty-four individuals has been reduced to ten based on the six-foot safety margins around each individual. (33) See Section I.A, 'Selected Diagrams for Reconfiguring Spaces', for more diagrams.
CSI will take additional measures to prevent congregation in elevator waiting areas and limit density in elevators, by enabling the use of stairs. Directional use of stairwells will be implemented.
CSI Campus Planning and Facilities will identify new occupancy limits for bathrooms and other frequently used areas, post universal signage, and block access to stalls, sinks, or tables, as appropriate, to ensure physical distancing. (18)
CSI will follow recommended practices for generally limiting public interactions on campus include, but not limited to:

Limiting visitors to "invited guests" who are expected to abide by all campus and building specific protocols; and
Requiring student/institutional IDs in order to enter any on-campus building. (41)
Requiring clients and visitors to have an appointment or pre-approved permission to enter buildings (15).

The CSI Coronavirus Campus Coordinator will designate appropriate personnel to ensure engagements will be scheduled, pre-approved and managed in conjunction with the offices/locations being visited (15).

Barring non-essential visitors, to the extent possible (15).
See Section I.C, "Operational Activity" for further guidance.

Non-essential common areas (e.g. gyms, pools, game rooms) must remain closed. (42)
Dormitories:

The attached dormitory plan identifies 26 private bedrooms with private bathrooms for students who are required to quarantine under NYS DOH guidelines and how daily needs, such as food and medication, will be met during a period of isolation or quarantine.

Sections of residence halls with private bathrooms, will be reserved to be used solely for the purpose of isolating or quarantining individuals living on-campus who have, who are suspected to have, or who were exposed to COVID19;
See Section IV.B, "Institution Plans/Dolphin Cove Residence Hall Re-entry Plan" for further guidance.

CSI Understands that local health departments may, under their legal authority, implement monitoring and movement restrictions of infected or exposed persons including home isolation or quarantine.
Reconfigure Floorplans
CSI Campus Planning will modify or reconfigure the use and/or restrict the use of classrooms and other places where students and faculty gather, so that individuals are at least six feet apart in all directions (e.g. side-to-side and when facing one another) and are not sharing workstations without cleaning and disinfection between use. CSI will limit use of shared workstations when feasible. When distancing is not feasible in public spaces, CSI will require the use of face coverings or physical barriers (e.g. plastic shielding walls, in lieu of face coverings in areas where such barriers would not affect air flow, heating, cooling or ventilation or otherwise present a health or safety risk). (41, 42)
When reviewing the configuration of workspaces, CSI will:

Consider eliminating reception seating areas and requesting that visitors phone ahead, or installing a plastic partition at any reception areas, in accordance with OSHA guidelines. (5)

Physical barrier options may include: strip curtains, cubicle walls, plexiglass or similar materials, or other impermeable dividers or partitions. (41)

Review floorplans and remove or reconfigure seats, furniture and workstations as needed to preserve recommended physical distancing in accordance with guidelines. (5)
Reconfigure workstations to maintain at least 6 feet between workers and so that employees do not face each other. Establish partitions or other barriers if facing each other cannot be avoided or workstations are unable to be 6 feet apart. (5)(33)

CSI Campus Planning and Facilities will reconfigure all accessible areas of seating —including computer labs, research labs, studios, libraries, offices, cafeterias, lecture halls, and other rooms— e.g. by removing or blocking chairs and tables to reduce occupancy to appropriate levels of physical distancing. (18)
CSI Campus Planning and Facilities will reconfigure all areas that require people to stand to demarcate physically distanced places to stand and to limit occupancy with universal signage. All areas that require people to line up to demarcate appropriate physically distanced places to stand in the line. (18)
Sample Diagrams for reconfiguring spaces in building 6S, Research Lab, elevator and office (23):
Sample Diagram for reconfiguring Computer Lab: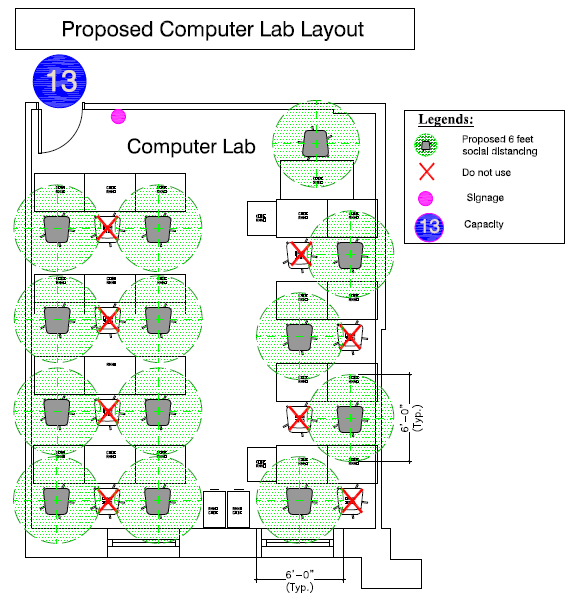 Signage
Campus facilities will be examined in detail and appropriate signage will be developed as required by federal, state, local and university policy. Signage will be deployed and maintained in support of the goals of proper campus management.
CSI will post signs throughout the interior and exterior of the campus, consistent with NYS Department of Department of Health (NYSDOH) COVID-19 signage. Where applicable, CSI may customize signage specific to their setting, provided that such signage is consistent with NYSDOH's signage. Signage will be used to remind individuals to: stay home if they feel sick; cover their nose and mouth with an acceptable face-covering; properly store and, when necessary, discard PPE; adhere to social distancing instructions; report symptoms of or exposure to COVID-19, and how they should do so; follow hand hygiene and cleaning and disinfection guidelines; follow respiratory hygiene and cough etiquette. (41)
Identifiable, uniform, simple, and clear signage will be deployed throughout all interior and exterior areas on campus. This "universal signage" will be posted in all areas that are unlocked and available, including entrances, exits, elevators, stairwells, hallways, bathrooms, offices, classrooms, libraries, cafeterias, laboratories, studios, and other gathering spaces. CSO will make use of digital screens, where available, as well as printed and laminated signage. (18)
CSI will make use of the applicable print resources provided by The Center for Disease Control and Prevention (CDC):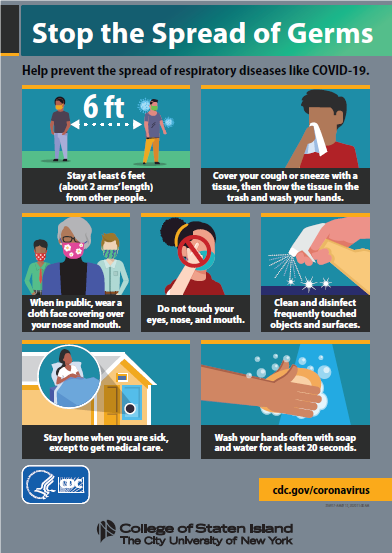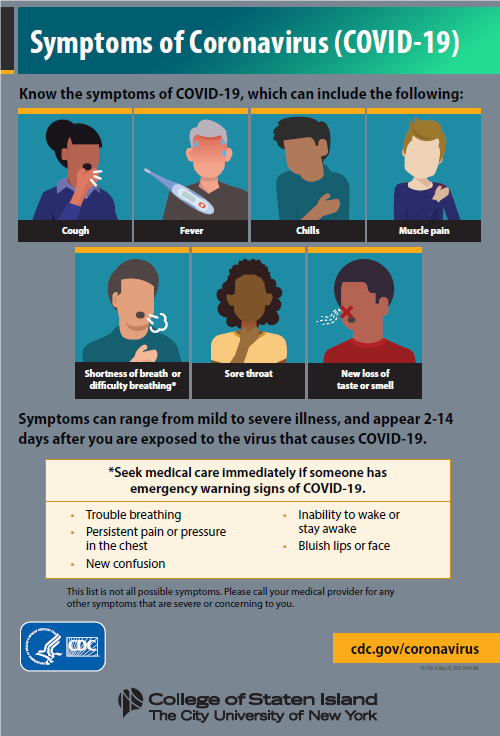 In addition to personal health guidelines, CSI will provide signage to include information such as directional cues, occupancy limits, traffic patterns, and other campus policies.
Where feasible, CSI will put in place measures to reduce bi-directional foot traffic using tape, signs, and other indicators with arrows in hallways, or spaces throughout campus, and post signage and distance markers denoting spaces of six feet in all commonly used areas and any areas in which lines are commonly formed or people may congregate (e.g. campus centers, libraries, classrooms, dining halls, and health screening stations). Where possible, entrances and exits to buildings and rooms will be separated. (18, 41)
Signage and diagrams indicating measures taken to reduce bi-directional foot traffic and/or separation of entrances and exits to the building floor plan. (18, 41)
Signage and diagrams indicating measures taken to reduce bi-directional foot traffic and/or separation of entrances and exits to the building floor plan. Example of building 6S first floor South quad (18, 41)
CSI will post social distancing markers around the workplace using tape or signs that indicate 6 feet of spacing in commonly used areas and any areas in which lines are commonly formed or people may congregate (e.g. clock in/out stations, health screening stations, break rooms, parking services, cafeteria food pick-up, etc.). (15)
---
Gatherings in Enclosed Spaces and General Guidance for Enclosed Spaces
Gatherings on campus in enclosed spaces will be managed based upon current federal, state, local and university policy. In all cases, rules regarding social distancing will be adhered to and proper social distancing will be maintained.
CSI will limit in-person gatherings to the greatest extent possible and will encourage video or teleconferencing in lieu of in-person gatherings (e.g. classes, conferences, office hours,) to reduce the density of congregations per CDC guidance "Interim Guidance for Businesses and Employers to Plan and Respond to Coronavirus Disease 2019 (COVID19)." When videoconferencing or teleconferencing is not preferable or possible, CSI will hold meetings in open, well-ventilated spaces and ensure that individuals maintain six feet of social distance between one another (e.g. leave space between chairs, have individuals sit in alternating chairs). (41)
All CSI staff are encouraged to use telework and virtual meetings where possible, especially employees at higher risk for severe illness from COVID-19. If it is necessary to conduct a meeting in person, the number of attendees will be limited so that those present can sit a minimum of six feet apart with all participants wearing facial coverings. Others can join the meeting remotely, if necessary. This will minimize contact and free up meeting spaces for possible use as classrooms, research spaces, or offices for employees who are displaced from shared offices.
CSI will close non-essential amenities and communal areas which promote gathering or are high-touch (e.g. break areas, communal coffee machines, dining areas) and will provide cleaning and disinfecting supplies that may be used by individuals before and after the use of areas deemed essential for reopening. CSI will temporarily replace amenities that are handled with high contact frequency and will use signage to deter use of such amenities that cannot be removed. Items to be removed include:
Water coolers, coffee makers, and bulk snacks. Alternatives include touchless sensor water dispensers; requesting workers bring in their own water bottles/coffee mugs; providing individually wrapped snacks. (5)
Vending machines (removed or emptied)
Replace reusable kitchen items (flatware, dishes, and cups) and cleaning tools (sponges, brushes, towels) with single use options. (2)
High-touch office and lobby items such as magazines, common pens, etc. (2)
CSI will identify frequently touched areas (doors, cabinets, etc.) and investigate options to implement reduced or no touch options such as door removal, card access, foot-operated door pulls/pedals, or sensor-triggered doors. (2)
Activities will be batched, where possible, so employees can adhere to social distancing and reduce the number of hands touching products at the same time (15)
Employees will be prohibited from using other employees' personal protective equipment, phones, computer equipment, desks, cubicles, workstations, offices or other personal work tools and equipment. (15)
CSI will put in place practices for adequate social distancing in small areas, such as restrooms and break rooms if in use, and will and post signage and develop operational changes (e.g. flagging when occupied) to restrict occupancy when social distancing cannot be maintained in such areas. (41)
CSI will prohibit the use of by more than one individual at a time of tightly confined spaces (e.g. supply rooms, kitchens), unless all employees in such spaces at the same time are wearing acceptable face coverings. (26) CSI Facilities will also identify unsafe spaces (e.g., too small, no ventilation, bottleneck entry) and recommend approaches to deactivate those spaces. (16)
CSI will staggering schedules for employees to promote social distancing (e.g. coffee breaks, meals, and shift starts/stops).
Cafeterias/Dining Halls
See "Institution Plans/ Dolphin Cove Residence Hall Re-entry Plan" for reopening plan.
In the case of a positive test, CSI will plan on closing the dining hall/cafeteria for two days; conduct thorough cleaning in line with NYSDOH guidelines, discard any contaminated food; quarantine all employees on shared shift. (25). The following activities will take place:
Dining services will close.
Communications will be sent to all individuals potentially exposed through coordination with our HR department and Students Affairs
Data from time punch system will be utilized to identify and alert any staff member who was potentially exposed.
Staff will be required to be tested.
All staff will adhere to the existing quarantine standards.
Deep cleaning will be performed of the entire space and any contaminated food will be discarded.
Throughout the time that dining services is closed, Dolphin Cove residents will be provided with MRE's. Dining Services has approximately a 3 weeks supply of MRE's. In addition, all dolphin residents have units equipped with a full kitchen and the availability of food services in the vicinity.
Cleaning Protocol:
CSI will implement enhanced disinfection and sanitization measures both in the kitchen and dining areas. (5) Alarm will be set for every 30 minutes at which time employees will sanitize their stations/surrounding area. Specifically, employees will spray down surfaces with Purell Food Service Sprays. Cleaning logs will also be maintained.
CSI will ensure deep clean / sanitization between employee shifts. (25) With only 1 shift, all staff will clean at end of each meal period. The deep clean involves disassembling of all used equipment and conducting a deep cleaning of all small parts by soaking in bleach solutions. Bleach solutions will also be used in the cleaning of all countertops, cutting boards, and floors. All these items will be left overnight to dry.
Computer Labs
Physical Preparation:
Shared keyboards in a student computer lab pose a particular challenge. For CSI's measures to address this challenge refer to Operational Preparation and Cleaning Protocol subsections below (18)
Operational Preparation:
To limit the need for students to visit college computer labs, where possible CSI OITS has been working on a solution that will help limit the number of students on campus by setting up virtual computer labs. This will allow students and faculty to remote in from home and use physical computer labs on campus. As such, regardless of platform (Windows, Mac, iPad, Chromebook, etc...) students will have access to a variety of software in a number of our computer labs and be able to have access to the same applications as they would if they were on campus. (18)
Cleaning Protocol:
For electronic equipment, CSI cleaning staff will clean following the manufacturer's guidelines on each shift. If no guidance is available, will use alcohol-based wipes or soft cloths sprayed with disinfectant that includes at least 70% alcohol. (18)
CSI will encourage students to thoroughly wash their hands before using any computer terminal, we will distribute alcohol-based wipes for students to wipe the keyboard and mouse prior to using the equipment, and cleaning staff will disinfect high touch points at every shift. (18)
Conference Rooms
Physical Preparations:
CSI will remove chairs and desks to ensure proper physical distancing in conference and waiting rooms and will identify allowable occupancy in order to control workflow and/or establish maximum attendance. (2)
CSI may consider utilizing any unused conference rooms as additional, individual workspaces to be used by staff to help meet physical distancing requirements in the office.
Operational Preparations:
All meetings will continue to be held remotely to the greatest extent possible. If a meeting must occur in person, it will be conducted in a quick manner and limited to 10 people or less depending on maximum allowed capacity of the room. (2, 25)
CSI will require users to provide a reason that a meeting cannot be held remotely before booking a room. (25).
Cleaning Protocol:
Conference rooms that are used will be disinfected on a daily basis at minimum. (34)
Disinfectant wipes or spray will be left in each conference room and employees will be encouraged to wipe down all surfaces and equipment (e.g., mouse, keyboard, phone) touched during conference room meetings. (34)
Dorms/Housing (for residential campuses)
See "Institution Plans/ Dolphin Cove Residence Hall Re-entry Plan" for reopening plan.
Elevators
Safe use practices will be enforced on elevators by limiting the number of passengers to allow for appropriate social distancing.
Physical Preparation:
CSI will post occupancy limits for elevators and mark places to stand in corners to encourage maximum spacing between occupants. In addition, elevator waiting area will be marked to ensure people waiting are maintaining proper distance.
Signage encouraging use of stairs will be posted. (15)
Hand Sanitizer will be provided when possible:
CSI will post signage to encourage use of face coverings, discourage any talking, and direct occupants to stand in the corners, facing away from one another.
Operational Preparation:
All elevators will be assessed for maximum capacity; if more than one person then appropriate signage will be displayed as outlined above. CSI will limit to capacity to comply with social distancing as per reconfiguration on 1.A Physical Distancing / Selected Diagrams for Reconfiguring Spaces. (34)
Signage encouraging users to avoid touching elevator buttons directly and instead use a pen or other object or consider wearing gloves will be posted. They will also remind users to wash hands or use alcohol- based hand sanitizer afterward. (34)
CSI will require face covering before using an elevator.
Cleaning Protocol:
See B. Hygiene, Cleaning and Disinfecting for frequent cleaning of high touch areas, such as elevator buttons. (25)
Exterior Campus Grounds
Physical Preparation:
Ingress and egress: CSI will reconfigure all accessible exterior spaces to practice physical distancing, paying special attention to points of access and egress to the campus. CSI will limit use to the Victory Blvd entrance which will be used for both entrance and exit. This location consists of a Guard house separating two entrance lanes with three exit lanes. (18)
Seating: CSI will reconfigure to the extent possible, accessible exterior areas with seating by removing or blocking an appropriate number of seats/benches and tables to ensure physical distancing. (18)
Green spaces: CSI will demarcate physically distanced places for study or quiet enjoyment by individuals with universal signage and other measures, as appropriate. (18)
Pole banner and bus shelter signs to be placed throughout CSI campus: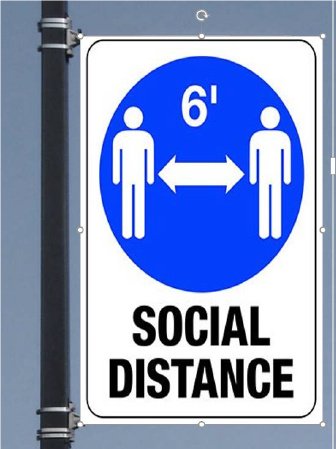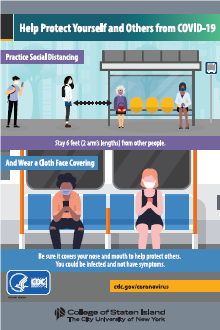 Operational Preparation:
Refer to Section I.A for general guidance on Physical Distancing and Section I.C for general guidance on Operational Activity.
Cleaning Protocol:
Refer to Section II.B for general guidance on Hygiene, Cleaning and Disinfection.
Gyms and Fitness Centers, Including Pools
The Campus Gym and Fitness Center will be closed until further notice. If/when a decision is made to open the facility to students, the following areas will be addressed consistent with CUNY guidelines details of which will be provided to CUNY before opening the facilities to physical activity.
Plans allowing student-athletes to practice in the fall semester are being developed. In the event the college decides to proceed with these plans, which will first be submitted to CUNY, access to 2 areas within the gym would be required. Plans for use of these areas are as follows:
Athletic Training Room (ATR)
Based on CDC guidelines, social distancing should be practiced at all times based on facility capacity. Max occupancy for the ATR is 4-5 student-athletes.
Student-athletes are required to schedule all treatments/entrance to the ATR via ARMS to keep the number of student-athletes to a minimum.
All student-athletes are required to complete the Daily COVID Symptom check and have their temperature taken by an Athletic Trainer prior to entrance to the ATR.

It is encouraged that student-athletes with symptoms stay home and inform the Athletic Trainer via phone or text.
Recorded temperatures of 100.4 and greater will be removed from participation, and sent to get a COVID test.

It is mandatory to wear a mask throughout the duration of time in the ATR.
All Athletic Training staff will wear a mask and gloves during hands on therapy on student-athletes.
All tables and surfaces will be wiped down and disinfected after each use.
Hot packs will be covered with towels to prevent reuse of sleeves. Towels will be washed between each use.
Student-athletes should not congregate in the ATR unless being treated.
Tank Protocol

The Strength and Conditioning facility (The Tank) will follow CDC guidelines, NCAA Resocialization guidelines and the NY Department of Health guidelines for social distancing. All strength and conditioning workouts will take place outdoors during phases one and two.
Coaches will communicate directly with Strength and Conditioning coach to schedule functional unit workouts. Team lifts will be scheduled by coaching staff 1 week prior to desired time. This will allow student-athletes time for scheduling individual lifts.
All student-athletes are required to complete the Daily COVID Symptom check and have their temperature taken prior to entrance in the Tank.

Student-athletes with symptoms will be required to stay home and inform the Athletic Trainer via phone call or text.
Recorded temperatures of 100.4 and greater will be removed from participation, and sent to get a COVID test.

The use of hand sanitizer will be required before and after each training session.
Towels will not be supplied to student-athletes, they are encouraged to bring their own.
While waiting to start a session, it is mandatory for all student-athletes to wear a mask.
Since student-athletes are in close proximity during stretches it will be required to wear a mask. They will NOT be required to wear a mask when appropriate social distance is maintained or during intense exercise.
The first scheduled group of the day will assist the Strength coach with bringing out equipment and the final group will help return equipment inside.
Training sessions will end 10 minutes early to allow for appropriate cleaning of equipment and transition between groups.
Hallways and Stairwells
Physical Preparation:
CSI will consider marking hallways and stairs for bi-directional flow.
CSI will place hand sanitizer, when practical near stairwell entrances. (25)
Operational Preparation:
CSI will post appropriate signage about keeping distance and wearing face
CSI will discourage any lingering in hallways and stairwells by positing social distancing signs.
Cleaning Protocol:
Frequent cleaning of high-touch surfaces such as stairwell handles and railings will be conducted. (25)
Lecture/Classrooms
Physical Preparation:
Small classes will have to be held in larger rooms, medium-sized classes will move into vast lecture halls, and massive entry-level courses will be delivered online. (20)
CSI will set occupancy limits no greater than 50% of fire code and will regulate the distance between seats to allow for 6 feet of separation between individuals. (25)

CSI will remove or replace high-touch communal resources, such as whiteboard markers, erasers and staplers. (25)
CSI will visually mark safe distances where students may gather. (25)
A proposed classroom layout for how classes can be prepared (35):
Operational Preparation:
CSI will prohibit sharing of resources between classrooms to the extent possible. (25)
All courses scheduled to be delivered online should be fully remotely. If any courses or discussion groups must meet, there should be a maximum or 10 or fewer individuals in attendance. (25)
If a course is held in-person, ensure that there is a remote substitute for any quarantined or high-risk students. (25)
Students and instructors must always wear masks especially when speaking or presenting. (25)
Instructor will consider how attendance for each class should be scheduled and whether to implement staggered schedules or cohort groups which attend on different days. (25)
Please refer to Section I.A, "Physical Distancing" and I.C, "Operational
Activity" for more information on how to limit and manage the number of individuals required to be physically present in lecture halls and classrooms.
Cleaning Protocol:
See B. Hygiene, Cleaning and Disinfecting
Lobby and Common Areas
Physical Preparation:
Waiting area seating will be moved, blocked off, or removed to insure appropriate spacing between individuals. (15)
Break rooms, copy areas, and conference rooms will be restricted to ensure maintenance of social distancing protocols. (15)
CSI will regulate the use of common areas with clear signage (including maximum occupancy) and physical distancing measures in accordance with public health rules and guidelines. (5)
CSI will implement an appointment procedure which will aid in the elimination of reception seating areas. We will look to install plastic partitions in areas that require in person interaction. (5)
Operational Preparation:
Waiting areas will be utilized only when absolutely necessary, and staff should be encouraged not to linger or socialize in common areas. (15)
Cleaning Protocol:
See B. Hygiene, Cleaning and Disinfecting for common areas (e.g., lobby, security check-in) (5)
Office Space
Physical Preparation
Refer to the general guidance and diagrams in Section I.A, "Physical Distancing."
Operational Preparation
Employees who can continue to work remotely will do so. Only individuals approved to be on campus and pass the daily online health screening will be provided entry access. (25)
CSI will follow phased guidance in Section II.C, "Staged Reopening" for who should be required to return to the office. Shifts will be staggered and office hours limited where possible to reduce capacity.
Cleaning Protocol:
See B. Hygiene, Cleaning and Disinfecting CSI will prepare basic hygiene protocols to re-open areas that haven't been operated for a long time (HVAC filters, check for mold, flush plumbing and run water in sinks to eliminate stagnant water). (25)
Restrooms
Phyical Preparation:
Doors to multi-stall restrooms should be able to be opened and closed without touching handles if at all possible. (5)
Will provide a trash can by the door if the door cannot be opened without touching the handle. (5)
For single restrooms, provide signage and materials (paper towels and trash cans) for individuals to use without touching the handles, and consider providing a key so disinfection measures can be better controlled. (5)
Will place signs asking employees to wash hands before and after using the restroom. (5)
Will provide paper towels in restrooms and disconnect or remove hand air dryers. (5)
Will provide hand sanitizer when feasible at the door to restrooms. Will block off some urinals in multiuser men's rooms to insure adequate distancing per diagram below. (15)
Consider reconfiguring usable bathroom space similar to the diagram below.
Operational Preparations:
Cleaning Protocol: See B. Hygiene, Cleaning and Disinfecting
---
Operational Activity
Operational Considerations Involving Staff Scheduling and HR
In the initial stage of re-opening, CSI will continue to operate with limited public safety and facilities staff reporting to campus on a routine basis, and other staff requiring the prior approval to visit the campus for discrete periods of time. Due to the nature and extent of the work that must be performed, it is anticipated that this model will be employed for some time. Importantly, there is only 1 point of egress and ingress to the campus, the Main Gate at Victory Blvd allowing us to monitor and control access.
Employees not reporting to campus will continue to work remotely. A recent survey of our campus workforce revealed that roughly 90% of respondents agreed/or strongly agreed that they had the necessary equipment to work remotely. We will continue to work with staff to ensure that employees have access to training and equipment to continue to provide the expected level of service to students.
In anticipation of the possibility that more people will be able to return to the campus in the fall, Human Resources (HR) will be sending a communication to all faculty and staff asking individuals to contact their office if the individual needs a reasonable accommodation related to COVID-19. The communication will advise if they have an underlying medical condition or other risk factor that they believe would make their return to campus unsafe. These employees will be encouraged to request an accommodation. Such requests will be reviewed in accordance with CUNY's Reasonable Accommodations and Academic Adjustments Policy.
Prior to the campus closure in March 2020, HR worked with Departments to develop staffing models that would reduce interpersonal contact and decrease density on campus. CSI HR will review and update these plans prior to requesting any staff to return to campus. Importantly, each plan will be reviewed with the goal of maximizing the number of staff that can work remotely, while ensuring students continue to have full access to all services.
For staff that report to campus, staggered schedules with limited office hours will be implemented. We plan to accommodate faculty and staff who are at a higher risk of a severe illness, by allowing these individuals to continue to work remotely wherever possible.
HR will work with supervisors on modified working schedules prior to implementation of any modified schedule and will further inform employees how to make requests for schedule changes if a need arises.
Staff are to communicate with their manager or supervisor to determine when they will be permitted to return to campus, and what their responsibilities are.
Operational Considerations for Grading Policies and Academic Support
We will adhere to the Academic Policies, Requirements, and Deadlines on the Guidance on Academic Continuity to campuses for the most up to date information on grading policies and academic support.
The Student Success Re-Entry Subcommittee is composed of nine members representing a cross-section of CSI's faculty, staff and students. Its charge is to:
Determine how student support services will transition from an entirely online mode of operation to phased on-campus services. Determine how to maintain a safe, socially distanced environment for students as they return to campus.
To fulfill this charge, the committee initially compiled a list of the principal providers of student services to assess their need for an in-person presence on campus. In all, 52 units were identified, ranging from tutoring centers to the health and wellness center, the bookstore, and the library.
The committee then categorized the offices into two broad groups: those that required staff services to be carried out on campus, and those that necessitated in-person contact with students. Its members developed and distributed a survey to each of the stakeholders, collecting relevant data such as the number of students served, length of contact, and estimated frequency of visits. The survey results showed that approximately 16 areas indicated a need for face-to-face student contact in the fall semester.
The committee's next step was to contact each unit that expressed the need for in-person service provision. The members followed up on the survey responses, assisting with planning and recommending best practices in formulating relevant re-entry strategies. In some cases, the committee determined that the request for face-to-face student contact could be addressed through contactless means, and it will continue to work with each area to implement such systems. In every case, the committee recommends that all student services be administered by appointment only and that the offices carefully follow established protocols for their safe provision.
The following section lists the areas identified in the survey that indicated a need for in-person student services.
Areas that identified need for face-to-face student contact in the fall in the survey
A. Dining Services:
Campus Dining is currently planning for the return of 200-300 students who will reside in Dolphin Cove with the expectation that least 200 of them will have a meal plan. Schedule and hours of operation using a single seven hour shift model, detailed further below in the Campus Dining Plan. In order to comply with both the mandatory and recommended best practices from the local state, city and CUNY guidelines, the 1C servery has been modified to allow for no- and low-touch points, limited one way directional flow with 6 feet markers, other signage and communications as needed, a limited menu with meals packed in "to-go' packaging only, provision of PPE for staff, adherence to cleaning, hygiene and disinfection protocols.
All other operations are NOT planned to open for the fall semester. (Cyber Cafe in 1L, Dolphin Express food cart in 1P or the Park Cafe restaurant in 1C).
An online mobile ordering software is being purchased and will be rolled out, first to students with meal plans first and then adding on to other students, staff and faculty as campus capacity increases. Participants will be able to order from their hand-held mobile device and pick up packaged meals in 1C.
B. Parking and Dolphin Cards:
CSI has purchased software that will allow us to operate online. For those who have to report to campus there will be limited window hours, (Plexiglas installed for the interactions). Credits for last year's payments will be issued, so it is expected that there will be extremely limited need for anyone to have to report to pay for a parking decal for some months.
C. Library:
Most services will continue to be offered online services, i.e. the LIB102 course, one-stop service, on-line reference (24/7), access to data bases and other online materials. The services that cannot be online and will be therefore unavailable include access to computers, printing services, text-book reserve system and study spaces. The circulation desk services will not be available due to a required 4-day book quarantine. Access to the Special Collections/Archives is currently unavailable but might be on a very limited basis, depending on available resources to implement Federal, State and CUNY guidelines around space and materials access.
To offset the impact, in particular on equity among students, of not having the usual library resources available for students the library is reviewing the purchase of access to two large textbook databases. Furthermore, faculty are being encouraged to use OER, used books, limited chapters in books. Scanning parts of the textbooks is an option but difficult, costly and dependent on resources to operate the facilities under Federal, State and CUNY guidelines.
D. Bookstore:
Orders over $49 will qualify for free shipping. For any $49 that there will be a charge of $5 for shipping. It is anticipated that this will result in minimal need for in-person pick up. Contact-less pick up options are currently being developed. Any in-person services are planned to be appointment-based and will comport with the campus screening measures.
Only a very small number of students are expected to request to bring in books to sell or return rentals from the spring, as there is the strongly encouraged possibility of using shipping to return these books.
E. Center for Recreation/ Athletics:
With rentals CSI is complying with the guidance already put forth by CUNY/ Central – submitting any proposed rental for approval; each rental having to provide a safety plan that comports with existing State and CUNY guidelines.
Athletics policies are addressed in the Athletics Fall 2020 Covid-19 Plan
No competitive athletic competitions will be held in the fall semester. Athletics is preparing a separate plan to allow student athletes to have outdoor, socially distanced practices that comply with existing CDC, State, local and CUNY guidance.
F. Tutoring, incl. Media Lab:
A number of departments found online tutoring to be successful in the Spring and have decided to continue in that modality for the near future. These areas include Accessibility, Computer Science, Mathematics, Modern Languages, Nursing, SEEK, and Writing. They have used resources such as Blackboard Collaborate Ultra, Zoom, GoBoard.com, scanned documents, as well as services provided through their own departmental webpages.
The Office of Academic Support (OAS) will also continue their large online tutoring offerings via Blackboard Collaborate, as well as programs on their webpage. In the Spring, they had encountered some challenges which they hope can be addressed before the Fall. This involves the need for an appointment system to better manage students in their tutoring sessions. Currently, each tutor has Blackboard Collaborate Ultra meetings posted online, however, multiple students cannot be prevented from entering each virtual session. As such, providing a one-to-one service can be difficult. To increase effectiveness of math tutoring, OAS is reviewing hardware that would assist with writing formulas, equations, and graphs. In order to address these challenges, funding has been requested through the CARES Act for the SuperSaaS system to assist with scheduling, as well as writing tablets to aid with teaching. CSI Navigate implementation is planned for the fall to address appointment challenges.
Media Culture Tutoring (Building 1P) is not expected to be accessible in person for the Fall and will continue to operate online utilizing Zoom, Microsoft Teams, and Skype for screen sharing. One of the challenges that the department faces is that students in the Film and Video courses need to be certified to use required equipment. Even if students have their own cameras, most do not have the entry level audio gear or proper tripods that are required. Traditionally, use of this equipment was reinforced via onsite tutoring and most instructors depended on tutors to explain the core concepts. Learning online as to how to operate the audiovisual gear is not fully supported, and other methods of providing guidance are being explored.
Even though a viable way has yet to be determined in providing multimedia hardware and the necessary training that accompanies it, there is a solution on how necessary software can be accessed by students. In Media Culture, the Adobe suite is the main software used by a variety of classes. Virtual computer labs have been set up, where students can remotely access physical machines on campus and use Adobe, regardless of the platform (Windows, Mac, Chromebook, iPad, etc…).
G. Testing:
All testing will continue to be administered remotely. This includes ATB, NLN, ESL, CLEP and CSI-specific placement exams.
H. Center for Global Engagement:
The Center for Global Engagement has moved nearly all services to remote delivery. In order to accommodate delivery of services in a remote environment forms and other materials have been converted to html or PDF format and placed on the web. The office will continue to work on the conversation of less frequently used forms and other information packets. Printed materials are also being converted to electronic format and a new customizable "view book" for programs offered by the Center will be available soon. Students and others needing services will be able to contact the office through email, phone (voicemail), social media accounts, and fillable request for information forms. Students will be able to submit copies of immigration documents, visas, passports, and other materials through the web-site or through email. All Personally Identifiable Information (PII) will be collated in a secure manner (we maintain a secure website for the uploading of this information) whenever possible. In cases where PII is shared via email TO a CGE employee the information will not be further transmitted without first securing the information through the use of strong passwords and/or other encryption methods whenever possible. In cases where documents cannot be transmitted electronically and are too time sensitive for the US postal service, a pick-up and drop-off delivery will be available on an appointment basis. In very rare cases, in accordance with US Government regulations concerning record keeping and processing of international students and scholars, will staff from CGE need to meet face-to-face with students, scholars, or visitors. In these cases, appointments will be made. It is not expected that any gatherings or other seminars, meetings, or small groups will be convened until campus is again operating in a face-to-face capacity. Even then, gatherings and meetings will be limited to comply with NYS distancing guidelines and other guidance from the Campus.
I. Student Life – WSIA Radio and Food Pantry:
WSIA will have a daily show slot from approximately 12pm-2pm where one DJ will be broadcasting on the air. They are expected to be at the front gate at 11am. They are expected to be off the air and exited the campus by 3pm. They request to have their Chief Engineer do a show at least once a week (or if possible, in her office once a week) so they can ensure equipment is working properly on a weekly basis.
The food pantry will continue to function in the fall and likely in the same format as the one that is currently being followed: twice a week by appointment. If by any chance the college goes to on-campus learning, dates and times the food pantry can be adjusted for appointments accordingly.
J. Registrar:
The Registrar's office will have some need for staff presence on campus, including limited in-person contact with students. The majority of its functions will be conducted remotely online, by mail, or by telephone. The Registrar and one staff member will process documents in person that cannot be handled electronically (because of the requirement of signatures and/or the CSI seal). This will take place no more than two to three days per week, and social distancing and other safety protocols will be strictly observed. Students needing in-person documents, such as enrollment verifications, will be served on an appointment-only basis within a restricted schedule.
K. Bursar:
The Bursar's Office has continued to provide student support services through online, telephone and mail modes of communication. Online services include emailing and electronic payment options.
With many requests for an in-person payment option and the campuses' focus on improving collections, the Bursar's Office will provide in person student services. To ensure compliance with social distancing requirements, window payment hours of operation will be limited and by appointment only. Student and staff contacts will be prevented since windows are completely enclosed and staff will be required to wear gloves while counting currency. Cashier stations will be limited and spaced by no less than 6 feet apart and wiped down periodically with sanitizing wipes. When opening or closing cashiers, both employee and supervisors will be required to wear masks and gloves and maintain 6 feet distance. Public safety will help maintain distancing of any students waiting to make payments.
L. Women's Center:
The Women's Center will continue to operate completely online.
M. Student Support around Technology:
Device distribution (iPads/Chromebooks) to students who require technology to access course material and services: Information Technology (IT), Student Success and Facilities have been closely coordinating in the effort to identify student need and coordinating shipments. This will continue. In addition, IT requested funding to procure laptops for faculty and students. Broadband access: IT submitted funding request to purchase hotspots for students to access the Internet from a remote location if they have limited or no broadband access
Virtual Labs: On-campus labs are accessible remotely for students and faculty in order to have access to software that is not licensed for home use, not compatible with their device or accessible via CUNY cloud (see above in Tutoring also). More funding has been requested funding for a server based virtual solution to access software for faculty and students.
A virtual helpdesk and training rooms are available to provide remote access to IT services. Funds have been requested to purchase peripheral technology that would support web conferencing (e.g. web cams, headsets), as well as technology to support tablet technology that can connect to a device to display equations, drawings, etc..
CSI Navigate based appointment system
CSI is in Wave 1 of the EAB Navigate implementation, called CSI Navigate locally. In addition, CSI has been working with EAB to configure CSI Navigate in a way that all in-person student interactions during the fall, while CSI continues to operate remotely, will require making an appointment through CSI Navigate. This can be student, staff or faculty initiated, and will allow the student to commit to a timeslot and location. It can be combined with a kiosk-function to register a student "check-in" at a given location, depending on specific office requirements. In addition, the system will record an "appointment summary" entered by the respective staff member. This way, all student-staff interactions will be recorded with respect to time, location and person, allowing for easy contact-tracing. The students will use the system either through a phone app or a web-interface.
Operational Considerations Involving Course Scheduling
For updated information regarding Instructional Modalities and Course Scheduling CSI will follow protocols and directives provided in the memos provided by CUNY Academic Affairs entitled Guidance on Academic Continuity to campuses.
Consistent with ongoing guidance from CUNY Central and in collaboration with the Provost and Deans, the Registrar's Office will continue to:

Update the schedule of classes to reflect fall, winter and spring section offerings with appropriate days, times (if needed), instructor names, mode of instruction (in-person, hybrid, or online), and an appropriate description as requested by the deans and this committee;
Maintain the academic calendar for the term and make updates as situations warrant;
Provide regular updates to the College community regarding calendar revisions;
Offer guidance on revisions to and/or releases of new academic policies;
Ensure that any updates necessary for the College catalog are completed in a timely fashion for the appropriate semester(s); and
Enforce all academic grading rules, policies, and procedures, in the interest of preserving academic integrity.
The CSI Academic/Curriculum Subcommittee of the Campus Re-Entry Committee, comprised of the members shown in Table 1, was charged with "Making broad recommendations for how to maintain instructional continuity as CSI transitions from its current primarily distance education mode to resumption of some on-campus instructional activities. " To accomplish the work of the committee, we identified four tasks: 1. Clarifying F'20 Mode of Instruction, 2. Ensuring Safety for On-Campus Instruction, 3. Ensuring Equity for all Students, and 4. phasing in Additional In-Person Instruction. Details of the processes used for each task are provided below.
Task 1: Clarifying Fall 2020 Mode of Instruction
The first order of business for this subcommittee was to determine which Fall 2020 courses listed as other than Online had priority needs for at least some on-campus instruction. Fall 2020 course offerings for CSI comprise 2054 sections. Of these, 1011 classes were listed as "Online" (O), 993 listed as "In Person" (P), and 50 listed as "Hybrid" (H) in the beginning of June. The CSI Registrar worked with the Provost and School/Division Deans to increase the online course offerings to 1726, with 46 hybrid and 282 in-person meetings remaining. The Academic/ Curriculum Subcommittee further refined the list of "H" and "P" courses by reclassifying 100-102 level non-laboratory courses, and classes with both 0 enrolled students and no room assignment as "O" courses. This returned a list of 283 (236 "P", 47 "H") which was returned to the deans with a request to complete a 9 question online application form for each of the courses requesting to retain this designation into the Fall 2020 semester. This reduced the list to 179 sections listed as "H" or "P". With the determination that no courses provided sufficient justification to require exclusively in-person meetings, the remaining "P" designated courses were recoded as "H". On July 23, all faculty members designated to teach these 179 sections were emailed a separate online application form to confirm the hybrid status of their course and provide detailed dates and times for their proposed on-campus instruction. This reduced the number or hybrid sections to 121, including 9 cross-listed sections. Thus, more than 94% of CSI sections will be online this Fall, with the remaining courses requesting to meet an average of 9 times during the F'20 semester.
Average Requested Building Occupancy by Week Fall 20, all Students on Campus

1

2

3

4

5

6

7

8

9

10

11

12

13

1H

0

0

0

0

0

0

0

0

0

0

0

0

0

1L

0

0

0

0

0

0

0

0

0

0

0

0

0

1N

0

0

0

0

0

0

0

0

0

0

0

0

0

1P

0

0

22

22

25

25

21

10

0

0

0

0

0

1S

0

0

0

0

0

0

0

0

0

0

0

0

0

2A

0

0

0

0

0

0

0

0

0

0

0

0

0

2M

0

0

0

0

0

0

31

31

0

0

0

0

0

2N

0

0

0

0

0

0

0

0

0

0

0

19

0

2S

0

0

0

0

0

0

0

0

0

0

0

0

0

3N

0

0

0

0

0

0

0

0

0

0

0

0

0

3S

32

32

16

16

16

0

0

0

0

0

0

0

0

4N

0

0

0

0

0

0

0

0

0

0

0

0

0

5N

0

0

0

0

19

19

19

0

41

41

41

0

0

5S

154

191

191

48

0

0

0

10

10

10

10

0

0

6S

19

19

19

0

0

0

16

16

16

0

0

16

0
When we are able to start returning instructional activities to campus, instruction will be concentrated in buildings which are scheduled for existing hybrid courses that require the least infrastructural repairs and modifications to meet minimum guidelines specified. We have prioritized academic building use as follows:
Building 6S, which houses biology and chemistry instruction and research, is the most recent, and its infrastructure and HVAC are in better shape than the other buildings on our aging campus, so both research and instruction could resume there with the least amount of infrastructural work. Other high-priority buildings to be readied for research and instructional occupation are building 5N, which houses Physical Therapy, and 5S, which houses Nursing. Facilities is currently assessing the costs of bringing each of these buildings up to CDC/State/CUNY safety requirements.
We are investigating the possibility of doing some instruction that is critical for licensure/accreditation either outdoors in tents on the Willowbrook campus or at our remote location in St. George.
Task 2: Ensuring Safety for On-Campus Instruction
Instructors will be notified by August 10 that their F'20 courses have some approved on-campus instruction. All faculty with in-person instruction will be required to do the following prior to the start of the semester:
Complete the CUNY Blackboard COVID-19 training
Prepare and distribute a class syllabus with the following information:

The link to the required CUNY Blackboard COVID-19 training
The list of specific dates, times, and locations when students are expected to be on campus.
The notification that masks and physical distancing are required at all times while on campus.
The contact information for whistleblowers to report non-compliance
An explanation of off-campus alternatives for students in vulnerable populations who opt-out of on-campus visits, or who are required to self-isolate during the semester.

Prepare course materials for students who cannot attend in-class meetings or for a rapid return to remote instruction in the event of a campus shutdown.
Task 3: Ensuring Equity for all Students
In addition to making preparations for the 6% of courses that will have some -in-person contact, our subcommittee has been working along with the Online Instruction and Continuity Committee, Office of Information Technology, and the Library to ensure that all students will have sufficient resources for remote instruction this fall.
The Library has been working to ensure remote access to research and instructional materials for students including:

Library instruction and resources have been moved fully online including:

All sections of LIB102, "Beyond Google: Research for College Success. "
One-shot instruction sessions scheduled with faculty teaching at the undergraduate and graduate level during the time their classes meet will be taught through distance learning in a synchronous or asynchronous manner as requested. Library faculty will create tailored, discipline-specific lessons for teaching students research methods and identifying credible information and library materials to complete their research assignments
A suite of video and interactive tutorials to teach information literacy concepts and skills
24/7 on-line chat reference to address questions from patrons and a consultation form to schedule a more in-depth research inquiry
Free online alternatives for scientific calculators at the Reserve Desk

Additionally, the Library will work with faculty and students to ensure access to textbook materials and media by:

Continuing to promote the use of free Open Educational Resources (OER) as an alternative to print textbooks. This effort is being supported through an OER incentive grant and a dedicated faculty OER Coordinator in the Library Department
Encouraging faculty to consider assigning older editions of textbooks that can be purchased at a much lower cost
Encouraging faculty to scan required chapters of their assigned textbooks and upload them into Blackboard for student access using the guidance outlined by the CUNY Copyright Committee
Making DVDs and other media available online through the Library's live-streaming platforms

As the library building (1L) moves towards a phased reopening, print book checkout opportunities as well as opportunities for students to use workstations and conference rooms will increase.
Task 4: Phasing in Additional In-Person Instruction
Our subcommittee will remain active during the F'20 semester and will work closely with the Campus Preparedness/Safety subcommittee to plan a coordinated effort to phase-in additional buildings for the winter and spring sessions of 2021. We will use the same approach outlined in Task1, with the goal of opening additional campus buildings for instruction in the spring semester.
The following prioritization scheme determined by our subcommittee will be used as we phase-in additional courses in the winter and spring:
(a) Phase 1: Accredited programs with documentation of in-person meeting requirements
(b) Phase 1: Clinical programs requiring contact hours
(c) Phase 2: Laboratory or studio-based courses without suitable online alternatives
(d) Phase 3: Capstone courses which require in-person activity, or courses which need to meet only for one or two in-person exams.
(e) Phase 4: All other courses
Operational Considerations Involving Individuals on Campus
Before returning to campus, faculty, and staff must complete the NYS COVID 19 Response: Return to Work Training available on Blackboard
All individuals reporting to campus will be required to complete a Daily Health Screening form through the CSI automated system, options for in person screening will be made available.
All individuals reporting to campus will be reminded of the requirement to carry their CUNY ID at all times.
Employees will be advised that they are required to wear a face covering that covers the mouth and nose when on CSI property or in CSI facilities.
Masks will be provided unless the employee chooses to use their own.
Employees will be further advised to maintain a distance of 6 feet when operating on campus.
CSI maintains a confidential reporting line on its website where people may confidentially report violations of College and CUNY policies.
Employees and students will be reminded to use the link on the CSI website to report issues with non-compliance with social distancing, hygiene, or safety practices.
Importantly, the College will be sending repeated reminders on the importance of compliance with health and safety protocols as a way to keep our entire community safe.
The College will ask all members of the campus community to be active participants in ensuring compliance with social distancing and guidance on face coverings.
All members of the campus community will be instructed that failures to comply with health and safety measures could result in restricting or suspending their access to campus.
All individuals working on campus through DASNY on NYS Construction projects will be screened and authorized as per their contractor's COVID 19 NYS approved work plan. Each Foreman is responsible to maintain a log of their personnel and proof of screening. These documents will be provided to College Administration upon request.
If employees commute to work via public transportation, they will be advised that they may work with their supervisor and human resources to adjust their schedule in order to reduce their potential exposure to COVID-19 by commuting during non-peak hours.
Employees will be reminded to follow CDC guidance on protecting yourself during transportation, including:
Wearing a facial covering; Wearing gloves if you have to touch high contact surface areas such as turnstiles and handrails; Dispose of gloves and wash your hands when you report to campus
Operational Considerations for Vulnerable Populations
CSI will evaluate multiple approaches to serving their vulnerable populations, including:

Offering options for faculty and staff at higher risk for severe illness (including older adults and people of all ages with certain underlying medical conditions) that limit their exposure risk (e.g., telework and modified job responsibilities)(9).
Offering options for students at higher risk for severe illness that limit their exposure risk (e.g. virtual learning opportunities)(9). All faculty who offer some in-person instruction have been asked to address how they will provide instruction to at-risk students unable to participate in person.
Having faculty and the Advising Center (Educares) check in with students as frequently as possible and work with student affairs to report safety and welfare concerns to respective agencies (25).
Consistent with applicable law, HR and the Registrar will continue to practice policies to protect the privacy of people at higher risk for severe illness regarding underlying medical conditions in compliance with applicable federal and state privacy and confidentiality laws (9).
Providing technology and support needed in classrooms for streaming, video recording, etc. (1). Any classrooms in which in person instruction takes place will have capabilities for streaming and recording lectures/labs for at-risk students.
Expanding access to broadband and technology to close the digital divide (4). We are exploring the possibility of setting up wifi hotspots in one or more CSI parking lots.
Recording faculty lectures for students to "attend" on their own, with smaller group
classes in which professors provide help with homework assignments (23).
Designating specific hours (e.g. 8:00-10:00am on Wednesday and Friday) to exclusively serving members of the community who belong to a vulnerable population (15).
Operational Considerations for Mental Health and Welfare
Student Services
Counseling Center
All students have virtual access as needed to the Counseling Center to minimize the interruption to the learning environment caused by mental health concerns. Video and telephone counseling are available, medication services have continued, same-day drop-in appointments can be made, and after-hours services remain in place. In addition, the virtual group program will commence once the semester begins. The Center has cataloged helpful information and tools focused on coping during COVID-19 and has ramped up its social media presence to better connect with students.
Health and Wellness Services
Health and Wellness Services, including the Student Health Center, is also available to all students virtually. Health and Wellness now offers telehealth--a safe and easy way to connect with the nurse practitioner and nurse via secure video. The provider will assess and evaluate your condition and/or concern. Most students will be able to have a physical exam for programs, sick visits, consultation, or STI testing. In the case of confirmed or suspected cases of COVID-19, the Student Health Center will remotely monitor students daily via temperature checks and symptom screening, and they may recommend and help to coordinate a visit to a medical provider for an in-person clinical evaluation if severe symptoms present. The Student Health Center developed a relationship with a local urgent care facility to make this coordination easier.
Faculty and Staff will be encouraged to utilize the services of the CUNY Employee Assistance Program (EAP)/ Work/Life Program CCA@YourService, an individualized resource for providing practical, around-the-clock information and assistance to manage daily life. Employees will reminded that CCA@YourService provides emotional health and wellness support, and confidential counseling to employees, as well as their household and family members for free, 24 hours a day, 7 days a week. Contact information will be provided (including telephone TOLL-FREE: 800-833-8707 and website information WEBSITE: www.myccaonline.com; Company Code: CUNY)
Communications from Human Resources will be sent periodically to all faculty and staff to remind them of this resource and to notify them when the EAP hosts health and wellness seminars, webinars, and trainings that they could attend virtually.
In addition, staff and faculty will be reminded that NYS provides free online mental health services for New Yorkers. The helpline is staffed by trained volunteers, including mental health professionals, who have received training in crisis counseling related to mental health consequences of infectious disease outbreaks, typical stress reactions, anxiety management, coping skills, and telephonic counseling. Employees will be advised that helpline is accessible to New Yorkers who are deaf or hard of hearing, and to non-English speaking callers, through the Language Line. The hotline (1-844-863-9314) will be provided.
Operational Considerations for Student Life
Protocols for Student Health, Safety, and Well-being:
Student Engagement
Regardless of where our students reside—in CSI housing (Dolphin Cove) or off-campus—we are committed to providing programming and support that enhances connections, belonging, and community. Student Life is working with campus partners to develop new strategies for creative, virtual socializing, and programming. Should conditions permit, in limited circumstances, we might leverage outdoor spaces that allow for the requisite physical distancing and assembly numbers but will submit a plan to CUNY Central for approval before engaging in major outdoor activities.
Registered student organizations and clubs, Student Government, Campus Activities Board-sponsored events must be virtual. Should any entity wish to have an in-person event, whether on or off-campus, that entity must submit a safety plan to the Director of Student Life for that activity to ensure it meets CDC and other public health guidance regarding physical distancing, assembly numbers, and face coverings/masks.
The only exception to student activities being virtual is the reopening of WSIA, the student-run radio station.
New Student Orientation
In an attempt to make the onboarding process seamless for our incoming students, CSI utilized Blackboard (Bb) to administer virtual New Student Orientation (vNSO) (following a similar format used for the virtual CSI Advisement and Registration Training (vCART) process). During vNSO, students will go through a module, which consists of an official welcome to the College and eight chapters addressing various (and vital) information. Each chapter concludes with a short quiz to assess the understanding of the corresponding subject. We have included as much video content as possible to recreate the in-person NSO experience and content. We also feature live small- group virtual sessions with New Student Mentors. Furthermore, we have used the opportunity this challenge has provided to showcase our best presenters, test knowledge, and maximize student participation.
Vulnerable Students
Given the spread of the virus, we must plan for students who start the semester taking in-person classes but need to transition to remote learning due to COVID-19. Thus, all faculty are encouraged to provide flexibility so that students requiring the need to learn remotely can do so.
Counseling Center
All students have access as needed to the Counseling Center to minimize the interruption to the learning environment caused by mental health concerns. The Center has cataloged helpful information and tools focused on coping during COVID-19 and offers assessments and counseling via telephonic or video sessions. Students who need assistance can reach out to the Center by emailing counseling@csi.cuny.edu. Students with an urgent concern or who need to reach the Counseling Center after hours can call 718-982-2391 for immediate assistance 24/7.
Health and Wellness Services
Health and Wellness Services including the Student Health Center is also available to all students. Health and Wellness now offers telehealth--a safe and easy way to connect with the nurse practitioner and nurse via secure video. The provider will assess and evaluate your condition and/or concern. Most students will be able to have a physical exam for programs, sick visits, consultation, or STI testing. To make an appointment, students email healthcenter@csi.cuny.edu and provide a telephone number where you can be reached. In the case of confirmed or suspected cases of COVID-19, the Student Health Center will remotely monitor students daily via temperature checks and symptom screening, and they may recommend a visit to a medical provider for an in-person clinical evaluation if severe symptoms present.
Center for Student Accessibility
The Center for Student Accessibility (CSA) has continued to provide students with the same quality of service, including the provision of academic accommodations, in virtual formats, including meeting and corresponding with their advisors and counselors by phone, email, Zoom, and Microsoft Teams. Furthermore, CSA had moved many of its processes electronically before COVID-19 and are now fully remote, including all services in addition to programs and presentations that can be provided virtually and in person, e.g., interpreting, CART services, tutoring, note-taking, orientations, and presentations. All staff members can access student records through CUNYfirst and case notes through Titanium. CSA was recently able to purchase 30 brand new laptops for student and staff use to which assistive technology software will be added to the devices based on need. The Assistant Director of Assistive technology (ADAT) will work with students to meet their needs and continue to provide training opportunities. Students' confidentiality will continue to be maintained, and consent forms remain the same remote. Students will meet with CSA staff by appointment only when on-campus meetings possible. CSA will continue to recommend professors record their asynchronous classes to provide the best practices of Universal Design and assist with the retention rate in the classroom. Lastly, CSA staff will also follow all hygiene protocols, including mask-wearing, social distancing, and adequately disinfecting surfaces.
Veterans Support Services
The Office of Veteran Support Services (VSS) will continue to provide high-quality services to Veteran students virtually. In addition to assisting individual students with their needs as they arise, VSS will continue to leverage technology to keep students connected to the office and one another via Zoom. VSS is setting up a live chat option as well. In addition, VSS collaborates with campus partners to develop Town Hall meetings and CUNY Veterans Office presentations specifically for Veteran students. Such sessions are recorded to be shared with additional students.
Food Pantry
The CSI Food Pantry continues to be available to all students who are experiencing food insecurity. The Pantry is open two days/week by appointment. The details of this are sent to all in a reminder email each week. If a student is unable to make an appointment during the scheduled days, special arrangements can and will be made. If a student has any questions or concerns, they can email studentlife@csi.cuny.edu.
Student Life
The Office of Student Life recognizes the importance of providing students with opportunities to engage in co-curricular and out-of-the-classroom experiences. We have and will continue to offer virtual events using Zoom, Microsoft Teams, and other methods. Clubs and organizations continue to meet using the same programs. Students can stay connected to what is going on by using CSI Connect (csi.campuslabs.com/engage/), downloading the CORQ app or emailing studentlife@csi.cuny.edu.
Some additional considerations for student life include:
Until there is a vaccine or a cure, CSI will greatly restrict public gatherings on campus (18)
If any public events are held, CSI will promote social distancing of at least 6 feet between people, limit group size (9) and stagger schedules and develop plans for appropriate physical distancing (18). CSI will suspend extracurricular programs where physical distancing cannot be met (12).
Nonessential visitors, volunteers, and activities involving external groups or organizations as possible – especially with individuals who are not from the local geographic area. (9)
Childcare Center
The Childcare Center is committed to offering student-parents engagement opportunities for their children. Whether in-person (as feasible) or virtual, they will continue to provide quality childcare and early childhood education programs. A complete plan for reopening will be forthcoming.
Student Access to Campus for Services
Any student needing to conduct business that cannot be performed remotely must schedule an appointment in advance with that office or department. There will be no walk-in/drop-in services.
Education and Communication
All students taking in-person classes or residing on campus will be required to complete training that outlines the College's health measures and cultivates a culture of compliance, including effective hand washing, the purpose of social/physical distancing, proper use and care of face coverings, and tips on ways to care for yourself and others.
Support for Faculty Teaching In-person
The College will provide information and professional development sessions, prior to students' return, on the new health measures, protocols, resources, classroom management issues, etc. These sessions will offer an opportunity for faculty members to understand the new requirements, learn who to contact if a student reports a positive COVID-19 test or has symptoms, and ask questions.
Building a Culture of Compliance
CSI has one critical goal as we begin to return to campus in the face of COVID-19 – keeping every campus community member healthy. To accomplish this, the College has developed a new set of community standards that everyone must abide by while on campus. All campus community members must be dedicated to protecting one another's safety and well-being by complying with the new rules.
CSI must promote a culture of compliance with the newly developed community standards. These new policies will be clearly communicated through a coordinated campaign via various means and mixed media. Consequences for violating said standards must also be clear and concise and be included in College communications as well. (These sanctions will be determined in accordance with the Article XV of the CUNY Bylaws and the Henderson Rules.)
Every student coming to campus must live up to the new expectations to ensure the safety of the broader collective and remain a participant in on-campus activities. CSI may require students to sign a pact indicating their willingness to participate in our culture of compliance and acknowledging the consequences for failing to abide by the expectations.
The Office of the Vice President for Student Affairs (OVPSA) and the Office of Public Safety will work together with faculty and staff to ensure they understand the new community standards. To this end, the OVPSA will develop training tools that will include the new standards, guidance for de-escalating difficult situations, and protocols for reporting noncompliance. Faculty and staff will contact the Executive Director of Student Affairs with issues of student noncompliance. Furthermore, the College will also provide tools – including videos – for educating students about the new expectations as well as proper usage and disposal of PPE.
New Community Standards:
Face coverings – All individuals who are on-campus must wear a face covering, that comports with CDC guidelines, at all times, even while practicing social distancing (remaining 6 feet apart from another person).

Any individual who may not be able to wear a mask due to a medical condition, must seek a reasonable accommodation under the CUNY policy.
The College may supply individuals with a mask if they do not have one while on campus.
The College will investigate the possibility of installing vending machines through which masks may be purchased.

Social distancing – All individuals must follow the rules of social distancing while completing their activities on campus and maintain 6 feet of distance between themselves and others.
Stay home if feeling ill – All individuals who are feeling sick with COVID-19 related symptoms will be expected to stay home and return to campus when feeling better. Similarly, if a member of one's household is not well with COVID-19 related symptoms, it is also expected that an individual stay home. A residential student who feels ill with COVID-19 related symptoms should remain in their private bedroom and immediately contact their Resident Assistant (RA) or the RA on-duty.
Exposure to COVID-19 – Any confirmed or suspected case of COVID-19 regarding a student must be reported to the Student Affairs Liaison, who will coordinate services to students including: food, medication, and academic accommodations. The Student Health Center will conduct daily check-ins with these students for temperature reports and symptom screening. Student Health Center staff will coordinate off-campus clinical evaluations, if warranted.
Students may only be on campus to attend an on-campus class, for a scheduled appointment with an office, for their employment, or another pre-authorized purpose. Students will not be allowed on campus for any other reason.
Communications:
Areas of Focus:
We have developed a plan to communicate timely and accurate information to the students regarding:
Guidelines for mask-wearing and general hygiene.
Community standards related to behavior on-campus and off-campus.
Behavioral expectations and stated consequences related to adherence to mandates once on-campus.
Information about on-campus resources related to health, safety, and well-being.
Modes of Communication:
We will utilize all avenues for communicating important information and priorities to students. Our main routes to communicating with students will be:
Email blasts to all student email accounts.
Use of social media with consistent messaging and hashtags.
Video messages and links to valid information on updated college web pages.
CUNY-Alert text messaging system in emergent situations.
Adequate and strategic signage on-campus.
Creative messaging modes: masks with CSI logo, use CSI mascot to send messages, a campaign featuring campus influencers, student leader involvement, contests, etc.
Direct person-to-person contact when needed related to emergent responses to health crises.
Critical Strategies:
There needs to be essential coordination throughout our institution so that our messaging and communication is effective and consistent. These critical strategies need to be followed:
Cultivate a culture of compliance through positive reinforcement at all levels when mandates are followed.
Messaging needs to be clear, consistent, and correct. Communication needs to be frequent and responsive to students' concerns - especially as it relates to academic matters, registration, the availability of student resources, access to student services (on-campus and off-campus), etc.
"Top-down" and consistent messages regarding matters impacting students.
We will be deploying messages about the importance of mask-wearing – all areas of the College could develop their own approach to promoting mask-wearing via social media and with consistent hashtags. Lots of messaging could be done before campus re-entry to promote our areas of focus.
We may want to reach out to Staten Island community partners to help promote mask-wearing.
We may need to employ experts who can assist in branding, web design, signage, etc.
Operational Considerations for Technology
Information Technology has been proactive in providing accommodations in support of a remote learning environment. The following outlines specific items that have been completed or are in process in support of our educational and safety efforts in the fall:
Device distribution (iPads/Chromebooks) to students who require technology to access course material and services. Students will be able to submit their request for a device via an online form; Academic Affairs will determine need; Operational Services will ship device to student. In addition, IT requested funding to procure laptops for faculty and students.
Broadband access – submitted a funding request to purchase hotspots for students to access the Internet from a remote location if they have limited or no broadband access
Virtual Labs – configured on-campus labs to be accessible remotely by students and faculty in order to have access to software that is not licensed for home use, not compatible with their device or accessible via CUNY cloud. Created documentation and instructional videos on how to access the virtual labs, through various platforms. Also, requested funding for a server based virtual solution to access software for faculty and students.
Provided training opportunities and instructional design support for faculty to leverage technology to develop online course content
Trained faculty on web conferencing technology that would support the recording of course content to be accessible in an asynchronous modality
Provided virtual helpdesk and training rooms to provide remote access to IT services
Requested funds to purchase peripheral technology that would support web conferencing (e.g. web cams, headsets)
Requested funds to purchase technology to support tablet technology that can connect to a device to display equations, drawings, etc..
Software for virtual labs – waiting to procure licenses that will provide a virtual instance of lab activities (Labster)

Assessment – will implement software for exam proctoring (e.g.Respondus)
that CUNY is attempting to procure
Update physical classroom and campus infrastructure as needs for online learning evolve

Equip/prep classrooms for online learning (25)
Create physical spaces on campus for students without access to laptops to do remote learning (25)
Augment the capacity of the IT help desk to support both on campus and online students/faculty (25)
Bolster bandwidth on-campus and monitor bandwidth and data security infrastructure as digital activity rises (25)

Campuses have already been addressing many of the above considerations via "stopgap" solutions for remote learning, but should also consider what will need to be bolstered in creating long-term solutions (25)

Multi-factor authentication: Institute to securely enable work from home (25)
Security and endpoint monitoring software: Implement to detect new and novel strains of malware and catch data related incidents before they result in breaches (25)
Waiting room acceptance protocols and passwords for virtual meetings to ensure only invited guests are able to access chats and videos (25).
Operational Considerations for License Use of Campus Facilities
In support of the College's mission of Borough Stewardship, CSI is planning to have limited rental use of campus space and facilities in the fall for those activities that have been approved by NYS and can meet the guidelines set forth by CUNY and State and Local authorities.
Proposals to use campus space will have to include a safety plan that meets NYS and City Department of Public Health and University policies and guidance regulating the health, safety, and welfare of the University's faculty, staff, students, and the general public. Additionally, proposals will have to address the licensees plan for promptly reporting to the College and virus outbreak among attendees and other incidents occurring during their operations or activities while on campus and thereafter.
Any proposed agreement will employ the newly developed license agreement prepared by CUNY Legal and will include the COVID 19 Addendum. Any license agreement will provide that:
The cost and care of the safety and security of the licensee, its personnel, guests and invitees will be the responsibility of the licensees. No responsibility will be borne by the University, CSI, or a college related entity.
CSI will not be required to incur any additional responsibilities that may directly or indirectly strain campus or University resources, including Public Safety services.
Licensee will be fully responsible to provide for the sanitization and restoration of campus property and facilities.
Proposed agreements will be sent to CUNY's Office of General Counsel for approval prior to the execution of any agreement.
Additionally, the College will report any violation or breach of terms and conditions of any short term facility use agreement to the Office of General Counsel.
At this time, possible use of campus facilities include:
The Tennis Center
Limited operating hours for the Barnes and Noble bookstore in the event the campus dorms are open
Use of outdoor campus space by the Metropolitan Transit Authority PD for candidate screening in addition to use of soccer fields for practices
Some pool rentals
Operational Considerations for Reclosing in the Event of an Outbreak
These guidelines reflect the process previously followed by the campus and CUNY campuses in closing the university pursuant to New York State COVID-19 response guidance.
As we reopen we will likely have positive cases. As we have outlined above, we will implement the following measures to ensure the wellbeing of our campus community:
Screening system
Campus signage
Cleaning and disinfecting protocols,
Reporting protocols
Resources for Faculty, Students and Staff
Governance
Should the CSI campus need to close campus-based operations after reopening, the same governance structure will apply as laid out in the reopening section of the guidelines. Pursuant to that structure, CSI will review and modify as appropriate re-closing plans (following the guidelines set out herein). These plans will be submitted to the Chancellery/COO's Office for review and approval.
Any decisions to shut down will begin with the Campus Coronavirus Liaisons who will report daily to the Campus Reopening Committee and to the Chancellery/COO's Office on COVID-19 exposures. This data, along with local and state data and guidance, will guide the campus working with the Chancellery/COO's Office's on decisions as to closures. If the CUNY Board of Trustees calls for partial or full closure, CSI will implement existing plans for closure, requiring only essential personnel to report to campus to ensure:
the maintenance of plant operations,
public safety and security of the campus,
a safe and organized move out of dorm residents from Dolphin Cove.
The essential personnel for these limited activities have been identified and advised of their status as essential personnel in the event of a closure.
While CSI's intention is to move forward and bring more activity back to campus over time, we will continuously monitor external sources:

Federal, New York State, and New York City regulatory guidelines and mandates
Infection/health system status at the local, state, regional and nation-wide level (25).
Status of resources and infrastructure to combat contagion (e.g., PPE, health system capacity, testing and tracing) (25)
Compliance of greater public with COVID-19 protocols (e.g., group gatherings, social distancing) (25)
Reclosing status of the 2 neighboring universities on Staten Island – St. John's University and Wagner College (25).

Internal monitoring criteria that will be monitored and reported to CUNY include:

Spread of infection on campus (i.e. via data reported by Campus Coronavirus Liaisons - metrics on current caseload, new flu-like symptoms, spread) (25)
Status of resources and infrastructure to combat contagion on campus (e.g. University health system capacity, PPE resources, Testing & tracing resources) (25).

CSI is incorporating guidance on relevant reclosure criteria provided by New York State as part of Phase 4 reopening guidance for Education institutions.
Campus internal monitoring will be informed by the requirement for students who are reporting to or residing on campus to self-diagnose/report symptoms and faculty/staff to complete the NYS Daily Health Screening Template as well as the regular reports on COVID-19 exposures on their campus that will be provided by the Campus Coronavirus Liaisons to the Campus Reopening Committee and the SVC for Institutional Advancement.
CSI will monitor health conditions using the criteria above and look for warning signs that infection may be increasing (11).

Per the governance arrangements set out in Part 1, Section B, Coronavirus Campus Liaisons have primary responsibility for collecting accurate and complete data about each individual on their campus with possible exposure to the coronavirus and for sharing that information with the Campus Reopening Committee and the SVC for Institutional Advancement.
The Campus Coronavirus Liaisons will report information from their campus as well as the online NYS Daily Health Screening Template.
CSI is reviewing the creation of a dashboard to actively display and monitor the situation on campuses.
Dorm Residents
If there are dorm residents on campus, management will work with the residents to schedule their departure from campus, based on the alternative residence plan that the student is mandated to supply at the beginning of the semester. Scheduled departures following existing guidelines will be enforced by public safety, to limit exposure of students, limited family members assisting in the pick-up of students, and staff.
Communication
In the event of a closure, the campus will communicate the message to the campus community via CUNYAlert, Blackboard, and the email system with postings on the College website and the Digital message board housed outside of the campus on Victory Blvd.
Campus Deliveries and Drop-Off
CSI will limit external deliveries to the 1M loading dock; excluding delivery of research laboratory necessities and pick-up chemical and regulated waste RMW) which will be limited to the 6S loading dock. Both equipped with roll gates which when open provide for sufficient outside air flow. In addition, food deliveries will be restricted to 1C loading dock area for the purposes of Dining Services and the Food Panry. These designated areas for pickups and deliveries will, to the extent possible, employ measures to limit contact. (41)

Public Safety will direct external delivery drivers who arrive at the front gate to the appropriate drop off/pick up location. These locations will allow for limited on-site interactions.
All college personnel involved in receiving activities and delivery of goods on campus will be trained by their supervisor in proper handling of goods, use of PPE and social distancing according to current guidelines.
Many professional shipping companies are currently conducting "touchless" deliveries and receipts with no physical exchange of paperwork or handling of pens required. This process will continue. This practice involves the shipper taking the name of college personnel who accepts the delivery and entering it into their system without contact or proximity.

Delivery schedules and signs will be displayed at main drop-off and pick-up areas. (15)
Appropriate signage will be displayed at the loading docks which per section (refer to signage section)
The 1M loading dock is open for four hours each day, unscheduled deliveries are turned away at the front gate when loading dock is closed.
The 6S loading dock will only accept pre-scheduled deliveries and pick-up of wastes. Faculty and Staff will make notification to the campus of all deliveries to 6S and work with Environmental Health & Safety to ensure appropriate safety measures are taken.
The 1C loading dock will only accept pre-scheduled deliveries of food and dining related supplies as per Auxiliary Services.
Employees are encouraged to coordinate drop-offs remotely to avoid contact and overlap (15).

CSI does not currently have the funding to purchase an automated package delivery and receipt system. In an effort to minimize person-to person contact and proximity for deliveries and drop-offs which continue to require a paper sign-off, this type of clip-board contact is conducted by the placement of the receipt in a convenient place on the dock where it can be approached and signed by College personnel with minimal contact and without proximity of less than six feet. College personnel are trained to use their own pens and to use hand sanitizer after this contact.
Packages are secured at the loading dock until local delivery can be arranged directly with the campus recipient. At this time all on-campus deliveries and pick-ups are by appointment only.
Campus deliveries will take place one to ten days after receipt. At that time the packages are transferred via van or hand truck to the required location on campus with use of PPE and practice of social distancing.

CSI has provided acceptable PPE and engineering controls (such as Plexiglas separators) for delivery workers and mail room staff for the duration of the delivery process (28).

All college personnel involved in mailroom activity will be trained by their supervisor in proper handling of mail, use of PPE, prior hand sanitizing and social distancing according to current guidelines. (28)