Additional Navigation
Close
Programs of Study
The College of Staten Island is a senior college within The City University of New York (CUNY) offering associate's, bachelor's and master's degree programs. CSI also participates in several challenging doctoral programs in cooperation with the CUNY Graduate School and University Center.
With the range of CSI's offerings, you can pursue almost any career path. Choose from programs in fields as varied as business, education, nursing, pre-medicine, music, and computer science. CSI's general education program will help you discover how to connect and integrate all of the courses from your undergraduate studies.
CSI provides undergraduates many opportunities to work with senior faculty on research projects and to participate in strong international programs. CSI also has selective graduate programs in areas of special strength. In all we do, we never lose sight of our focus on intellectual development.
---
"Reel" Talk from CSI Students
---
MyMajors Career Assessment Resource
Image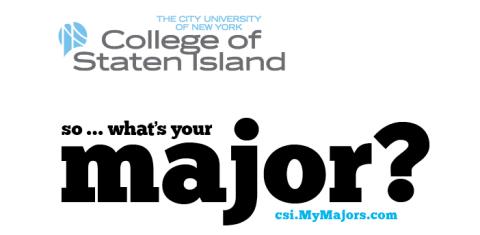 A free on-line career assessment tool which supports your ability to choose a CSI "best fit" major upon completing your Aptitude and Interest Profile.  A personalized Advisement Report is generated for you at the end of your assessment.