Associate Professor
Heidi M.J. Bertels is an Associate Professor of Management at the Chazanoff School of Business of the College of Staten Island (CSI) of The City University of New York (CUNY). Prior to joining CSI, she was a Visiting Assistant Professor at the College of Business Administration of the University of Pittsburgh.
She holds a PhD in Technology Management from Stevens Institute of Technology in Hoboken, NJ and a BS and a MA in Integral Product Development from the University of Antwerp, Belgium. 
Dr. Bertels' research interests are in entrepreneurship, innovation management, and creativity. She has an established research record with publications in high-quality business journals such as Journal of Product Innovation Management, Management and Organization Review, Research-Technology Management, International Journal of Innovation Management, Journal of Management Education, Case Research Journal, and The CASE Journal as well as chapter publications in The PDMA Handbook of New Product Development. She has given over 35 presentations at national and international conferences.
Her entrepreneurship cases have received international recognition. Dr. Bertels' case "Startup on a budget: Winning new customers without breaking the bank" received the 2020 Emerald Literati Award for Outstanding Paper in The CASE Journal and the 2019 CASE/Emerald Best Case Award. Her co-authored case "Average is Beautiful: An Opportunity worth Pursuing?" was listed as one of the top fifteen best-selling cases in 2019 for the Case Research Journal and was designated as popular on the Harvard Business Publishing Education website in 2018 and 2019. The case was adopted by 1,761 students in 2019 and 1,115 students in 2018.
Dr. Bertels' research in innovation management and creativity was nominated for the 2019 Fritz Roethlisberger Memorial Award (best paper for Journal of Management Education). She was twice a finalist for the Best Student Paper Award of the TIM Division of the Academy of Management (2008 and 2009) and also was a finalist of the 2009 PDMA Dissertation Proposal Competition.
Dr. Bertels has taught courses in Capstone Business Simulation, Strategic Management, The Entrepreneurship Process, Corporate Entrepreneurship, Organizational Theory and Management, and Statistical Models. Her teaching has been recognized with the Best Teaching in the General Management Major Award (2010-2011) and Joseph M. Katz Excellence in Teaching Award (2010-2011) by the College of Business Administration at the University of Pittsburgh.
Please consult www.heidibertels.com for an overview of publications.
Google Scholar Citations: http://tinyurl.com/heidibertelscitations
Degrees
Ph.D. in Technology Management, Stevens Institute of Technology
MA in Integral Product Development, University of Antwerp
BS in Integral Product Development, University of Antwerp
Scholarship and Publications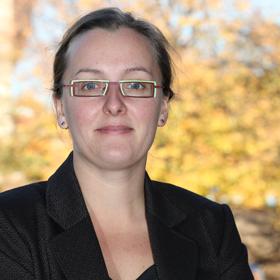 Contact Information
Office: Building 3N Room 236