Professor
Maryann S. Feola received her Ph.D. at the Graduate School of the City University of New York, where she pursued her interests in the various cultural aspects of the Renaissance. Her research includes sixteenth and seventeenth-century radical writers, including Christopher Marlowe, John Milton, early Quakers writers, and the literature of kingship and regicide.  She also writes about the experience of Italian-American women who have challenged boundaries. Professor Feola has published articles on instructional approaches to the teaching of reading and writing to college students. At the College of Staten Island, Professor Feola teaches such courses as The English Renaissance, Seventeenth Century English Literature, John Milton, Medieval and Early Modern Culture, Women and Literature, and College Writing. She served as Coordinator of the MA Program in English from 2005-2014.
Degrees
MA, Hunter College
Ph.D. Graduate School City University of New York
Scholarship and Publications
Professor Feola has received a Mellon Fellowship and several funding opportunities from The Folger Shakespeare Library.  In 2003 she received the CSI Dolphin Award for Excellence in Teaching, and she has been recognized by the City University Access to Excellence program. She was the founder and former co-editor of The Journal of College Reading, and has written several biographies for Oxford University Press' The Dictionary of National Biography, as well as reviews of books and plays concerning Renaissance literature, and Italian-American studies, and pedagogy. Her articles have been anthologized and appear in publications, including New Light on George Fox and Curraggia: Writing by Women of Italian Descent. Her George Bishop: Seventeenth Century Soldier Turned Quaker (1997) was published both in England and the US. She is the author of a multi-genre book, Geography of Shame: A Not-Too-Fictionalized Memoir. (Full Court Press), named to Kirkus Reviews' Best Books of 2015. Professor Feola's current research centers on how early modern British writers imagined Naples in their work. In January 2018 she will present a paper, "Aphra Behn and the Shaping of an Imagined Naples," for the London Women's Studies Group 1558-1837, which will meet at the Foundling Museum in Bloomsbury.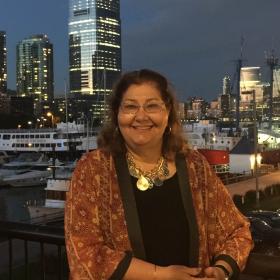 Contact Information
Office: Building 2S Room 208