Professor and Chairperson
Dr. Ahmed is currently Professor of Neuroscience and Motor Control at the College of Staten Island/CUNY. He is also a licensed physical therapist who practices in New York. He treats patients with neurological disorders such as cerebral palsy, stroke, spinal cord injury, and developmental disability. Clinical experiences inform the Ahmed laboratory and help in generating significant research questions that relate directly to human well-being. Dr. Ahmed's research focuses on bioelectronic medicine and the novel application of therapeutic strategies based on electrical and magnetic stimulation. He studies the modulatory effects of different forms of electrical and magnetic stimulation applied to the brain, spinal cord, and peripheral organs. He seeks to characterize the short and long-term physiological and therapeutic effects of electrical or magnetic applications and delineate their mechanisms of action by using the progressive complexity of living models (cell to human). Dr. Ahmed collaborates with numerous scientists across many different disciplines to achieve this goal. The latest focus of the Ahmed lab is to study the effect of trans-spinal direct current stimulation on spasticity and motor recovery following spinal cord injury and brain injuries (stroke, trauma). Dr. Ahmed is also the Scientific Founder of PathMaker Neurosystems, a clinical-stage bioelectronic medicine company developing non-invasive systems for the treatment of chronic neuromotor conditions.
Degrees
PhD., Biology/subprogram neuroscience, Graduate Center/CUNY
MSc., Biology/subprogram neuroscience, Graduate Center/CUNY
BSc., Physical Therapy, Cairo University, Egypt
Scholarship and Publications
Selected original articles 
Wagdy Mekhael, Sultana Begum, Sreyashi Samaddar, Mazen Hassan, Pedro Toruno, Malik Ahmed, Alexis Gorin, Michael Maisano, Mark Ayad, Zaghloul Ahmed. Repeated anodal trans-spinal direct current stimulation results in long-1 term reduction of spasticity in mice with spinal cord injury. Journal of Physiology, 2019 https://doi.org/10.1113/JP276952
Tiffany M. Richards, MS1; Pawan Sharma, MS2; Aaron Kuang, BS2; Douglas Whitty, BS2; Zaghloul Ahmed, PhD; Prithvi K. Shah, PhD. Novel speed-controlled automated ladder walking device reveals walking speed as a critical determinant of skilled locomotion after a spinal cord injury in adult rats. Journal of Neurotrauma, 2019
Ahmed Z. Effects of cathodal trans-spinal direct current stimulation on lower urinary tract function in normal and spinal cord injury mice with overactive bladder. Journal of Neural Engineering 14: 056002, 2017.
Samaddar S, Vazquez K, Ponkia D, Toruno P, Sahbani K, Begum S, Abouelela A, Mekhael W, and Ahmed Z. Transspinal direct current stimulation modulates migration and proliferation of adult newly born spinal cells in mice. Journal of Applied Physiology 122: 339-353, 2017.
Ahmed Z. Trans-spinal direct current stimulation alters muscle tone in mice with and without spinal cord injury with spasticity. Journal of Neuroscience 34: 1701-1709, 2014.
Ahmed Z. Effects of cathodal trans-spinal direct current stimulation on mouse spinal network and complex multijoint movements. Journal of Neuroscience 33: 14949-14957, 2013.
Ahmed Z. Electrophysiological characterization of spino-sciatic and cortico-sciatic associative plasticity: modulation by trans-spinal direct current and effects on recovery after spinal cord injury in mice. Journal of Neuroscience 33: 4935-4946, 2013.
Ahmed Z, and Wieraszko A. Combined effects of acrobatic exercise and magnetic stimulation on the functional recovery after spinal cord lesions. Journal of Neurotrauma 25: 1257-1269, 2008.
Ahmed Z, and Wieraszko A. The mechanism of magnetic field-induced increase of excitability in hippocampal neurons. Brain Research 1221: 30-40, 2008.
For the entire list of publication please visit this link: https://scholar.google.com/citations?user=kDaIYAgAAAAJ&hl=en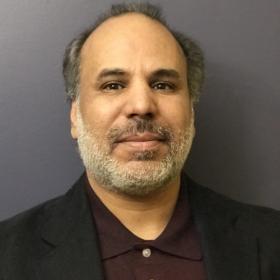 Contact Information
Office: Building 5N Room 207