College of Staten Island Graduate Conference: Research & Scholarship, Spring 2023
Call for Papers
The 2022-23 organizing committee for the College of Staten Island Graduate Student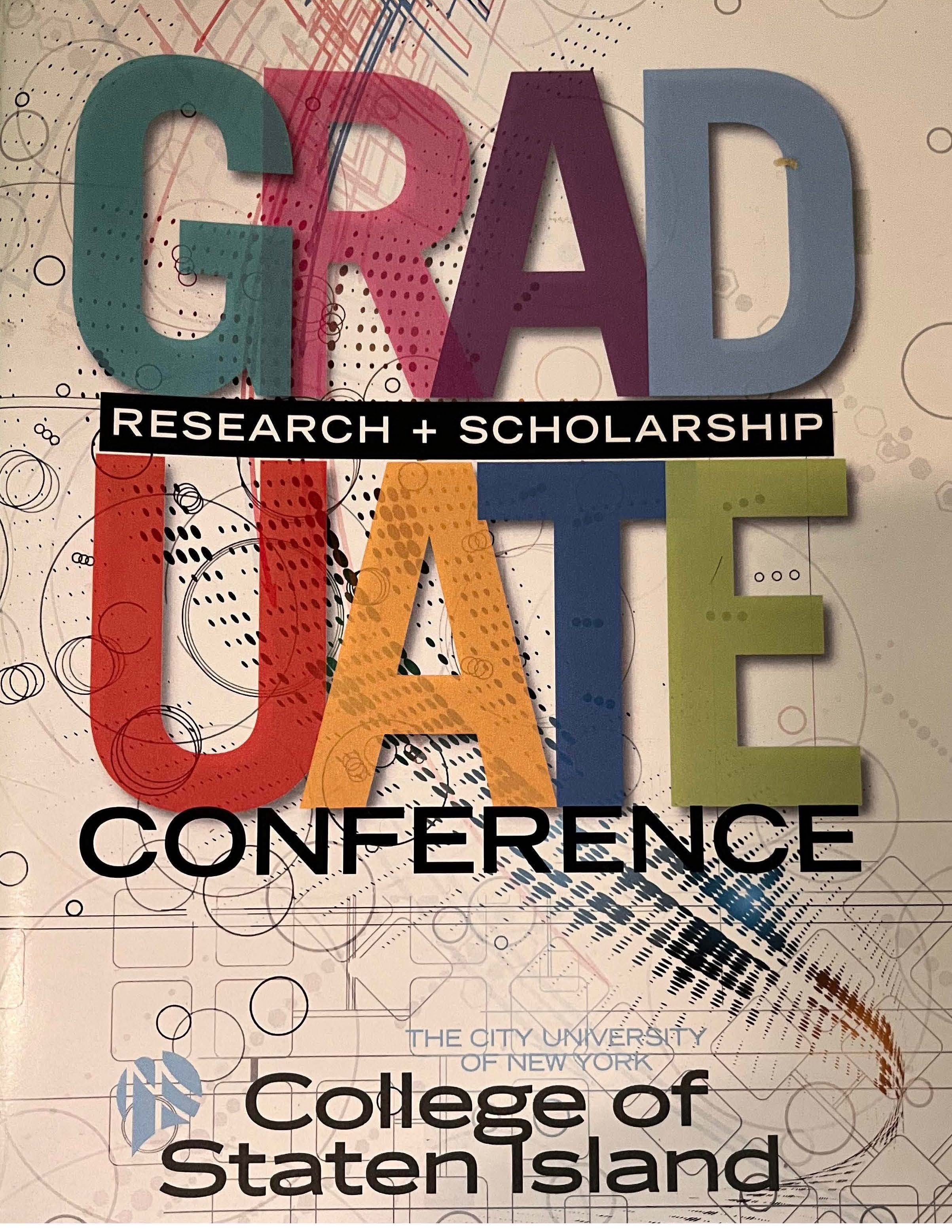 Conference is happy to re-establish this event after a five-year hiatus. We invite proposals from students in master's and Ph.D. programs on any topic at any point in their graduate program, particularly those in the early stages of research. Conference organizers aim to present a premier opportunity for emerging scholars to present papers, participate in discussions, network, and develop collaborations across different disciplines.
Graduate students interested in participating in the conference should complete and upload the following as a single PDF document to the blackboard folder "Graduate Conference: Research & Scholarship - Spring 2023 (CSI)": 
Conference presentation proposal submission form can be downloaded from the blackboard cite "Graduate Conference: Research & Scholarship - Spring 2023 (CSI)
A draft of the research paper/project
A draft of presentation slides (each presenter will have 20 min for the presentation and 10 min for Q&A. Four to six slides will be enough for the organizing committee to assess the presentation proposal. Participants will be able to modify presentation slides before the conference program is finalized.)
 
Modality: Fully Online
Dates & Times: 
Thursday, 05/11/2023 between 3:00 pm – 8:00 pm
 Zoom link, Meeting ID: 822 5655 4934, Passcode: 253201
Friday, 05/12/2023 between 10:00 am – 3:00 pm
Zoom link, Meeting ID: 862 1182 3151, Passcode: 885676
Important deadlines:
Conference presentation proposal submission deadline:  11:59 pm, 03/15/2023
Mentor approval deadline: 11:59 pm, 03/31/2023
The acceptance/rejection communication deadline: 11:59 pm, 05/01/2023
If you have any questions, please e-mail george.vachadze@csi.cuny.edu
Schedule Day 1: 05/11/2023 between 3:00 – 8:00 pm
 Zoom link, Meeting ID: 822 5655 4934, Passcode: 253201
Opening remarks: George Vachadze,
Professor of Economics, at the Lucille and Jay Chazanoff School of Business
Keynote Address: Dr. Zaghloul Ahmed PT PhD
Professor and Chair
Department of Physical Therapy/ School of Health Sciences
Keynote Title: Applied Electrical and Ionic Currents in The  Nervous System Repair and Healing
Author(s): Denise Pace
Mentor: Prof. Judit Kerekes
Presenter(s): Denise Pace
Title: Impact of Home Life on Academic Performance        
Moderator: Prof. Ruth Silverberg
Denise Pace has been enrolled in CSI since 2013. She holds a bachelor's degree in childhood education and is currently enrolled in the master's program in childhood education. She plans to graduate this summer. Due to childrearing, she has only been able to work as a substitute teacher. Her future aspiration is to begin working full-time and have her own classroom!
Author(s): Elizabeth Bialkin, Jacqueline DiForte, Fernando Salazar, and Brian Tucci
Mentor: Prof. Michael Chiacchiero
Title: Are High Amplitude Microsaccades a useful biomarker for the Diagnosis of Concussion?
Moderator: Prof. Rosanne Carlo
Elizabeth Bialkin graduated from Rutgers University in 2018 with a major in Applied Kinesiology. She found her passion for Physical Therapy working as a student athletic trainer for Rutgers Football.  Elizabeth is interested in pursuing a career in inpatient acute care with a focus on neurorehabilitation.
Jacqueline DiForte graduated from Fordham University in 2020. As an undergraduate, she participated in research and presented posters at Fordham's Undergraduate research symposium all four years. Jacqueline is extremely passionate about the field of Physical therapy, particularly sports medicine, and rehabilitation. After graduation, Jacqueline plans to work in outpatient orthopedics and pursue becoming a Sports Certified Specialist.
Fernando Salazar Graduated from Hunter College in 2020 and pursued the field of physical therapy to put his passion for exercise, movement, and wellness into practice. After graduation, Fernando is considering a career in outpatient orthopedics.
Brian Tucci started at CSI in 2015 and graduated with a bachelor's degree in psychology. In 2020, he enrolled in the Physical Therapy program at CSI. Brian has previously held a position as a personal trainer where he discovered his love of health through exercise and decided to share his passion with the world. He is also affiliated with a hospital where he helps to mobilize patients with various conditions and limitations. Brian is interested in continuing this work and doing research to better the field of Physical Therapy and improve our body of knowledge as a profession.
Author(s): Benedicta Gbemudu
Mentor: Prof. Shen ChangHui
Presenter(s): Benedicta Gbemudu
Project Title: The Effect of Ino80p Acetylation in Gene Expression
Moderator: Prof. Xiaowen Zhang
Benedicta Gbemudu is a master's student in Biology with a concentration in Biotechnology and is set to graduate in Spring 2023. She joined CSI in January 2021 after completing her Bachelor of Science in Zoology in Nigeria. Along with her studies, Benedicta is passionate about teaching and is an adjunct lecturer in the biology department. Her research interests are primarily in Ecology, Molecular Biology, and Cancer Biology. Benedicta has extensive experience in molecular biology research, particularly in her thesis work, and is grateful for the mentorship of Dr. Chang-Hui Shen. She has completed internships and research projects in the field of zoology and was awarded a Student Award from the Phi Beta Delta Honor Society for International Scholars Eta Lambda Chapter at CSI. Benedicta plans to pursue a doctorate degree, and her long-term goal is to become a college professor and make contributions to the fight against diseases such as cancer.
Author(s): William Bray
Mentor: Prof. Syed Rizvi
Presenter(s): William Bray
Project Title: Model Africa's Power onto a common grid and shore up its shortfall with renewable energy
Moderator: Prof. Xiaowen Zhang
William Bray is a Vice President for National Society of Black Engineers (NSBE), CSI chapter, and a member of the Institute for Electrical and Electronics Engineers (IEEE). He joined the College in 2021 and his expertise is in the areas of marine electrical engineering and power systems. His aspirations are to work in the power systems industry and to do college teaching.
Auror(s): Angell Chee, Alani Harrison, Omar Elwany, Vincent Liu
Mentor: Prof. Ahmed Zaghloul
Title: Transcranial Direct Current Stimulation Changes ForePaw Use of Preference in Mice
Moderator: Prof. Rosanne Carlo
Angell Chee graduated from Stony Brook University in 2017 with a bachelor's in chemical engineering. He decided to enter the Physical Therapy field with a passion for exercise and rehabilitation of musculoskeletal disorders. He entered CSI's Doctor of Physical Therapy with an interest in orthopedics and performance optimization.
Alani Harrison joined CSI as an undergraduate student in 2015 and obtained her bachelor's degree in psychology with honors in 2019. In the same year, Alani joined the Doctorate degree program in Physical Therapy at CSI. She previously presented a research project at the Undergraduate Research Conference in May 2019. Alani's aspirations after graduation are to work as a Physical Therapist with underserved populations and to give back to her community.
Omar Elwany Graduated from Brooklyn College in 2019 with a Bachelor's in Kinesiology. Upon completing his Degree, he then continued His studies at the CSI Doctor of Physical Therapy program. His research at CSI has been focused on transcranial Direct current stimulation and its physiological and behavioral effects on the mouse model. Omar has previously presented his research at the 2019 Society for Neuroscience Conference and the CSI 2020 Graduate Research Conference.
Vincent Liu graduated from John Jay College of  Criminal Justice in 2015 with a  bachelor's  degree in  criminal justice.  He decided to pursue a career in Physical Therapy after discovering the immense  knowledge that physical therapists can acquire in pursuit of health  optimization and root cause medicine. Committed to optimizing movement and  clinical excellence, Vincent entered the Doctor of Physical Therapy program at  the College of Staten Island, with a special interest in Orthopedics and Sports  Medicine.
Author(s): Harry Klumbach Jr.
Mentor: Prof. Judit Kerekes
Presenter(s): Harry Klumbach Jr.
Project Title: Group Discourse in Elementary Mathematics: A Study on Implementation in a Third-Grade Classroom            
Moderator: Prof. Ruth Silverberg
Harry Klumbach Jr. joined CSI in 2016 as an undergraduate student and graduated from the college with a major in business management and a minor in finance in 2020, In the same year, he started a master's in childhood education and plans to graduate at the end of this semester. The main reason for his career change was his true passion to teach and educate children. He is currently a full-time teacher at New World Preparatory charter school. Harry plans to continue his career education and shape the minds of the children he teaches.
Auror(s): Tristiana Adragna, Brian Ng, Michael Maisano, Rivka Weis
Mentor: Prof. Amanda L. Rotondo
Project Title: Effects of Virtual Versus In-person Instruction of Confidence Level of Parents of Children with Cerebral Palsy
Moderator: Prof. Rosanne Carlo
Tristiana Adragna joined CSI Macaulay Honors Program in 2016. After obtaining her bachelor's degree in 2020, she continued her study at the Doctor of Physical Therapy Program. Her research interest is in the area of pediatric developmental milestones. She  presented her work at the CSI Undergraduate Research Conference in May 2020. Tristiana is an accomplished athlete. She received numerous medals and Honorable Mentions in the past. She would like to become a Pediatric Physical Therapist.
Brian Ng graduated from Penn State in 2016 with a BS degree in Kinesiology. He found his passion through working with athletes at the Penn State fitness center and solidified his choice to pursue a career in Physical Therapy after working as an aide. After graduation, Brian plans on pursuing a career in outpatient orthopedics and eventually opening his own clinic to help those in need improve their quality of life.
Rivka Weis joined the Department of Physical Therapy at CSI in 2020. She holds a BS degree in Biology from Touro College. Rivka has previously worked with the pediatric population, as well as completed multiple physical therapy assignments. Her current affiliation is in a specialized school, the School for Children with Hidden Intelligence, where she met and began to work with children with various disabilities including children with cerebral palsy. Rivka is very interested in continuing her work and doing research in Physical Therapy.
Schedule Day 2: 05/12/2023 between 10:00 – 3:00 pm.
Zoom link, Meeting ID: 862 1182 3151, Passcode: 885676
Graduate Research Conference Organizing Committee:
Prof. Chandan Acharya, Chazanoff School of Business
Prof. Rosanne Carlo, Division of Humanities and Social Sciences
Prof. Michael Chiacchiero, School of Health Sciences
Prof. Ruth Silverberg, School of Education
Prof. Xiaowen Zhang, Division of Science and Technology
Prof. George Vachadze, Chazanoff School of Business