Additional Navigation
Close
1P-122 - Film/Video Lab
This lab is the center of all Cinema production classes as well as TV and radio production. The Film/Video lab is comprised of the following areas: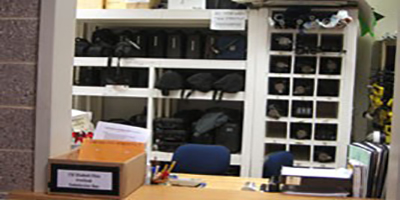 The Cage
Provides full-service equipment rental for production students offering HD and SD video, 16mm film cameras as well as digital still cameras, lighting kits, audio recorders, microphones, tripods, dollies, assorted grip, cabling, accessories and expendables.
HD camera formats include Panasonic P2, AVCHD & HDV. DV Camera models include Panasonic DVX-100A, Canon XL1-S, Sony PD-170, VX-2100, Panasonic DV-20 & Canon GL2's. 16mm Cameras include Bolex prime and zoom kits, Arri BL and CP-16 kits.
Edit Suites
6 dedicated edit suites run Final Cut Pro Studio on the Macintosh OSX platform. In addition we have Avid Media Composer and Pro-Tools workstations. Editing suites are equipped with HD capable LED monitors, HDV/DV decks, DVD & Blu-Ray burners and HD/NTSC monitors. Additional software includes Toast, Magic Bullet Suite and iStop animation. For 16mm film editing there are 3 Steenbeck flatbeds and an Elmo 16mm telecine.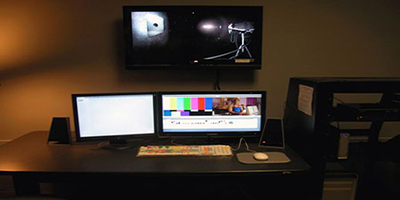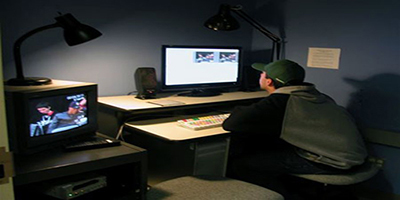 Edit Suite 4 with a CIN 111 student at work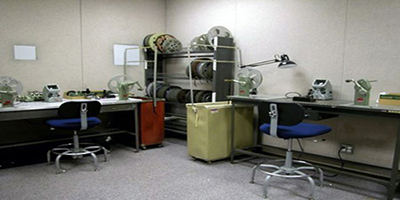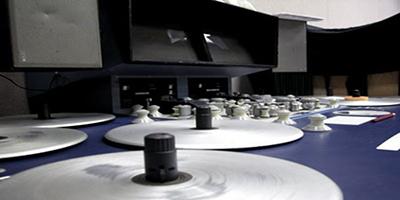 16mm film editing tables w/rewinds, split reels, viewers and bins. A mag dubber is off camera to the left.
8-plate Steenbeck for 16mm editing.
The TV Studio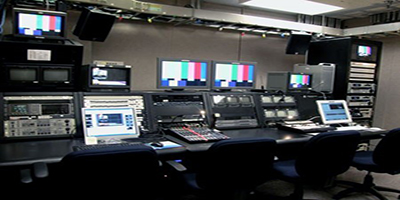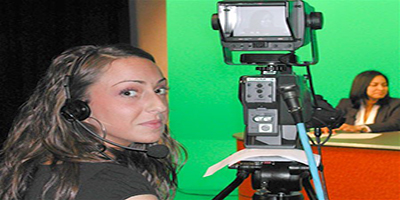 Our hybrid Digital/Analog TV studio Control Room
A fully integrated control room is at the heart of 2 studio spaces (37' x 25' & 19' x 19') which are used for TV production or as soundstages. The studios are fully soundproofed, have chroma key and black cycs, a 3D chroma key set and full lighting grids with a variety of fresnel and quartz instruments. The control room is hybrid SD analog/digital and fully expandable for future HD capability.
The Audio Room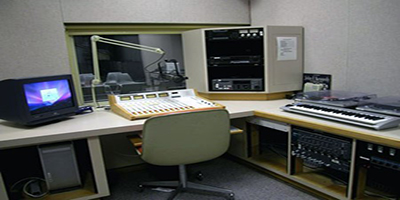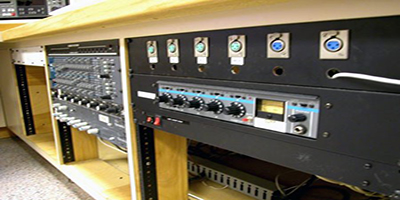 Radio production students use industry-standard equipment to develop their skills utilizing 2 dedicated Pro-Tools stations for digital mixing, an Audio Arts radio console, Audacity and GarageBand with Midi Keyboard and a variety of AKG studio mics. 16mm students can transfer from any of the above to a Magnasync mag dubbing machine.
1P-231 Design and Digital Media Lab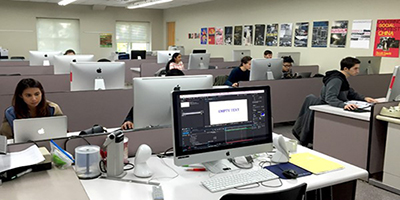 This lab is used for Communications production classes that focus on print- and web-based graphic design, typography, digital photography, animation, motion graphics, and online journalism. Current software includes the Adobe Creative Suite with DreamWeaver and Flash applications and QuarkXpress. All software is taught on iMac Intel Core-duo workstations running on the OSX platform. An additional 2 iMacs are equipped as scanning stations with Epson flatbed scanners. For printing we have networked B/W HP 4200's, Color HP 4600, a Xerox 7700 Phaser and an Epson StylusPro7880 for portfolio or exhibition work.
1P-223 Screening Room
Cinema theory and history classes utilize a 75-seat screening room which is equipped with an Eiki 16mm projector, Panasonic DLP 5600 Digital Projector, a THX Surround Encoder and a JBL Professional Surround speaker system.