Special Announcements
Due to the COVID-19 pandemic all faculty and staff are telecommuting. Students seeking advisement should contact their assigned advisor (listed in CUNYFirst) by email.
For help with other dept. business please contact CUNY Administrative Assistant Gary Pizzolo at Gary.Pizzolo@csi.cuny.edu.
The Film/Video Lab and Design and Digital Media Lab will be fully open in Spring 2022. Lab hours will be posted soon. For more information please email mediaculturelabs@csi.cuny.edu or CSIMacLab@csi.cuny.edu.
---
During the fall 2021 semester the lab will offer tutoring and equipment loans to eligible students enrolled in Cinema Production courses. Please check back then for details on lab resources and how to access them.
For any questions regarding the labs please email mediaculturelabs@csi.cuny.eduor CSIMacLab@csi.cuny.edu.
During the fall 2021 semester the lab will offer remote tutoring sessions to students enrolled in COM/DDM courses. Please check back then for details on lab/tutoring resources and how to access them.
For any questions regarding the labs please email mediaculturelabs@csi.cuny.eduor CSIMacLab@csi.cuny.edu.
---
Advising for Winter/Spring/Summer 2022
Registration for Winter/Spring/Summer 2022 is now open and ongoing until the start of each session. Registration for Summer 2022 is ongoing. Your faculty advisor can remove advising stops, help you choose classes, and make sure that you are on track to fulfill degree requirements. Click here for tips on preparing for advisement
---
Congratulations to Prof. Mandiberg on this landmark exhibition.
Professor Michael Mandiberg's work as a visual artist was featured in a solo exhibition titled Timeframe at the Denny Dimin Gallery in Manhattan in December 2021. The exhibition included his ongoing Live Study, a durational performance begun in 2018 in which the artist live-streams his process as he undertakes series of portraits and color studies in oil paint. The paintings take as their subjects assistants who have worked with Prof. Mandiberg in his studio; many of them are former students at the College of Staten Island, in recognition of the key roles they have played in his practice. The Whitney Museum of American Art has archived the live stream videos since 2019 (https://whitney.org/exhibitions/live-study).
The exhibition also included Prof. Mandiberg's Zoom Paintings, a series launched under pandemic conditions in 2020, focusing on the backgrounds visible to participants in virtual meetings. For more information , see https://dennydimingallery.com/exhibitions/timeframe/.
The Department of Media Culture congratulates Professor Ying Zhu on her retirement in January 2022.
Professor Zhu has been a valued member of the faculty of the College of Staten Island since 2002, and served as chair, 2012-15. She has authored, edited or co-edited a remarkable ten books including Two Billion Eyes: The Story of China Central Television (2013) and Soft Power with Chinese Characteristics: China's Campaign for Hearts and Minds (2019). Her latest, Hollywood in China: Behind the Scenes of the World's Largest Movie Market, is forthcoming in 2022. Her writing has appeared in numerous academic journals as well as The Atlantic, Foreign Policy, The Wall Street Journal, and The New York Times, among many others. In addition, Professor Zhu has co-produced documentaries films including Google vs. China (2011) and China: From Cartier to Confucius (2012), both of which were aired on Netherlands Public Television.
Professor Zhu earned her PhD from the University of Texas at Austin before joining the CSI faculty. Beginning in 2018, she joined the faculty of Hong Kong Baptist University as Director of the Centre for Film and Moving Image Research, where she founded Global Storytelling: Journal of Digital and Moving Images, published by the University of Michigan Press. She has also recently held positions as Visiting Fellow at the Orient Institute of the University of Oxford and Visiting Professor at the Film Studies Program of Columbia University. We wish our colleague Professor Zhu all the best as she embarks on this new phase of her illustrious career.
Media Culture Department Overview
The Department of Media Culture is committed to providing students with a critical understanding of film, media, and communications. We integrate studies in history, theory, and criticism with practical experiences in production technique and creativity as well as external field experience, allowing our undergraduate majors to specialize in cinema studies or film and television production, media studies, corporate communications, journalism, or design and digital media.

What are some obtainable jobs with degrees in Communications or Cinema Studies?
Careers in Journalism for Radio, TV, Print, Digital, and Sports Media
Film, Television, Radio, Documentary, and Podcast Production
Digital Arts including Graphic Design, Photo Editing, and Layout Artist
Corporate Communications, Public Relations, Brand Development, Marketing, Advertising, and Social Media Strategy
Web Development, and Web Design
Video Editing, Camera Operations, Cinematography, Sound Editing/Mixing, and Lighting Design
featured
CIN 111 Video 1
An introductory workshop in the basic techniques of video production.
featured
COM 204 Intro to Online Journalism
Introduces students to the range of basic skills - blogging, online reporting, podcasting, online video and audio - necessary to operate successfully in the world of online journalism.
featured
COM 330 Data Visualization
Explores the principles and techniques of data visualization: the journalistic possibilities, visual power, political persuasiveness, and ethical considerations of transforming data into visual graphic form.
Programs in Media Culture Department
Media Culture Faculty & Staff
Full Time Faculty
Staff
Adjunct Faculty
Cogan, Brian
Couchman, Jeffrey
Dawoud, Aliaa
Dougherty, Cecilia
Fioravante, Janice
Fischetti, Michael
Hager, Steven
Hedditch, Emma
Johnson, Emma
Kenny, James
Kovacs, Rachel
Lee, Austin
Palladino, Andrew
Palmieri, Susan
Richardson, Zardon
Sakhaeifar, Farideh
Saputo, Doug
Treihaft, Lauren
Yakobzon, Erica
Congratulations to Professor Valerie Tevere and Associate Professor Racquel Gates
Professor Tevere, in collaboration with Angel Nevarez, is the recipient of a 2020 John Simon Guggenheim Memorial Foundation Fellowship Award in Fine Arts. Tevere and Nevarez also received a 2019-20 Harpo Foundation New Work Project Grant for their work-in-progress A Slow Dropping, a sonic exploration of the New Orleans Musicians' Village.
Harpo Foundation New York Project Grant.
John Simon Guggenheim Memorial Foundation Fellowship Award in Fine Arts
---
Dr. Gates has been named a 2020 Academy Film Scholar by the Academy of Motion Picture Arts and Sciences. The award, from the Academy's Educational Grants Committee, will support ongoing work on her second book, Hollywood Style and the Invention of Blackness, a critical look at film aesthetics and images of blackness in film and television. Dr. Gates recently contributed the column "The Problem with 'Anti-Racist' Movie Lists" to The New York Times op-ed page.
Facilities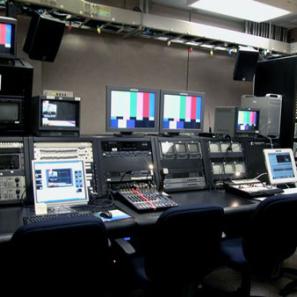 1P-122 - Film/Video Lab
This lab is the center of all Cinema production classes as well as TV and radio production. It is the heart of all film and television post-production.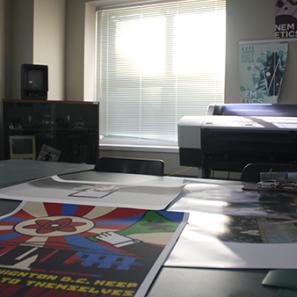 1P-231 – Design and Digital Media Lab
This lab is used for Communications production classes that focus on print and web based graphic design, typography, digital photography, animation and online.