Welcome to the web page of the College of Staten Island Liberty Partnerships Program. Since 1989, the CSI Liberty Partnerships Program has provided students in grades 7-12 with the support services needed to move forward in their education. These services include: tutoring, academic and personal counseling, SAT prep, College Prep, Mentoring, and Advocacy, among others. Liberty, as you may quickly come to call it, also provides transitional support to junior high school students as well as their parents to ease the sometimes stressful process of beginning high school. Our goal is to ensure that our students have the tools they will need to take control of their future
About Us
The Liberty Partnerships Program was created in 1988 by a provision of the Liberty Scholarships Program legislation, State Statute: Education Law §§610 and 612 and State Regulation: 8NYCRR Part 55. Liberty Partnerships Program is provided through the New York State Higher Education Department, K-16 Initiatives and Access Programs and the College of Staten Island. It is a collaborative college– school-community based project whose vision and mission is to increase the motivation and ability of the students to go onto post secondary education and or meaningful employment.
This New York State Education Department, higher education initiative provides eligible students with a range of services structured to facilitate their ability to persist through high school completion and admissions as competitive candidates for postsecondary education and the workforce. Offerings include needs assessments; case management; counseling/goal-setting; college, career explorations; pre-collegiate/workforce readiness programming; cultural enrichment; recreation; and, parental involvement/support.
Liberty's staff is dedicated to helping students reach their highest level of success, both academically and professionally. Since 1989, CSI's Liberty Partnerships Program has graduated thousands of goal-oriented and talented students. It is a program that is committed to each of its students, from the first day of class to high school graduation and beyond.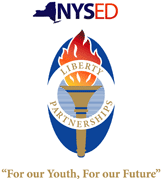 Forms & Applications
Partners
College of Staten Island Liberty Partnerships Partners
CSI Small Business Development Center
Community Partnership Initiative
Consolidated Edison Corporation of NY, Inc
Leadership Through Sports
NY Center for Interpersonal Development
New York Foundling
New York Public Library
New York Urban League
Staten Island Chamber of Commerce
Staten Island Mental Health Society
Staten Island University Hospital
The Universal Temple of the Arts
United Activities Unlimited