Associate Professor
Bilge Yesil is an Associate Professor of Media Culture at the College of Staten Island and Doctoral Faculty of Middle Eastern Studies at The Graduate Center. Yesil's research interest is in global media and communication with a particular focus on Turkey and the Middle East, global internet policies, online surveillance and censorship.
Her book, Media in New Turkey: The Origins of an Authoritarian Neoliberal State (University of Illinois Press, 2016) examines Turkey's media system as the byproduct of the tensions between longstanding authoritarian state forms and the country's experiences with globalization in the post-1980 era. "Highly recommended" by Choice, the book provides an engrossing look at the fault lines carved by authoritarianism, tradition, neoliberal reform, and globalization within Turkey's increasingly far-reaching media. 
Yesil has also written on media, culture and politics in publications including Communication, Culture and Critique, Global Media and Communication, Surveillance and Society, Media History, Cultural Studies, Middle East Journal of Culture and Communication and Journal of Popular Culture. She is a co-editor of the forthcoming Handbook of Media and Culture in the Middle East (with Tourya Guaaybess, Joe Khalil and Gholam Khiabany). The volume will be published by Wiley and the International Association for Media and Communication Research (IAMCR) as part of the Global Handbooks in Media and Communication Research Series.  
Yesil's current project Talking back to the West: Muslim Turkish Voices in the Global Public Sphere examines Turkey's various global media and communication projects undertaken by the ruling AKP government and its proxies in media and civil society. Yesil shows that while these projects (in English and other languages, and targeted at global publics) aim to attain certain geopolitical goals and manage Turkey's reputation, they are nonetheless saturated with history and politics, religion and identity. Through content analyses and interviews, Yesil explores the AKP's global outreach program in relation to postcolonial critique and visions of pan-Islamic solidarity. Ultimately, Talking back to the West puts global media studies in conversation with the humanities, and offers the opportunity to go outside the Global North for data to develop theories that speak to global trends, such as the articulation of subalternity with religious, conservative subjectivities and the deployment of ressentiment by political actors around the world.
Prior to joining College of Staten Island, Yesil taught at New York University, Sabanci University and the New School. Her research and other scholarly activities have been supported by the CUNY Graduate Center, National Science Foundation, Fulbirght Program and PSC-CUNY. She frequently contributes to international media, and her interviews can be found on Al Jazeera English, Democracy Now and BBC Radio 5. 
Degrees
PhD, New York University
MA, University of Wisconsin-Madison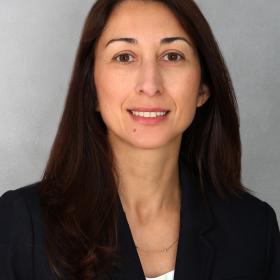 Contact Information
Office: Building 1P Room 232