Professor
Dr. Wickstrom (MFA, Ph.D.) is Professor in the Theater and Performance Program at the Graduate Center/CUNY as well as at the College of Staten Island, where she is the Coordinator of the Drama Program in the Department of Performing and Creative Arts.
Her career began as a director and creator of original work with the company she co-founded, Zone West. Zone West was active for eight years, performing at key performance art spaces nationwide as well as in New York, where the company performed its initial piece at Franklin Furnace with a grant from the Jerome Foundation. With Zone West, Dr. Wickstrom's interests were in exploring new and innovative forms of performance combined with explorations of critical political questions. As a professor, both at the College of Staten Island, and at the Graduate Center, these interests remain central. Under her mentorship, the curriculum of the Drama Program at CSI has undergone significant changes in order to offer students access to not only to traditional kinds of theatre and theatre training, but also classes in performance and live art, new performance, devising, visual theatrical imagination, adaptation, and performance and identity in the 21st century. At the Graduate Center, Dr. Wickstrom has taught courses including Theorizing the Oceanic for Theatre and Performance; Temporality and Performance; Animals in Performance; Ways of Looking: Spectacle, Politics and Affirmation; Performance Criticism in Neoliberal Times; and Global Political Theatre. She has also taught Temporality and Performance as a Visiting Professor at the Yale School of Drama and will be teaching the Oceanic course there in Fall 2020. At the Graduate Center she serves on second exam and dissertation committees and directs dissertations, most recently Rayya El Zein's Performing el rap el 'Arabi  2004-2014: Feeling Politics and Affecting Possibility amid Neoliberal Incursions in Beirut, Ramallah, and Amman and, currently, Bhargav Rani's Performing Banarasipan: The Production of Subjectivity at the Intersection of Capitalism and Hindu Nationalism. At CSI, she mentors students in a variety of projects, including in directing and performance. Dr. Wickstrom directs one mainstage production each year at CSI. Most recently she has directed Sarita (Marie Irene Fornes), Moby Dick Rehearsed (Orson Welles), In the Red and Brown Water (Tyrell Alvin McCraney), Far Away (Caryl Churchill), Delirium (Enda Walsh), St. Joan of the Stockyards (Bertolt Brecht), and Streetcar Named Desire (Tennessee Williams).
Her research and teaching interests include; oceanic politics and black radical performance, performance and temporality, philosophy and performance with an emphasis on Alain Badiou, Giorgio Agamben and Jacques Ranciere; Palestinian politics and performance; global political theatre; animal studies; contemporary cultural, political, and performance theory; and neoliberalism and performance.
Degrees
Ph.D. 2001 Graduate Center, City University of New York
M.F.A.  1986 Tulane University
B.A. 1981 Franklin and Marshall College
Scholarship and Publications
Major publications include the monographs, Fiery Temporalities in Theatre and Performance: The Initiation of History (Bloomsbury Methuen Engage Series, June 2018), Performance in the Blockades of Neoliberalism: Thinking the Political Anew (Palgrave Macmillan in the Studies in International Performance Series, eds. Janelle Reinelt and Brian Singleton, 2012), and Performing Consumers: Global Capital and its Theatrical Seductions (Routledge, 2006). Her most recent journal essays are "Wet Ontology, Moby-Dick, and the Oceanic in Performance," Theatre Journal December 2019 and "M. Lamar: Singing Slave Insurrection to Marx" in Theatre Survey January 2017. She has published on the artist Cassils (in TDR) and the artist Thomas Hirschhorn (in Perfomance Research), both in 2014. She has published on the Occupy movement in Manifesto Now! Instructions for Performance, Philosophy, Politics. She has an essay, "Palestine and Political Invention" in Performance, Identity, and the Neo-Political Subject (Routledge: 2012). She also has contributed essays in edited volumes including in Changing the Subject: Marvin Carlson and Theatre Studies, 1959-2009, ed. Joseph Roach. Her articles have been published in Theater, The Drama Review, Theatre Journal, Modern Drama, Theatre Survey, Theatre Annual, Journal of Dramatic Theory and Criticism, and PAJ: A Journal of Performance and Art.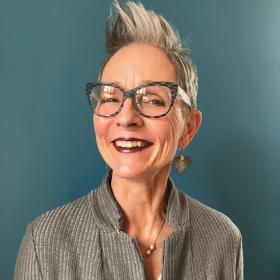 Contact Information
Office: Building 1P Room 203F