Outstanding Research Opportunities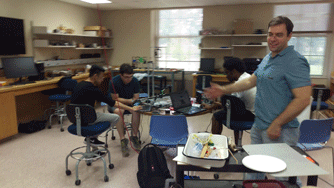 Budding engineers take a step toward thought-controlled drones, with CSI prof's guidance. It might sound like fantasy to say a computer can read someone's mind and then activate a motor. But that's exactly what young mechanical engineers at the College of Staten Island devised this summer. In the blink of an eye, engineering students solve real-world problems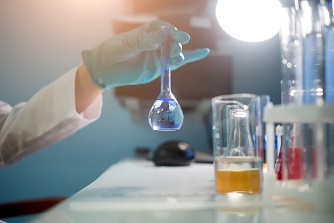 This past year the Division of Science and Technology created a new initiative to provide outstanding research opportunities in the Science and Engineering fields for high school students of the borough of Staten Island. These students were trained in cutting-edge research projects by CSI professors and were learning and interacting hand-in-hand with undergraduate and graduate CSI students. The competition among CSI Professors for this research opportunity was division-wide.
Dean Incera wishes to congratulate all the students who participated in this endeavor for their contributions as well as the professors who won the grants, whose names are listed below.
Faculty Department
Professor Alejandra Alonso Neuroscience
Professor Probal Banerjee Chemistry
Professor Efrain Ferrer Engineering Science and Physics
Professor Aleksandar Haber Engineering Science and Physics
Professor Qiao-Sheng Hu Chemistry
Professor Shi Jin Chemistry
Professor David Lindo-Atichati Engineering Science and Physics
Professor Greg Phillips Biology
Professor Krishnaswami Raja Chemistry
College of Staten Island's First Annual CSI Science Day

Students from Staten Island Technical High School, New Dorp High School, and the CSI International High School attended the College of Staten Island's (CSI) first annual CSI Science Day. Established by the Division of Science and Technology, the event allowed students to tour CSI laboratories and facilities, and participate in science-related activities throughout the day.
CSI's Engineering Program in US News & World Report Ranking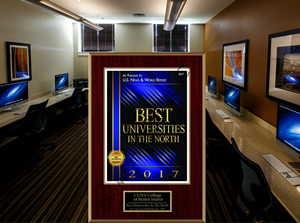 The Engineering Program at the College of Staten Island (CSI) has made it to the ranks in the latest US News and World Report listing for 2017 Best Colleges in the category of Regional Northeast Universities. The Program is tied for 111th.
The Bachelor of Science in Electrical Engineering (BS EE), which has been offered since Spring 2014 by the Department of Engineering Science and Physics is also now accredited by the Engineering Accreditation Commission of the Accreditation Board for Engineering and Technology, Inc. (ABET). The accreditation action extends retroactively from October 2013 and therefore covers students who have already graduated. Check out CSI's citation on the US News & World Report web site.