The Children's Center
The Children's Center provides quality child care and early childhood education programs for children of students including undergraduate, graduate students and students enrolled in other programs at the College of Staten Island. The Center offers an infant/toddler program, a universal prekindergarten program,
a preschool program, and a school age program, all featuring hands on learning experiences in a caring, well-supervised environment.

The Center is licensed by the New York City Department of Health, Bureau of Day Care, and is sponsored by the College of Staten Island Association, Inc. All child care programs are partially supported by state and federal funds. The Universal Prekindergarten program is funded by the New York City Department of Education. The availability of these programs is contingent upon continued funding by these sources.
Infant/Toddler
The infant/toddler program is offered for children from 6 to 24 months*. These very young
children explore the world around them under the watchful eyes of an experienced, nurturing staff.
Universal PreKindergarten
The Center currently offers the five-day universal prekindergarten program in cooperation with the New York City Department of Education. Children who are four years of age by December 31st of the calendar year may register for this program. Student/Parents may extend their child's day, outside of these hours, to meet their class needs.
Preschool
The preschool program for children from 2 to 6 years of age* focuses on the individual development of each child in the cognitive, social, emotional, and physical areas.
School Age
The school age program for children from 5 to 9 years of age* involves an array of creative and problem solving activities as well as homework assistance and outdoor play.

* Ages as of September 1st of the calendar year.

Staff
The director and head teachers are experienced professional educators certified in Early Childhood or Elementary Education. Each preschool classroom is staffed by a head teacher and an assistant teacher.
Click here to download Mailing List Application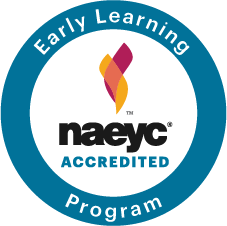 Our program is proud to have earned NAEYC Accreditation – the mark of quality for early learning programs.