Image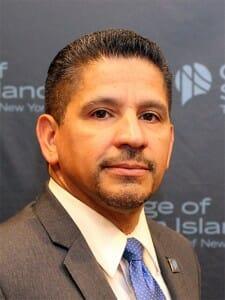 MEET AVP/CFO Carlos Serrano
Carlos A. Serrano is the Assistant Vice President (AVP) for Finance & Budget / Chief Financial Officer at the College of Staten Island (CSI). Mr. Serrano has over 32 years of financial and operational management experience in the public sector, inclusive of over 9 years in higher education. Throughout his professional career, Mr. Serrano has served in multiple cabinet level positions charged with oversight for programs supported with local, state and federal funding.
Prior to his appointment to AVP for Finance & Budget at CSI, Mr. Serrano held a similar position at Hunter College. He served for 24 years in New York City government in various positions with the New York City Comptroller's Office, Mayor's Office of Management & Budget, Juvenile Justice and Housing. His extensive knowledge of City government and proven track record for integrity and accountability provided him the privilege of working closely with two (2) mayoral administrations prior to arriving at CUNY.
Mr. Serrano received his BS in Business Administration with a concentration in Management from Long Island University.
Contact Information
Carlos Serrano
Assistant Vice President for Finance and Budget/Chief Financial Officer.
Buidling 3A, Room 201
Email Carlos Serrano