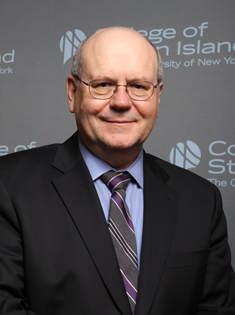 As a Senior College of The City University of New York, we are committed to an interdisciplinary and experiential learning environment within our innovative and comprehensive program offerings. With a focus on hands-on research and scholarship, as well as mentorship and study abroad opportunities, students learn side-by-side with renowned experts in their fields.
Transform your Life. Change the World.
Welcome to CSI. 
July 12, 2019
To the College Community:
I am excited to share the news that the NCAA Division II Membership Committee has accepted our application to join Division II, enabling us to join Queens College and eight other public and private institutions competing in the East Coast Conference. CSI and Queens are now the only NCAA Division II institutions in the five New York City boroughs, and the only public NCAA Division II institutions in New York State.
The move to NCAA Division II fits in perfectly with our Strategic Plan and will continue CSI's standing as a scholar-athlete driven athletic program, with 50% of CSI's student-athlete body holding a 3.00 cumulative GPA or better, and 38% holding a 3.2 or higher. The move will facilitate scholarship-driven education and help us expand the College's current regional footprint. In addition to making our program more attractive to local student-athletes looking to play DII, we will now be able to offer scholarships which will help increase our percentage of out-of-state and international student athletes. The costs of scholarships will be borne by revenue generated by athletics and by philanthropy.
I want to thank Athletic Director Charles Gomes and his team, as well as everyone on campus, who has helped us throughout the application process. You can access more information on the move and our championship program, using the following link:https://csidolphins.com/news/2019/7/12/baseball-making-it-ours-csi-accepted-to-ncaa-division-ii.aspx
Once again, congratulations to our athletic program and Go Dolphins!
Sincerely,

William J. Fritz
President