Application Deadline
Fall - April 25
Spring - November 25
All supporting documents (e.g. official transcripts, recommendations, personal statement, etc.) can be emailed to graduateadmissions@csi.cuny.edu
The College of Staten Island offers a Master of Science in Accounting is 30 credit hours, or ten courses at three credits each and designed to provide accounting students with specialized knowledge in a critical area of accounting while also enabling students to meet the 150 credit requirement for CPA licensure while providing students with the broader perspective now emphasized by the accounting profession.

The program's advanced courses accounting and finance provide an in-depth understanding of investigative accounting. They blend knowledge of accounting information systems, accounting research, forensic accounting, and financial statement analysis to understand how to conduct detailed investigations of accounting activity and to strengthen the integrity of accounting systems. The core courses provide students with a broader understanding of the other major business disciplines (management, marketing and finance), as well as the norms of ethics and social responsibility that influence accounting decisions and outcomes.
Contact Information
John Sandler

Program Coordinator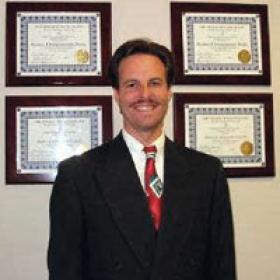 Application & Graduate Catalog
Admission Requirements
Admission Requirements
All applicants must demonstrate proficiency in business fundamentals and in-depth knowledge of accounting by having completed the following undergraduate coursework before starting the MS:
Seven courses in Accounting (including introductory, intermediate, and cost accounting, taxation, and auditing)
Two courses in Business Law (including the law of contracts, sole proprietorships, partnerships, and corporations)
Two courses in Finance (including managerial finance)
One course in Communications (may be a communications course or a business course with a strong emphasis on business presentations)
One course in computer fundamentals (i.e. MS Windows, Office, Internet skills)
Two courses in Economics (microeconomics and macroeconomics)
Two courses in quantitative methods (minimum of pre-calculus and statistics)
One course in Management
One course in Marketing
Application Procedures
Graduate Application:
The application must be completed online at Graduate Application.

Transcripts:
Applicants must request official transcripts from all post-secondary institutions attended. If you are currently enrolled in a post-secondary institution, have one transcript sent now and another sent when you complete the courses that you are taking. Applicants who have been enrolled at CSI do not need to request a CSI transcript; the Office of Recruitment and Admissions will obtain a copy.

Application Fee:
A $75.00 non-refundable application fee is required of all applicants. Please make your check or money order payable to the College of Staten Island. Veterans are exempt from paying the application fee. Veterans must provide proof of their Veteran/Military status in order to be waived from paying the application fee.

Letter of Intent:
A one-to-two page letter explaining your interest in pursuing a graduate program in Accounting.

Letters of Recommendation:
Two letters of recommendation from instructors or employers. One letter, whenever possible, should come from a current or former employer.

Graduate Management Admissions Test (GMAT): For additional information or to register for the exam, please visit www.mba.com or call 800-717-GMAT. The CSI Institution code is 282KN35. Students with degrees in corporate communications may choose to take the Graduate Record Examination (GRE). CSI graduates who have a GPA of 3.2 or higher in their accounting or business major are exempt from taking the GMAT.

English Proficiency Examination: The TOEFL, IELTS, or PTE exam is required of students for whom English is a second language.
Test of English as a Foreign Language (TOEFL): Minimum required score is 79 (Internet). For additional information or to register for the exam, please visit the TOEFL website at www.ets.org. Our institutional code is 2778.
International English Language Testing System (IELTS): We will only accept the academic exam scores. The minimum required score is 6.5 (overall band). For additional information or to register for the exam, please visit the IELTS website www.ielts.org.
Pearson Test of English (PTE): Minimum required score is 53. For additional information or to register for the exam, please visit the PTE website www.pearsonpte.com.

All documents must be submitted to the Office of Recruitment and Admissions.
Mailing Address:
Office of Recruitment and Admissions, Graduate Unit
College of Staten Island, CUNY
2800 Victory Boulevard, Building 2A, Room 103
Staten Island, NY 10314
718-982-2019
graduateadmissions@csi.cuny.edu