Application Deadline
Fall - April 25
Spring - November 25
All supporting documents (e.g. official transcripts, recommendations, personal statement, etc.) can be emailed to graduateadmissions@csi.cuny.edu
The College of Staten Island offers a certificate program in Business Analytics of Large-Scale Data. Designed for a broad spectrum of students with undergraduate degrees in business and related fields, it is focused on addressing the need for skilled analytical researchers with experience in large-scale databases.

"Companies cannot hire fast enough. Glassdoor, an employment site, lists more than 7,300 openings for software engineers, ahead of job openings for nurses, who are chronically in short supply. For the smaller category of data scientists, there are more than 1,200 job openings. Demand is highest in San Francisco. Nationally, the average base salary for software engineers is $100,000, and $112,000 for data scientists." Referenced from this NYTimes article​​​.

The certificate consists of five three-credit courses (for a total of 15 credits to complete the degree), including two focusing on large-scale data analytical techniques and one devoted to forecasting. The first large-scale data analysis course introduces students to the supercomputing environment; the second course builds on the first by incorporating additional analytical techniques and spatial analysis. After students complete Forecasting for Managers and Researchers (third course), the research-based fourth course provides them with the opportunity to pursue independent research in their discipline using large-scale data; specializations in marketing, finance, data security, and other options will be available. Finally, the fifth course is a current topics seminar incorporating timely industry cases and guest speakers. Students have flexibility in terms of taking the topics seminar.

The School of Business at the College of Staten Island has the breadth and depth of faculty expertise in data analysis and forecasting to develop this program. The existing faculty members representing Finance, Economics and Information Management have the skills and background in industry forecasting and statistical modeling to develop and teach these courses. Our faculty members already participate in the research at the CUNY High Performance Computing Center and have in-depth knowledge of advanced computational methods. We also currently support doctoral students who have a research focus on advanced computational methods.
Contact Information
Hyoung Suk Shim

Program Coordinator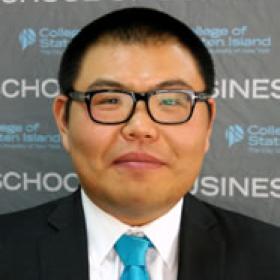 Application & Graduate Catalog
Admission Requirements
An applicant must have completed a bachelor's degree in Business, Economics, or a related field, or be a current student in a graduate degree program (e.g., Environmental Science, Biology, Computer Science or other related fields).

Major and overall Grade Point Average (GPA) of 3.0 or higher. Applicants must demonstrate proficiency in computation methods using programming techniques of a high-level computing language (e.g., SAS, Matlab R). In addition, undergraduate preparation in economics, statistics, analytical methods and calculus are required.

Application Procedures
Graduate Application:
The application must be completed online at Graduate Application.

Transcripts:
Applicants must request official transcripts from all post-secondary institutions attended. If you are currently enrolled in a post-secondary institution, have one transcript sent now and another sent when you complete the courses that you are taking. Applicants who have been enrolled at CSI do not need to request a CSI transcript; the Office of Recruitment and Admissions will obtain a copy.

Application Fee:
A $75.00 non-refundable application fee is required of all applicants. Please make your check or money order payable to the College of Staten Island. Veterans are exempt from paying the application fee. Veterans must provide proof of their Veteran/Military status in order to be waived from paying the application fee.

Cover Letter:
A cover letter describing the applicant's relevant experience as well as the reason and motivation for applying to the Graduate Certificate.

Resume:
Current résumé detailing all relevant past and present professional employment, experience, memberships, and related service.

Letters of Recommendation:
Two letters of recommendation from instructors or employers from instructors or employers.

English Proficiency Examination: The TOEFL, IELTS, or PTE exam is required of students for whom English is a second language.
Test of English as a Foreign Language (TOEFL): Minimum required score is 79 (Internet). For additional information or to register for the exam, please visit the TOEFL website at www.ets.org. Our institutional code is 2778.
International English Language Testing System (IELTS): We will only accept the academic exam scores. The minimum required score is 6.5 (overall band). For additional information or to register for the exam, please visit the IELTS website www.ielts.org.
Pearson Test of English (PTE): Minimum required score is 53. For additional information or to register for the exam, please visit the PTE website www.pearsonpte.com.

All documents must be submitted to the Office of Recruitment and Admissions.
Mailing Address:
Office of Recruitment and Admissions, Graduate Unit
College of Staten Island, CUNY
2800 Victory Boulevard, Building 2A, Room 103
Staten Island, NY 10314
718-982-2019
graduateadmissions@csi.cuny.edu