Application Deadline
Fall - April 25
Spring - November 25
All supporting documents (e.g. official transcripts, recommendations, personal statement, etc.) can be emailed to graduateadmissions@csi.cuny.edu
The College of Staten Island offers a program leading to the degree of Master of Science in Healthcare Management -- an enormously important and rapidly growing business sector. The degree provides specialized content for those working in health care, and those who wish to enter the healthcare industry. It is designed for new graduates and midcareer professionals to acquire in-depth training in the area of management focused on the needs of healthcare providers. We welcome students from a range of disciplines such as dentistry, gerontology, medicine, nursing, nutrition, occupational and physical therapies, pharmacy, and social work as well as students who are non-clinical professionals working in health care or who have an interest in working in the healthcare industry.

Students in the Master's degree program in Healthcare Management are required to take 33 credit hours, or 11 courses at 3 credits each, at the graduate level. The MS program is designed to 1) help newly promoted and rising healthcare professionals to make an effective transition from clinical and technical roles into broader managerial roles, and 2) enable people with an educational or professional background in business to apply business knowledge to the healthcare industry.
Contact Information
Chandan Acharya

Program Coordinator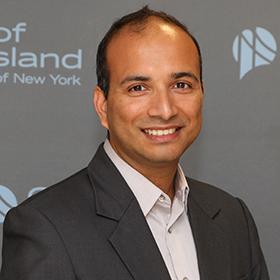 Application & Graduate Catalog
Admission Requirements
Bachelor of Arts or Bachelor of Science degree from an accredited institution with an overall Grade Point Average (GPA) of 3.0 or higher.
Application Procedures
Graduate Application:
The application must be completed online at Graduate Application.

Transcripts:
Applicants must request official transcripts from all post-secondary institutions attended. If you are currently enrolled in a post-secondary institution, have one transcript sent now and another sent when you complete the courses that you are taking. Applicants who have been enrolled at CSI do not need to request a CSI transcript; the Office of Recruitment and Admissions will obtain a copy.

Application Fee:
A $75.00 non-refundable application fee is required of all applicants. Please make your check or money order payable to the College of Staten Island. Veterans are exempt from paying the application fee. Veterans must provide proof of their Veteran/Military status in order to be waived from paying the application fee.

Resume:
A brief one-to-two page resume which should be fully up-to-date and include all post-college work experience.

Letter of Intent:
A one-to-two page letter explaining your interest in pursuing a graduate program in Healthcare Management.

Letters of Recommendation:
Two letters of recommendation from instructors or employers. One letter, whenever possible, should come from a current or former employer.

Graduate Management Admissions Test (GMAT) or Graduate Record Examination (GRE): The CSI Institution code is 282KN35 and for the GRE is 2778. Students from CSI or an AACSB-accredited institution who have an undergraduate GPA of 3.2 or higher can request a waiver subject to review.

English Proficiency Examination: The TOEFL, IELTS, or PTE exam is required of students for whom English is a second language.
Test of English as a Foreign Language (TOEFL): Minimum required score is 79 (Internet). For additional information or to register for the exam, please visit the TOEFL website at www.ets.org. Our institutional code is 2778.
International English Language Testing System (IELTS): We will only accept the academic exam scores. The minimum required score is 6.5 (overall band). For additional information or to register for the exam, please visit the IELTS website www.ielts.org.
Pearson Test of English (PTE): Minimum required score is 53. For additional information or to register for the exam, please visit the PTE website www.pearsonpte.com.

All documents must be submitted to the Office of Recruitment and Admissions.
Mailing Address:
Office of Recruitment and Admissions, Graduate Unit
College of Staten Island, CUNY
2800 Victory Boulevard, Building 2A, Room 103
Staten Island, NY 10314
718-982-2019
graduateadmissions@csi.cuny.edu