The Staten Island SBDC provides customized solutions through advisement, education, research, and advocacy for entrepreneurs, innovations, and the small & medium enterprise community.
The Small Business Development Center assists our clients with the following:
Business Planning Writing Assistance
Cost Analysis/Financial Management
Procurement Assistance Services/BidLinx
Minority Women Business Enterprise
Disaster Recover and Building
Entre Skills
Marketing and Social Media Plans
High Tech Start-Up / CSI Incubator
Veterans' Services and Assistance Programs
Informative seminars
And much more!
Thanks to our partners in the public and private sectors, our services are of no cost to you!
Check out our website for constant updates on upcoming workshops and seminars! www.sisbdc.org
HELPING SMALL BUSINESSES IN A BIG WAY!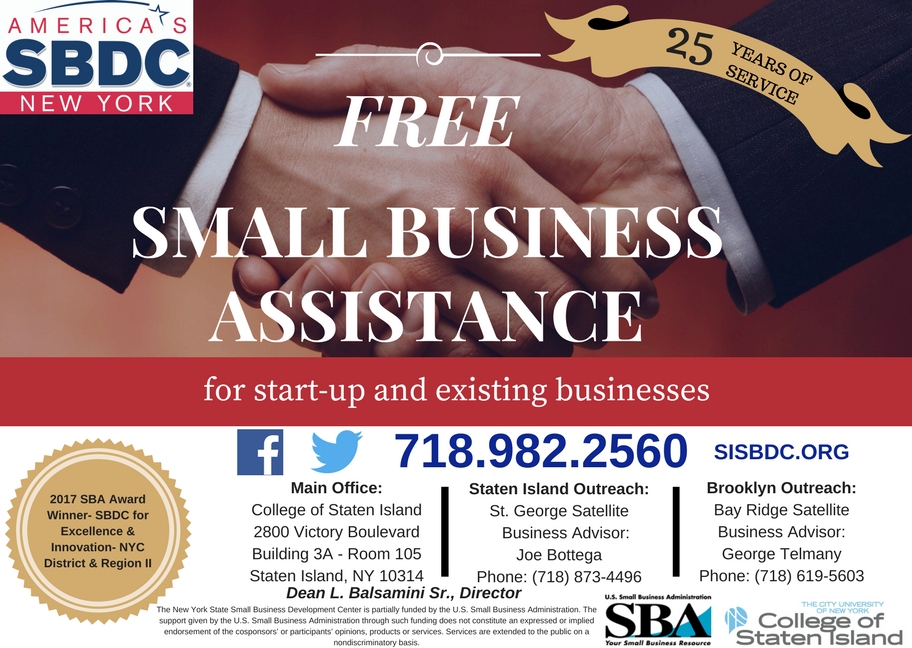 Testimonials from SBDC Clients
"Thank you! The SI SBDC has been a great asset to our business. The SI SBDC Business Advisor helped us become a Certified Woman Minority Business and continues to assist us with managing our finances and applying for loans."
"I would like to thank the SI SBDC. The Business Advisor was so helpful in getting me started on the right foot. He gave me everything I needed to create a precise business plan to make sure I stay focused on my goals and succeed!"
"Opening a business in NYC is difficult to navigate; with the guidance of the SBDC at CSI, it was much easier."
"SBDC are the 'go to' people for all business matters. They introduced me to government programs that are available and helped with business issues about procurement helping me to learn how to do business with government agencies."
"The SBDC was instrumental in helping me get a loan for my business for an expansion project I was working on."
Contact us to make an appointment today! sbdc@csi.cuny.edu or (718) 982-2560
The SBDC is a program supported by the U.S. Small Business Administration and is extended to the public on a non-discriminatory basis. SBA cannot endorse any products, opinions or services of any external parties or activities. Partnership Program with the SBA, administered by the State University of New York. Funded in part through a Cooperative Agreement with the U.S. Small Business Administration. All opinions, conclusions or recommendations expressed are those of the author(s) and do not necessarily reflect the views of the SBA. All SBA funded programs are extended to the public on a nondiscriminatory basis.