CSI students are involved in many areas of research, including in wireless technology, breast cancer, autism, early childhood development, and public finance. For a more on research and awards, click here or check out the exciting list of recent topics click here.
Aishwarya Udayan, Psychology Major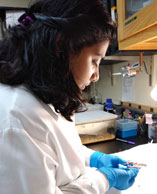 Udayan is currently doing independent research at the Institute For Basic Research (IBR) just outside of campus. In a behavioral pharmacology lab, her experiments focus on Autism Spectrum Disorder (ASD).
She runs tests and observations on mice that exhibit behaviors of ASD. Her thesis is neuroscience-based and a great start for what she wants to study after graduation.
"You need some of neuroscience to understand the psychological parts that are happening in this model of autism," she adds about her work at the IBR.
Udayan is aiming for graduate school and wants to become a clinical psychologist​. More >>
---
Justin Peterkin, Physics Major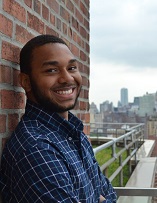 Justin Peterkin '21 is always looking up. During the summer of 2018 he was selected to participate in a rigorous, eight-week astrophysics research experience at the American Museum of Natural History. His time there solidified a passion for the science. And in the fall he was accepted into the AstroCom NYC fellows program, supported by the National Science Foundation Partnerships in Astronomy and Astrophysics Research and Education.
While at the museum, Justin studied post starburst galaxies and their connection to galaxy evolution. The post starburst phase is a critical evolutionary process that describes how a galaxy transitions from being actively star forming, to quiescent and inactive.
His research mentor, Dr. Charles Liu tells us that in the course of his work, Justin presented his research in a mini-talk at the Astronomical Society of New York's 50th Anniversary meeting. He also worked with other CSI students on this project, and also with students at other schools like Stevens, Cornell, and Columbia Universities.
Justin summed up the experience: "Attending the Astronomical Society of New York's 50th Anniversary meeting at AMNH introduced me to a passionate network of researchers, professors, and innovators that are invested in offering the knowledge and support needed to advance scientific thought, and encourage new research.