CSI students are involved in many areas of research, including in wireless technology, breast cancer, autism, early childhood development, and public finance. For a more on research and awards, click here or check out the exciting list of recent topics click here.
Justin Peterkin, Physics Major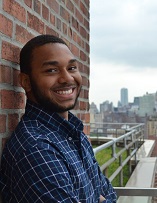 Justin Peterkin '21 is always looking up. During the summer of 2018 he was selected to participate in a rigorous, eight-week astrophysics research experience at the American Museum of Natural History. His time there solidified a passion for the science. And in the fall he was accepted into the AstroCom NYC fellows program, supported by the National Science Foundation Partnerships in Astronomy and Astrophysics Research and Education.
While at the museum, Justin studied post starburst galaxies and their connection to galaxy evolution. The post starburst phase is a critical evolutionary process that describes how a galaxy transitions from being actively star forming, to quiescent and inactive.
His research mentor, Dr. Charles Liu tells us that in the course of his work, Justin presented his research in a mini-talk at the Astronomical Society of New York's 50th Anniversary meeting. He also worked with other CSI students on this project, and also with students at other schools like Stevens, Cornell, and Columbia Universities.
Justin summed up the experience: "Attending the Astronomical Society of New York's 50th Anniversary meeting at AMNH introduced me to a passionate network of researchers, professors, and innovators that are invested in offering the knowledge and support needed to advance scientific thought, and encourage new research.
---
Juliana Zaloom, Psychology Major, Pre-Occupational Therapy Track
Macaulay Honors College student, Juliana Zaloom, attended the 2016 International Conference on Infant Studies in New Orleans, winning an award and showcasing her research contributions. Juliana '17, a Psychology major, is doing research in the Child Development Lab at CSI with Dr. Lana Karasik, Assistant Professor of Psychology and Dr. Sarah Berger, Associate Professor of Psychology.
Says research mentor, Dr. Karasik, "When I recruit students to work with me, I train them to be research collaborators; I want them to feel they are part of the research enterprise. Students are trained to be independent researchers and because of this, they become really invested in the work," adding that another benefit of attending these conferences is that students can network with other students and experts in the field, and research graduate school opportunities.
Juliana won the prestigious, highly competitive award for "Best Undergraduate Submission" for her work with Dr. Karasik on a cross-cultural project in Tajikistan. She was first-author on a poster presentation and the only one selected from nearly 200 undergraduate abstract submissions. Zaloom received a plaque and a monetary award from the Infancy Congress, a travel award from the International Conference on Infant Studies (ICIS) as well as a travel grants from CSI.
---
Naomi Gaggi, Neuroscience Research
Some students are student athletes; some are researchers or scholars. Some study abroad, help in the community, and plan to devote their career to helping individuals on the Autism Spectrum.
Naomi Gaggi '17 chose all of the above.
The Brooklyn native student at the Macaulay Honors College (MHC) recently received an Honorable Mention for the prestigious Barry Goldwater Scholarship.
However, her scholarship and achievements do not simply end there. More >>
---
Austin Krauza, Computer Science Major
At 21 years old, Austin Krauza is already an accomplished researcher. The College of Staten Island (CSI) Computer Science major, with an interest in business and data analytics, recently authored a paper under the mentorship of Dr. Natacha Gueorguieva, which he presented at the 2015 IEEE Research Conference at the Massachusetts Institute of Technology (MIT) in Cambridge, MA this past November. Krauza's was one of only 20 papers accepted, and he also presented similar research to lawmakers in Albany in February. The student also co-wrote a paper that was presented at the 14th IEEE International Conference on Machine Learning and Applications in Miami, FL in December and he has several journal articles to be published in the coming months.
The Monsignor Farrell High School graduate works with CSI professors in a wide variety of disciplines, assisting with various research projects, and he is enthusiastic about his academic career at the College. More >>
---
Lucinda Zawadzki, Biology Major
The Macaulay Honors College at the College of Staten Island has provided me with a unique educational experience that I would not have received elsewhere. Thanks to our esteemed faculty and small class sizes, I had the chance to form meaningful relationships with my professors, which has led to three great research opportunities. Thus far, I have had the privilege of working with, and learning from, Dr. Ralf Peetz of the Center for Engineered Polymeric Materials, Dr. Shaibal Mitra of the Biology Department, and Dr. William Wallace of the Center of Environmental Sciences. My work with these professors has led me to receive an honorable mention for the Barry M. Goldwater Scholarship.
I am currently involved in research with Drs. Mitra and Wallace. My research with Dr. Mitra resulted from the Macaulay Honors seminar in my sophomore year, "Science and Technology in New York," which challenged me to explore other types of scientific research. I began a study with him focusing on the migratory patterns of the Western Kingbird (Tyrannus verticalis), which is a migratory bird that breeds in western North America, and winters in Central America. However, a small but growing winter population has been forming in Florida and adjacent states, more than 1,000 kilometers from its regular migration routes. As of September 2012, we have been collecting records of sightings of this bird along the East Coast of the United States, in an effort to determine whether or not they are exploring new wintering grounds here. Since then, I have had the amazing opportunity to present my findings at the New York State Ornithological Association's 66th Annual Meeting in Uniondale, NY in 2013 as well as the Undergraduate Research Conference at CSI in 2014. I hope to conclude my research by the time I graduate this year, and will attempt to publish my results in an effort to add to the small but expanding knowledge of vagrancy and dispersal in migratory birds.
My experience with Dr. Mitra led to my current research with Dr. Wallace. Interested in further exploring biological research, I began conducting research with Dr. Wallace in my junior year, focusing on analysis of the diversity of organisms in Great Kills Harbor, where I have had the chance to go out into the field to collect specimens. The fieldwork component of this research has been an amazing experience, and I plan on continuing this type of work in the future.
Wanting to expand my fieldwork experience, I participated in a field school this past summer at the Knowe of Swandro, which is located on Rousay, a small North Atlantic island in the Orkney Islands of Scotland, known for its rich archaeological areas. The program, Orkney: Gateway to the Atlantic, was hosted by Hunter College; it allowed me to work first-hand with some of the best archaeologists in the U.K. in an attempt to further excavate the area. This site was particularly interesting to me as a Biology major because it is a coastal erosion site, and is continually at risk of being destroyed due to global rising sea levels. Being able to work there gave me a better perspective into how ancient peoples reacted to climate change in the past in these unique maritime environments. This knowledge may aid us in the future as global warming leads to extensive climate change worldwide.
My combined experiences as an undergraduate have allowed me to become confident in conducting my own inquiries, and have given me the necessary skills to pursue a research career in the future. I hope to obtain a PhD after I graduate, and would like to study shorebird ecology thanks to the wonderful experiences I have had carrying out investigations in the fields of chemistry, ornithology, and marine biology while at CSI.