Application Deadline
Summer - Deadline extended to October 15
Summer Admission Only

* The deadline for submission has been extended to October 15th. Students should have all application materials completed by the extended deadline.
The clinical Doctorate in Physical Therapy (DPT) program is designed to prepare graduates to examine, evaluate, diagnose, and intervene in the management of impairments, functional limitations, and disabilities of the cardiopulmonary,
musculoskeletal, neuromuscular, and integumentary systems. The College of Staten Island will admit students to the program for the semester of each academic year. All course work will take place at the college. Applicants must have an earned baccalaureate degree along with specified course prerequisites.

The three-year curriculum requires 105 credits of graduate course work and completion of a capstone research project. Tuition rates and student fees are detailed on the CSI website for DPT students.

The mission of the Doctor of Physical Therapy Program at the College of Staten Island, the only physical therapy program in Staten Island, is to prepare graduates to become competent physical therapists that restore and improve the health and well-being of individuals in our community, and the world. The program is committed to excellence in education, research, leadership, and service. To fulfill this commitment we foster a collegial, collaborative, and inclusive learning environment. Our program prepares graduates to apply evidence to provide efficient and effective care. We train graduates in pre-clinical and clinical research to instill the skills necessary for their lasting scholarship and innovation to advance the profession of physical therapy.

The Doctor of Physical Therapy Program (DPT) at the College of Staten Island of the City University of New York (CUNY) is accredited by the Commission on Accreditation in Physical Therapy Education (CAPTE), 1111 North Fairfax Street, Alexandria, Virginia 22314; telephone: 703-706-3245; email: accreditation@apta.org; website: www.capteonline.org.
Contact Information
Michael Chiacchiero

Program Coordinator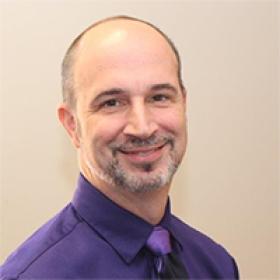 Application & Graduate Catalog
Admission Requirements
Students must have completed a baccalaureate degree from a regionally accredited fouryear institution by the end of the Spring semester prior to admission. Online courses not accepted. The following prerequisite courses are required:

Two semesters of Anatomy and Physiology for science majors, with laboratories
Two semesters of Physics for science majors, with laboratories
Two semesters of Chemistry for science majors, with laboratories
Two semesters of Psychology (including one semester of Developmental Psychology or Psychopathology
One semester of Mathematics
One semester of Statistics
One semester of English composition

All CUNY licensed health professions programs will consider students to be eligible for admission consistent with the regulations of the New York State Education Department (NYSED) that make professional licensure available not only to U.S. citizens but to non-citizens so long as they are "not unlawfully present in the United States," including those with Deferred Action for Childhood Arrivals (DACA) and those who are permanently residing in the United States under color of law (PRUCOL).
Application Procedures
Graduate Application:
Our application is live on PTCAS.

Transcripts:
Applicants must request official transcripts from all post-secondary institutions attended. If you are currently enrolled in a post-secondary institution, have one transcript sent now and another sent when you complete the courses that you are taking. Applicants who have been enrolled at CSI do not need to request a CSI transcript; the Office of Recruitment and Admissions will obtain a copy.

Application Fee:
A $75.00 non-refundable application fee is required of all applicants. Veterans are exempt from paying the application fee. Veterans must provide proof of their Veteran/Military status in order to be waived from paying the application fee.

Clinical Experience:
Two clinical experience forms completed by a Physical Therapist are required to document clinical experience of at least 100 hours in the United States under the supervision of a licensed physical therapist. These experiences should be in different settings. A minimum of 50 hours in a hospital (or sub-acute) setting are required with the remainder at a different practice settings (e.g., private practice).

Graduate Record Examination (GRE):
Applicants are required to submit scores for the General Aptitude Test. For additional information or to register for the exam, please visit www.gre.org. Our College of Staten Island, PTCAS instituitional GRE DI code is 4923.

Interview and Writing Sample:
After initial review, applicants may be selected for an on-site interview and on-site writing sample.

English Proficiency Examination: The TOEFL, IELTS, or PTE exam is required of students for whom English is a second language.
Test of English as a Foreign Language (TOEFL): Minimum required score is 79 (Internet). For additional information or to register for the exam, please visit the TOEFL website at www.ets.org. Our institutional code is 2778.
International English Language Testing System (IELTS): We will only accept the academic exam scores. The minimum required score is 6.5 (overall band). For additional information or to register for the exam, please visit the IELTS website www.ielts.org.
Pearson Test of English (PTE): Minimum required score is 53. For additional information or to register for the exam, please visit the PTE website www.pearsonpte.com.

All documents must be submitted to through PTCAS