Additional Navigation
Close

2019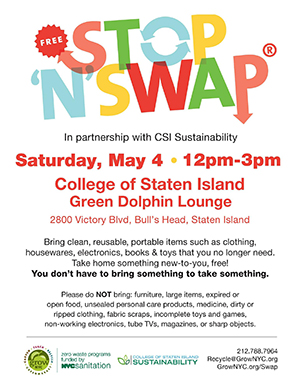 NYC's GrowNYC program has recycling events called Stop 'N' Swap® where people bring their unwanted clean, reusable, portable items such as clothing, housewares, games, books, & toys and take home something new, free! CSI Sustainability is hosting one of these events right here on campus!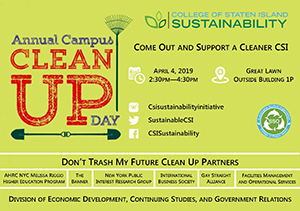 The Sustainable Student Organization hosted a campus clean up in 2019. Partnering with other clubs such as IBS, The Banner, NYPIRG, GSA, and the Melissa Riggio students. Students picked up over 25 bags for trash!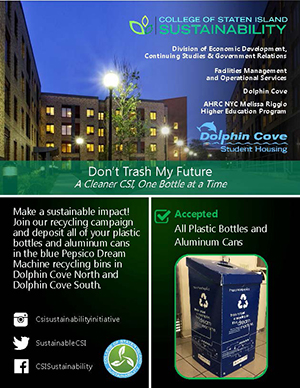 The Sustainable Student Organization hosted its annual Bottle Drive and expanded to Dolphin Cove. Currently reaching 1,000 recycled bottles from the trash into a single stream recycling initiative. Funds from the bottle drive will be used to purchase water filling stations for the dorms.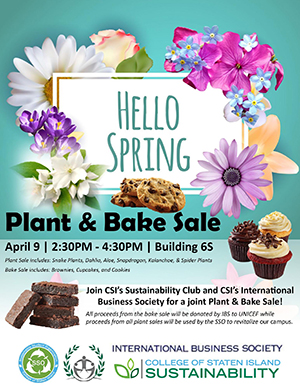 The Sustainable Student Organization co-hosted a Plant and bake sale with the International Business Society Club. IBS sold baked goods and the SSO sold plants grown in the Greenhouse. Proceeds from plant sales went towards revitalizing the campus while bake sale proceeds went to UNICEF.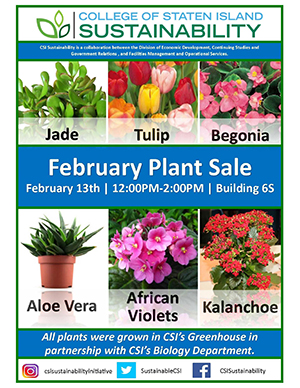 College of Staten Island sustainability hosted another plant sale in February 2019. All plants were grown in the CSI Greenhouse and proceeds went to help with further beautification of the Pit. Help us make CSI more sustainable one flower at a time!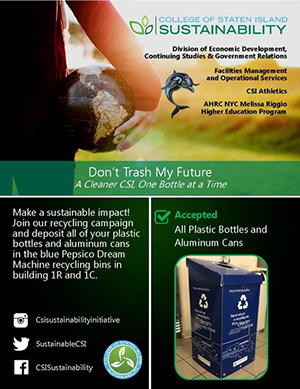 The SSO has launched a Bottle Drive Pilot in 1R with the Athletic Department. The collaboration has collected and sorted over 10,000 bottles. The Melissa Riggio program has been a major contributor with sorting the bottles and holding weekly tabling events to educate the student population about the importance of recycling. The goal to replace existing water fountains with water bottle filling stations to help reduce the number of bottles on campus.
2018
College of Staten Island Sustainability hosted a second NYC Compost Workshop where representatives from the Snug Harbor Botanical Garden (Carol Hooper and Olivia Golden) came to teach students about how to compost and had a hands on experience with how it's done. Snug Harbor Donated 2 composters which the students filled with 300 lbs of pre-consumer food scraps from our dining services, leaves from our campus grounds and wood chips from DSNY.
 
The Sustainable Student Organization hosted an energy competition at the student dorms where individual apartments competed to save the most energy.
 
CSI participated, once again, in the Daylight Hour. As compared with year's past, we aggressively promoted the event via social media, campus-wide emails, posted flyers, and other means of getting the word out. We had the full support and participation of the President Cabinet along with several of the campus community. This media campaign yielded exceptional results as can be seen in the juxtaposing trends from 2017 and 2018. During the daylight hour, it is estimated that CSI saved approximately 144 kWh of energy.
 
Our first Dorms' Energy Competition was held between April 13th and May 11th. Students were encouraged to reduce their usage of electricity during this period. Meters were read by Student Sustainability Club (SSO) members and winners were announced weekly. The two winning floors, North Cove 1st floor and South Cove 3rd floor were invited for an ice cream social.
 
The Sustainable Student Organization continued to grow more plants in the Greenhouse in the 2018 winter semester and hosted a Holiday Plant Sale where students and faculty were able to purchase indoor house plants for the first time.
 
College of Staten Island Sustainability hosted another plant sale after the huge success of the first plant sale. This time only tomato plants were sold since they were requested by so many. The sale was a great success!
 
College of Staten Island Sustainability hosted the first NYC Compost Workshop. A compost expert from Snug Harbor Botanical Garden came to teach students what compost is, how it's made, why it's so important to the environment, and how to do it yourself at home.
 
College of Staten Island Sustainability hosted its first ever plant sale after gaining access to the CSI Greenhouse and growing plants there. SSO club members planted over 700 organic seeds at the 6 S greenhouse last semester. SSO provided opportunities for students to participate in experiential learning, development of interpersonal and gardening skills, and gain access to fresh produce. SSO members gaining practical knowledge from Biology faculty about planting, producing food and managing natural resources. The money that was made from the plant sale went to help clean up the garden by 6S.
2017
College of Staten Island Sustainability hosted an Earth Day celebration in 2017. At this event taught students about the history of Earth Day, its importance, how students can contribute to sustainability projects on campus, and learn about the winners of the CUNY Sustainability Competition. Students also got the opportunity to experience the proposed Staten Island Aerial Gondola.
Before 2017
In 2015 CSI partnered with local institutions and the Office of the Borough President to help keep litter off of our streets throughout the borough.