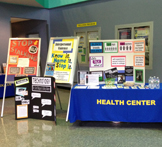 Health & Wellness Services promotes healthy living for all students through education. We strive to provide students with the information and skills to make informed decisions and healthier choices in all aspects of life.
Individual Appointments
Individual appointments are available to address health and wellness concerns. Please call 718.982.3113 or 718.982.3045 to schedule an appointment or stop by the Health Center to be seen as a walk-in. All health education appointments are private and confidential.
Wellness Consultations
Lifestyle is one of the most important factors affecting health. The purpose of this consultation is to help you assess how well you are currently doing to stay healthy and help to identify areas in need of improvement. Attending a Wellness Consultation is a PG CLUE! Please call 718.982.3113 or 718.982.3045 to schedule an appointment.
Health Promotion Initiatives
Health & Wellness educational programming is multi-faceted. We offer events, workshops and programs targeting:
General Health
Nutrition and Fitness
Alcohol/Drug Prevention
Sexual and Reproductive Health
Sexual Violence Prevention
Program Requests
Health & Wellness staff and Peer Educators provide workshops to student groups on campus, including classes, clubs, Residence Life, and more! If you are interested in scheduling a program, please call 718.982.3113 or 718.982.3045.