Additional Navigation
Close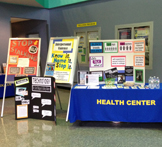 Wellness Drop-In Center
Location: Building 1C, Room 111
Phone: 718.982.3113
The Wellness Drop-In Center is open for in-person services. No appointment necessary, please stop by.  We are here to assist you in developing self-care, creating healthy habits, and connecting you with resources within the CSI community and beyond.
FREE safer sex supplies
Nutrition information and sessions
First Aid training
Class and department presentations
Campus and community resource information
CLUE Opportunities
In addition to CLUE opportunities through events and workshops, Health & Wellness offers online CLUEs, available anytime, anywhere, at your convenience!
For more information, please visit our page on CSI Connect or email wellness@csi.cuny.edu.
Below are a few of our signature events:
Blood Drives (4 a year)
Your Health Matters! Health Fair (Fall semester)
Wellness Fair (Spring semester)
Narcan Training & Kit Distribution
Bystander CPR and AED Training
First Aid Training
Get Involved with Health & Wellness!
Apply to be Volunteer Peer Wellness Educators
Health & Wellness Services is currently recruiting volunteers to serve as Peer Wellness Educators.
The goal of the Peer Wellness Education Program is to have undergraduate students, under the guidance and support of Health & Wellness Services professional staff, become a reliable resource for their peers by contributing to the development and delivery of health interventions and outreach initiatives that support overall student wellbeing. The Peer Wellness Education Program trains student volunteers to provide accurate information and help guide their peers in making healthier decisions.
Peer Wellness Educators have the opportunity to connect with other students, increase their knowledge of health and wellness issues and build skills in preparation for further education and careers.
Peer Wellness Educators must have completed at least 2 semesters at CSI and are asked to commit to volunteering 2-3 hours per week for at least a full semester.
Interested? Complete the Volunteer Wellness application.
Other volunteer opportunities
Interested in volunteering with Health & Wellness, but are new to CSI or are unable to commit to weekly hours? Contact Janine.Scotto@csi.cuny.edu to explore additional volunteer opportunities.