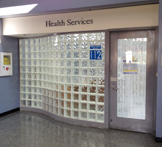 Programs and services are offered at NO COST to students and are partially funded by Student Activity Fees.
Care and treatment are confidential. Medical records are maintained separately from academic records, and may not be released without written consent.
Health Center Services
Sick and Urgent Care Visits
Physical Exams: Medical Technology, Nursing, PED 190, Physical Therapy, Student Teaching and Team Sports, Volunteer, and Internships
Sexual & Reproductive Health Services

Pregnancy Testing
Emergency Contraception
Birth Control Consultations
Sexually transmitted infection (STI) testing and treatment
HIV Testing

Healthy Eating Program

Weight Loss Program
Nutrition Program

Tuberculin Skin Tests (PPD)
Screenings
Immunizations: MMR, Tetanus, Hepatitis B, and Flu (based on availability)
Temporary Disabled Parking
Consultation and Referral Information
Health Insurance Assistance
For your convenience, over-the-counter medications are available in the vending machine located outside of the Health Center (Building 1C, Room 112).
Wellness Services
Wellness Drop-in Center
Blood Drives
Safer Sex Supplies
Smoking Cessation Program
CLUES by Appointment
Individual Health Education Appointments
Alcohol and Drug Prevention
Health Promotion Events