Until further notice, our office will be operating virtually Monday through Friday, during regular hours from 9 am to 5 pm. Please DO NOT come to the office but rather email us at SEEK@csi.cuny.edu or leave a message at 718-982-2410. Please be sure to include your name, phone number and 8 digit CUNYID, so that we can get back to you as soon as possible.
Important:
We are there for you – please reach out!
Check your CIX email regularly for important information from CSI and SEEK
Please frequently check our CSI Coronavirus webpage.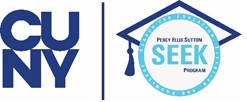 The SEEK Program at CSI provides access to college, promoting academic success and personal achievement through an array of comprehensive counseling, academic, financial and other support services.
Email us for General SEEK Inquiries
Email us about SEEK Criteria, Admission, and Enrollment
Email us for Tutoring and Academic Support
Office Hours
Monday - Friday
9AM - 5PM
SEEK had its debut at City College of New York as a pre-baccalaureate program. It came about as a result of social activists who wanted to encourage and support poor students (at that time mostly African American and Puerto Rican), to apply and be successful in CUNY. Signed into law in 1966, SEEK (and College Discovery at the community colleges) became CUNY's higher education opportunity programs, currently in 19 colleges throughout the University.
The SEEK Program has enrolled nearly 230,000 low-income students since its inception forty years ago. Without the unique support and guidance offered by SEEK, most of these students would not have had the opportunity to earn a college degree. SEEK students have been recipients of the Gates Millennium Scholarship Award, the Woodrow Wilson Fellowship, the Mellon Minority Fellowship, Belle Zeller and Jeannette K. Watson and other national, state-wide, and local awards.
SEEK's primary mission is to assist in providing equality of higher education to students who otherwise would not have such access. The effort is intended to increase the level of education, social capital, and workforce expertise within our community. The major objectives are as follows:
To assist selected students with specifically defined educational and economic needs to achieve a high quality college education and expand their social and career capabilities.
To provide a range of intensive support services including supplemental instruction, counseling, and enhanced financial aid to enable students to bridge the gap between remedial programs and the regular college curriculum.
To develop, utilize, and demonstrate innovative educational techniques that will enable capable students to overcome the challenges of under-preparation and other relevant disadvantages with the goal of obtaining a college education.