Until further notice, our office will be operating virtually Monday through Friday, during regular hours from 9 am to 5 pm. Please DO NOT come to the office but rather email us at SEEK@csi.cuny.edu or leave a message at 718-982-2410. Please be sure to include your name, phone number and 8 digit CUNYID, so that we can get back to you as soon as possible.
Important: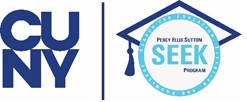 We at the SEEK Program of the College of Staten Island, invite you and your students to attend one of our weekly Information Sessions to learn about the College of Staten Island, SEEK's eligibility requirements, and how your students can secure a spot in our fall 2022 class.
Information Sessions will be held weekly on Wednesdays from 4-5pm via ZOOM beginning October 6th. 
Please use this link to register for a session.
Office Hours
Monday - Friday
9AM - 5PM