Physics and Astronomy Department Overview
See our Astrophysical Observatory!​
Welcome to the CSI Department of Physics and Astronomy!  The faculty, undergraduates, and graduate students of the Department conduct leading-edge research in numerous areas of study including astrophysics and cosmology; theoretical and experimental condensed matter physics; theoretical nuclear and high-energy physics; photonics; and nanotechnology.  We offer undergraduate Bachelor's of Science degrees in Physics (major and minor), including degrees with a focus in Astrophysics or in Teaching (grades 7-12).  We also mentor and advise Ph.D. students in Physics and Astronomy through our consortium partnership with the CUNY Graduate Center; and we provide service courses in astronomy and physics to more than 2,000 CSI students each year.
featured
Physics 7-12 (BS)
Physics and Astronomy Events
Jun 13, 2023 - 10:00am to 11:00am
Jun 14, 2023 - 10:00am to 11:00am
Physics and Astronomy Faculty & Staff
Adjunct Faculty
Irving K. Robbins, Observatory Director
 
Prior News and Events
January 2022
1. Our physics club is back in motion! The first two online events this year are scheduled to be on January 27 and February 8, between 3:30 pm and 4:00 pm. They feature Prof. Organesyan and Prof. Gorokhovsky, who will talk about their work before departing for their sabbatical leaves. The Zoom link can be found here, and please reach out to Prof. Liu for the password.
---
December 2021
1. NASA's Webb telescope was launched to observe first galaxies and distant worlds. Find out more about it here.
---
October 2021
1. Prof. Liu was featured in CUNY TV's recent Urban U series.
---
September 2021
1. Prof. Oganesyan organized a mini-symposium on many-body localization. See info and sign-up link here.
2. Prof. Ge organized a mini-symposium on non-Hermitian photonics. See info and sign-up link here.
Joint Appointment
Alfred Levine Joint Appointment With Department of Engineering  and Environmental Science
---
Facilities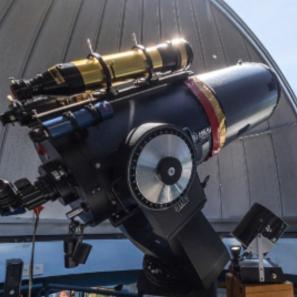 Our Astrophysical Observatory is dedicated to ongoing educational opportunities and the environmental needs of the present.
Computer Science / Engineering Science and Physics Building
1N-226
2800 Victory Boulevard, Staten Island NY 10314
Department Contact
Physics and Astronomy Department Links & Resources