The Art Gallery of the College of Staten Island Presents:
Kate Horsfield: Attempt to Form
September 21 - October 19, 2023
1P-112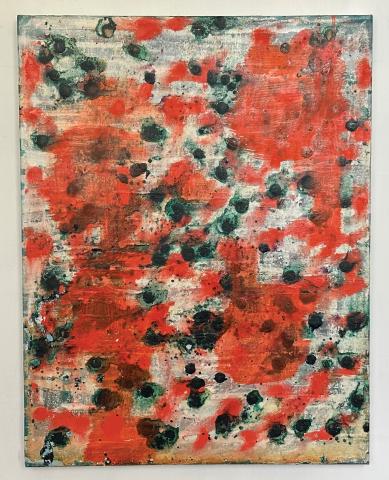 Opening reception Thursday, September 21, 4:30-6:30pm
Kate Horsfield's paintings and ceramic sculptures are abstract, densely layered, with rich color palettes. Ever experimenting, Horsfield explores how an artwork can contain the tension experienced between one's interior consciousness and an external world that may feel, at times, joyfully luminous, or, at other times, seems to be spinning backwards. Her works can be playful and exuberant, or they can be enigmatic, elusive, as if dissolving before our eyes. Horsfield was director of the Video Data Bank at The School of the Art Institute of Chicago, one of the leading distributors of artists' video and interviews from 1976 to 2006.
The Art Gallery of the College of Staten Island is proud to be the first institution to present this work to the public. The Art Gallery is open Monday through Thursday, noon to 4:00pm.
This exhibition is curated by Dr. Cynthia Chris, with Dr. Siona Wilson.
Performing and Creative Arts Department Overview
Our departmental programs share a mission to educate, mentor, and train students who wish to pursue both the practice and theory of the arts. In addition to preparing students majoring in the arts and those planning to receive advanced degrees in graduate school, the Department's courses meet the needs and interests of students in the liberal arts and sciences, and foster the role of the arts within the framework of a liberal arts education.
Programs in Performing and Creative Arts Department
---
Current Highlights
CSI Today Talks
CSI Today Talks returns with co-host David Pizzuto interviewing Dr. Siona Wilson, Professor of Art History at the College of Staten Island and curator of the CSI Art Gallery on campus. Dr. Wilson discussed her career and what brought her to CSI, her involvement with the Art Gallery, some of her favorite shows and what's in store for the future of the Gallery this semester and beyond.
The Art Gallery of the College of Staten Island Presents:
Eric Aerts: Photography Inside the Cages
September 19 - October 20, 2022
1P-112
Image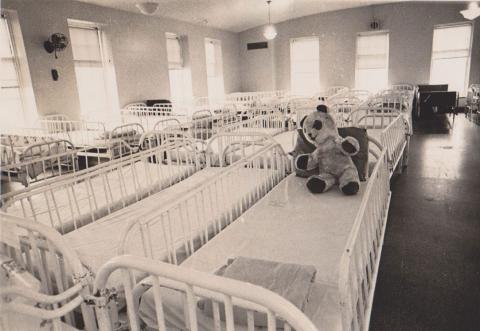 In 1971, a year before the Willowbrook State School became the focus of national outrage, the photographer, Eric Aerts, brought the first images to the local Staten Island public. Learn more about this exhibit on the art gallery webpage.
Curated by: Dr. Siona Wilson
---
Girls + Eggs
November 10 - December 6, 2022
Opening Reception Thursday November 10, 5 - 7pm
1P-112
Image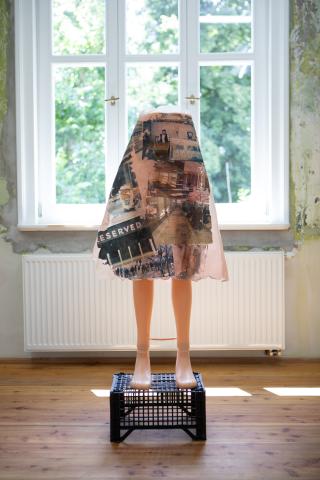 Co-sponsored by the Center for Global Engagement in association with International Education Week and the Bertha Harris Women's Center.
 
An explosive group exhibition of drawings, paintings, photographs, and objects by European and US artists working in solidarity and fury in response to parallel attacks on abortion rights and sexual citizenship in Poland and the United States. First presented in Krakow in June 2022, Girls + Eggs uses humor and beauty to delight and challenge viewers to share our outrage.
 
Curated by: Dr. Siona Wilson
---
Undergraduate Research Conference: Performances by Music and Theatre students, and visual art on display in both the student and professional galleries, April 28th. All events will take place in person, 1P first floor.
Music Program Senior Recital: Mauro Corona, Snare Drum
Clip from PCA Drama Student Production of Funnyhouse of a Negro
PCA Drama Student and Faculty Response to Ongoing Anti-Black Violence and Systemic Racism
CSI Jazz Performance Fall 2020
My Funny Valentine. Performed by Sophia Sparnroft
Performing and Creative Arts Faculty & Staff
Adjunct Faculty
Alexander, Marina
Antone D'Angelo, Mikhael
Brown, Edward
Bueschlen, Haley
DeWaters, Dillon
Diamond, Robert
Doskow, Jade
Duncan, Duncan
Falco, Henry
Fick, Matt
Frocheur, Nichole
Hebbert, Dianne
Heimur, Elena
Hoffman, Kate Pollard
Johnson, Carter
Kaminski, Joseph
Keller, Justin
Lane, Chelsea
Loncle, David
Manister, Craig
Miller, Ashlee
Miller, Scott
Mims, Martina
Nestler, Rose
Oh, Yoojin
Pels, Marsha
Peterson, Benjamin
Pollack, Nicholas
Raickovich, Milos
Ramkissoon, Issidore
Rutledge, Walter
Safron Hon, Naomi
Sales, Elizabeth
Sato, Analisa
Schultz, Jedadiah
Sirotta, Michael
Smith, David
Smith, Darrell
Smith, Howard
Tancredi, Dominick
Taylor, Robert Morgan
Vaz, Joseph
Wechsler, David
Wu, Johnna
Zucker, Elena
Staff
Briner, Timothy
Fick, Matt
Ortiz, Brian
What are some obtainable jobs with performing and creative art degrees?
Drama
Actor
Director
Scenic Designer
Lighting Designer
Costume Designer
Dramaturge
Art Director
Playwright
Stage Manager
Photography
Photographic Re-Toucher Photographer
Photographic Lab Technician
Photography Gallery Manager
Photography Archivist
Photographic Studio Technician
Photographic Production Assistant
Music
Studio Musician
Music Copyist
Private Music Teacher
Recording Engineer
Audio Technician
Studio Art
Art Appraiser
Art Teacher/Instructor
Art Gallery/Museum Director
Art School Director
Studio Assistant and/or Technician
Studio Artist: Painter, Printmaker, Sculptor, Installation Artist
Artists' Studio Assistant and/or Coordinator
Museum and Gallery Archivist
Production Screen-printer
Art Handler/Transporter
Art Conservator/Museum Restorer
Gallery Curator or Arts Administrator
---
Performing and Creative Arts Facilities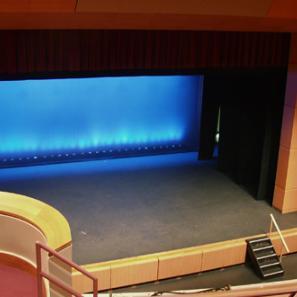 Williamson Theater
The Williamson Theatre is a traditional proscenium house.  It is a perfect venue for theatrical performances, including dance and concerts. 442 seats.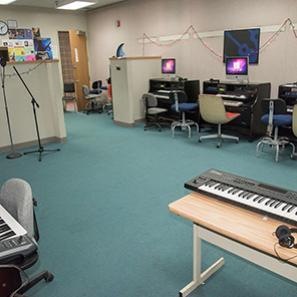 Music Technology Studio
A State-of-the-Art electronic Music Lab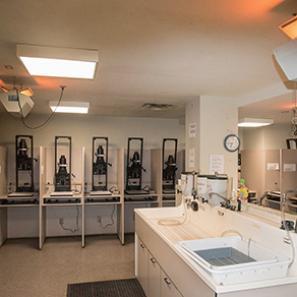 Digital and Analog Photography Lab
Traditional Black and White Darkrooms, State-of-the-Art Digital Workstations, High-Quality Inkjet Printing Facility
Other CSI programs you may be interested in
Related CSI Programs
---
Jobs and internships currently available for Performing and Creative Arts