Distance Learning Announcement
Hello! The Performing and Creative Arts Department is moving our courses this semester to "Distance Learning." If you are a student in any class in our department, you will be hearing from your specific professors soon about how the class will proceed, in an Internet-based form. Online classes will begin tomorrow, Thursday March 19, 2020. Individual professors will run each class their own way. If you have not heard from your professor by the time of your next class meeting, please try to e-mail them directly. Your professor might not have a valid e-mail address for you. If you cannot reach your professor, and do not hear from them by the time of your next class meeting, please write to us for help: Associate Professor Chris Verene, chris.verene@csi.cuny.edu

Do not report to campus for lab work. None of our lab classes will be meeting in person, and this includes Music, Studio Art, Photography, Sculpture, Dance, and Drama. None of these labs and studios will be open for students.
Performing and Creative Arts Department Overview
Our departmental programs share a mission to educate, mentor, and train students who wish to pursue both the practice and theory of the arts. In addition to preparing students majoring in the arts and those planning to receive advanced degrees in graduate school, the Department's courses meet the needs and interests of students in the liberal arts and sciences, and foster the role of the arts within the framework of a liberal arts education.
Programs in Performing and Creative Arts Department
PCA Drama Student and Faculty Response to George Floyd, Police Brutality
and Ongoing Protests
2020 Congratulations
Performing and Creative Arts Faculty & Staff
Full Time Faculty
Adjunct Faculty
Alexander, Marina
Antone D'Angelo, Mikhael
Brown, Edward
Bueschlen, Haley
Clive, David
Cobbs, Will
Cohen, Loren
Cueva, Nicholas
DeWaters, Dillon
Doskow, Jade
Duncan, Duncan
Falco, Henry
Fearon, Davalois
Fick, Matt
Frocheur, Nichole
Heimur, Elena
Hoffman, Kate Pollard
Johnson, Carter
Kaminski, Joseph
Keller, Justin
Lane, Chelsea
Lee, AhRam
Loncle, David
Manister, Craig
Miller, Ashlee
Miller, Scott
Mims, Martina
Morgan Taylor, Robert
Nestler, Rose
Oh, Yoojin
Pels, Marsha
Peterson, Benjamin
Quintanilla, Faustino
Raickovich, Milos
Ramkissoon, Issidore
Rutledge, Walter
Schultz, Jedadiah
Sirotta, Michael
Smith, David
Smith, Howard
Spicer, Jeanette
Tancredi, Dominick
Wechsler, David
Zucker, Elena
Staff
Briner, Timothy
Fick, Matt
Manister, Craig
Ortiz, Brian
Samuels, John
Straniere, Jennifer
What are some obtainable jobs with performing and creative art degrees?
Actor
Director
Scenic Designer
Lighting Designer
Costume Designer
Dramaturge
Art Director
Playwright
Stage Manager
Photographic Re-Toucher Photographer
Photographic Lab Technician
Photography Gallery Manager
Photography Archivist
Photographic Studio Technician
Photographic Production Assistant
Studio Musician
Music Copyist
Private Music Teacher
Recording Engineer
Audio Technician
Art Appraiser
Art Teacher/Instructor
Art Gallery/Museum Director
Art School Director
Studio Assistant and/or Technician
Studio Artist: Painter, Printmaker, Sculptor, Installation Artist
Artists' Studio Assistant and/or Coordinator
Museum and Gallery Archivist
Production Screen-printer
Art Handler/Transporter
Art Conservator/Museum Restorer
Gallery Curator or Arts Administrator
Performing and Creative Arts Facilities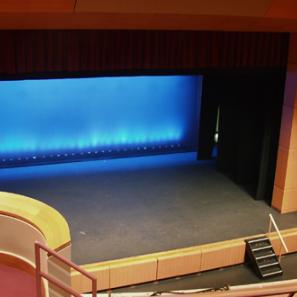 Williamson Theater
The Williamson Theatre is a traditional proscenium house. It is a perfect venue for theatrical performances, including dance and concerts. 442 seats.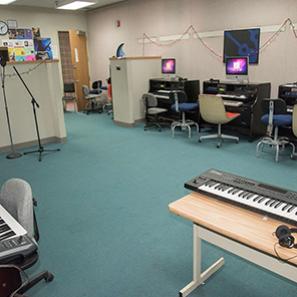 Music Technology Studio
A State-of-the-Art electronic Music Lab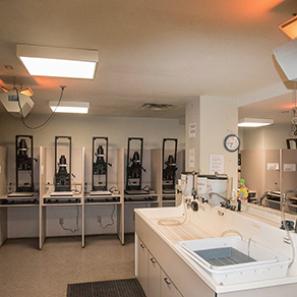 Digital and Analog Photography Lab
Traditional Black and White Darkrooms, State-of-the-Art Digital Workstations, High-Quality Inkjet Printing Facility
Other CSI programs you may be interested in